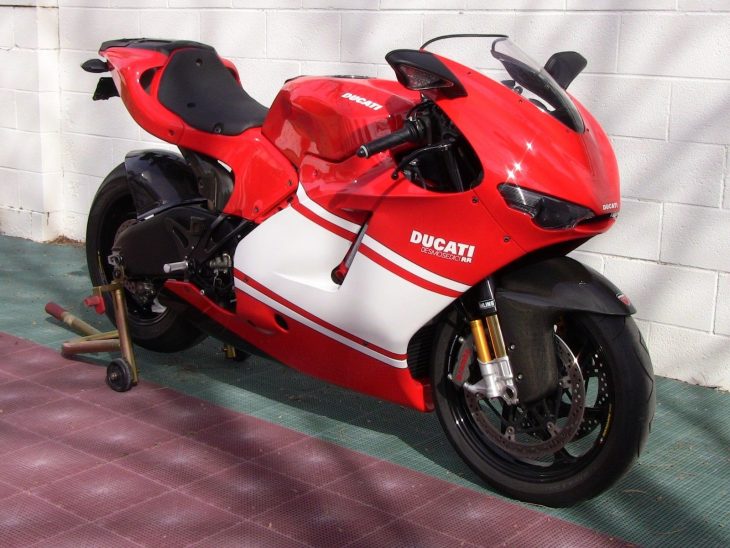 I realize that I'm spoiled. I'm spoiled because my current riding group includes five or six MV Agustas that actually run, a pair of RSV4s, a few Ducatis, a couple Bimotas, and a KTM. I'm spoiled because I live in Southern California, and car and motorcycle exotica are everywhere: I've recently come across a few Arch Motorcycles, nearly every variety of 90s two-stroke, Confederate Fighters actually being ridden on the road, a slew of Bimotas, pretty much every vintage and modern sportbike you can possibly imagine, even a Gurney Alligator. Which is possibly why I'm surprisingly blase about the Ducati Desmosedici RR, one of the most exotic machines of the past twenty years.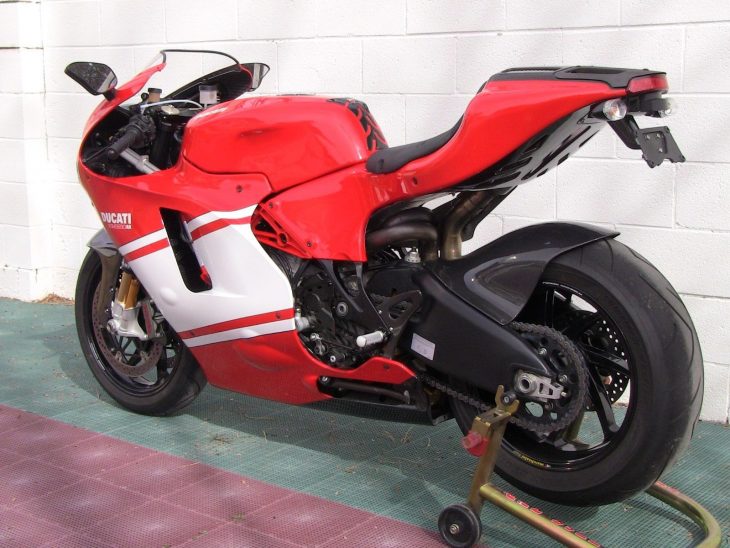 It's not fair to the Desmo. I should be incredibly impressed by it, but it probably doesn't help that I've never really thought the Desmo was all that beautiful. It's no doubt a very aggressive machine, with a leering, hungry-catfish face and a wild exhaust that exits through the top of the tailpiece, at least in stock form: there's also a Ducati Performance system that vents two of the cylinders through the bellypan on the right side and the others through a more traditional underseat pipe. But although it lacks the slim-waisted purpose of a 916 or the sculptural elegance of an MV Agusta F4, the D16RR, meant to closely ape the look of Ducati's 990cc MotoGP racebike, has an air of ruthlessness about it and looks like nothing else on the road.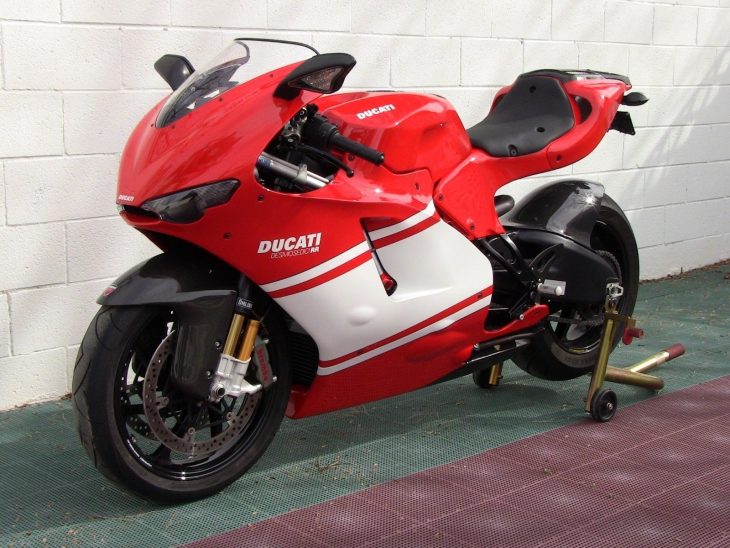 The original idea was to take Ducati's V4-powered MotoGP racebike and detune it, then sell a few to well-heeled enthusiasts to use at trackdays or as living room ornamentation. While other "race replicas" of the period generally consisted of race bike colors, graphics, and even sponsors splashed across otherwise stock bikes, Ducati went and made a bike that had almost nothing in common with any of their production motorcycles. It even used an annoyingly-authentic 16" rear wheel, something that must be pretty inconvenient when you're trying to get street tires to shoe this thing.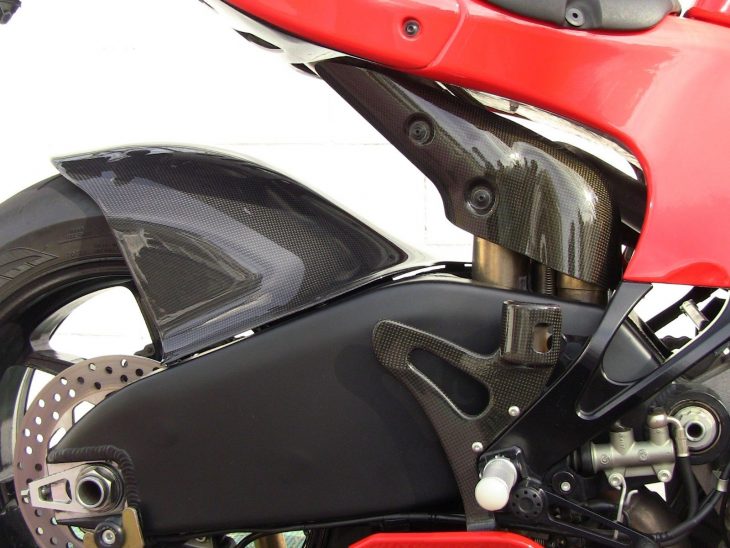 Of course, the D16RR is obviously no "homologation special" since MotoGP is a prototype series and the bikes need share nothing except a badge with a company's roadgoing offerings. Appearances and specifications to the contrary, the Desmo doesn't actually use a detuned MotoGP powerplant: race engines in the premier class don't factor longevity into the equation and, even detuned, don't make useable or practical road bike powerplants, considering they lack things like a charging system or a starter...
Instead, Ducati basically whipped up an entirely new V4 engine for the bike that very, very closely mirrors the specifications and layout of the racebike while at the same time sharing almost no parts... So you still get a 989cc 90° V4 with gear-driven cams, Desmodromic valve actuation, and a "twin-pulse" firing order that gives it a bit of Ducati flavor compared to a "screamer" or "big-bang" configuration, along with a beefed-up cassette-style gearbox.
Considering the price tag, you could be forgiven for being unimpressed with the 170hp output and 425lb wet weight, but the numbers alone fail to capture the wild, track-bred character. And the Desmo is littered with top-shelf parts that help reign in the power, like the Öhlins FG353P gas-pressurized forks up front that are truly "race spec" and normally cost as much as a new GSX-R600...
From the original eBay listing: 2008 Ducati Desmosedici RR for Sale
No compromise, Italian passion personified. The high water mark for street legal sportbikes.

#895 out of 1500.

1878 miles all street so far. May increase in the next few months I don't think I can resist doing some track days on this bike as the weather improves.

Serviced by a Ducati Master Technician at 1814 miles.

Clean title in hand, all manuals, 2 keys, technical workshop DVD.

Here's a good article detailing the specs and history of this bike: https://www.sportrider.com/sportbikes/ducati-desmosedici-rr-firebreather#page-4

The bike is in my living room right now, seems perfectly normal to me, but wife isn't amused - please buy this so I can start sleeping in my bed again.

I'm willing to deliver or meet you within a 1000 mile radius of Salt Lake City for a small additional fee.  Please contact me for details.  Or haulbikes.com is a good option for shipping.

Bike is for sale locally also, I reserve the right to end this auction at any time.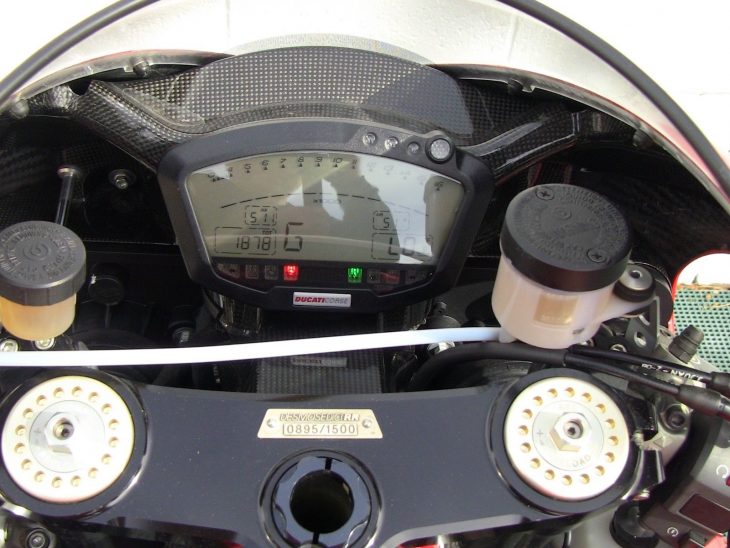 This one appears to be nearly untouched, with under two thousand miles. Which makes sense because the seller claims it's currently being used in lieu of a big-screen television or a painting of a ship being tossed on stormy seas to liven up their home. They may have chosen to get rid of the Desmo, but is that the real problem here? New, the bike retailed for $72,000 and the 1,500 built were quickly snapped up by collectors, although anyone looking to quickly flip their purchase for profit were severely disappointed: these can often be found for well under that, and certainly much less than today's example with an $80,000 asking price. Have values jumped sharply, or is this seller simply ambitious?
-tad