Despite all the jokes about the state of Florida, you have to admit that there are a lot of amazing sportbikes located in the state.  Its probably some combination of nice weather, lots of expats and people with "discretionary income" but hey, I am not complaining.  Here is a bit of semi-unobtanium located in Florida that will certainly appeal to a collector, a 2008 Ducati Desmosedici listed as having 1 mile since new.
For anyone not familiar with the Desmosedici, it truly was designed to be a road-legal version of the Ducati MotoGP racebike.  In 2002 Ducati returned to top level motorcycle racing after a long absence and over the course of the next few years managed to climb back into serious championship contention.  This success was in large part due to the their D16RR effort; sixteen desmodromic actuated valves  (hence the D16RR designation) and gear driven cams were built into a 989cc V4 that went to a nearly 14,000 rpm redline and produced 200 hp.  All this power was wrapped up in a chrome-moly steel frame, surrounded by ultra-light but strong carbon/plastic blend bodywork.  Oh and there was a 4-2-1 under-seat exhaust in titanium.
An excellent and detailed history of the D16rr development can be found here.
After a few years of developing/running the D16RR everything finally came together in the 2007 season when Casey Stoner rode a race prepped D16RR to the championship.  In typical Ducati fashion, a street version was offered the following year but unlike a lot of Ducati "commemorative editions", these would be true racers that came equipped with both street and racing ECU's and exhaust sets.   NOTE:  From what I have read there was also less titanium bits in some engine components.
The 2008 Desmosedici was originally planned to only be built as a small production run but demand was so robust that the run expanded and 1,500 Desmosedici's were made.  Even though they were priced at an eye-popping $72,500 USD and were launched in the very depths of the financial crisis all 1,500 units were pre-sold, with many going to track day enthusiasts.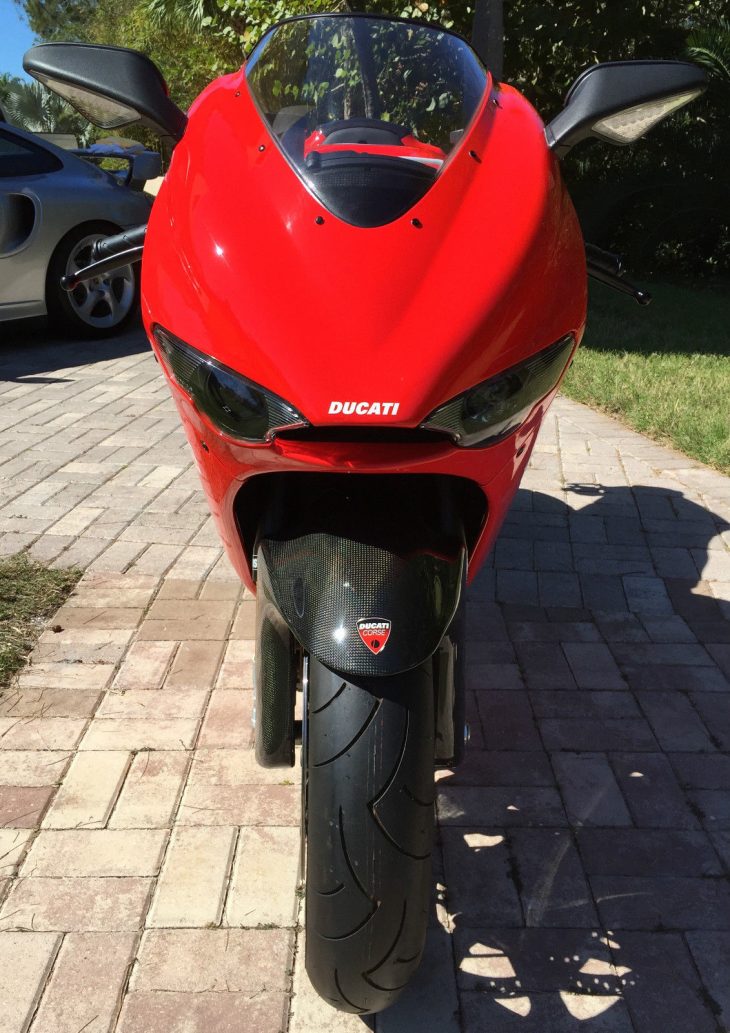 What would it be like to own/ride such a beastly bike?   Below are links to just some of the reviews of the Desmosedici-
Now for the question on everyone's mind, is this 1 mile 2008 Ducati Desmosedici worth the $58,000 USD asking price?  Well the going price for a Desmosedici with under 5000 miles seems to be high 40's with the price increasing towards the lower 50k range as the mileage lessens.  Based on this history, the Buy-It-Now price of $58,000 USD seems kind of high.  Also there is no mention in the auction of items that came with the bike such as the OEM alternate exhaust, ECU or decals.  Lastly, some early models of these bikes have a reputation for needing servicing but since this bike is listed as having 1 mile since new its unlikely these services issues have arisen/been addressed.
My personal opinion is that prices for the Ducati Desmosedici have stabilized and will rise over time.   The seller has indicated they are willing to consider offers so perhaps some negotiation can get a collector into this bike at a bit of a discount.  Personally I think the value price is probably somewhere between $47,500 and $53,000 USD, maybe a bit more given this is the somewhat rarer Rosso version.
-Marty/Dallaslavowner