Up for auction just after its appearance at the Quail Motorcycle Gathering, this signature Bimota didn't trophy but is still quite special.  Developed to help Bimota out of a near bankruptcy, the SB8R was Suzuki V-twin powered with a gorgeous hybrid chassis.  Generally one of the more affordable Bimotas, the SB8R is still a rare sighting with total production of only around 150 machines.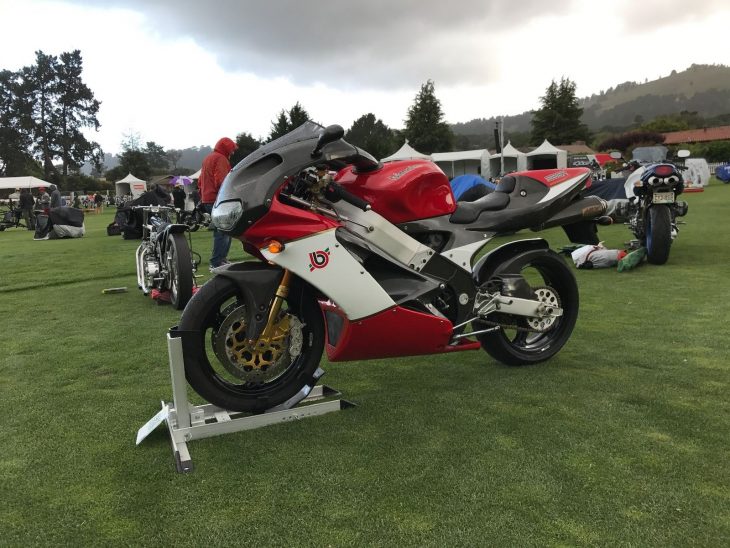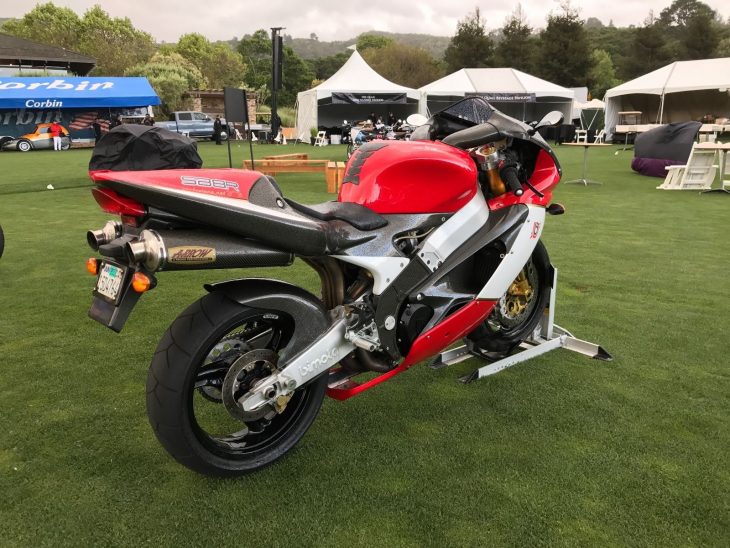 Bimota had quite a bit of experience with milled aluminum parts, but used the SB8R to showcase their carbon fiber design.  The twin aluminum spars are keyed to carbon frame connectors, and the carbon seat sub-frame is self-supporting.  The big carbon air intakes deliver to 59mm throttle bodies and shower injectors, helping the 8-valve twin generate 133 hp and 74 ft.-lbs. torque.  The fairing reviewed with great protection for the rider, and the Paoli / Öhlins suspension and ISR / Brembo brakes are not just along for the ride.
With just under 7,000 miles, this SB8R was selected to appear at the Quail ( see the photo by RSBFS's Marty – here – ) and the owner states proudly in the eBay auction:
I have done all the heavy lifting, replacing seals and clutch cover.  There are absolutely no fluid leaks.  Operating temperature is normal under regular riding conditions, as this bike is equipped from the factory with 1 main and two auxiliary radiators with electric pull fans.  The tires are aged but I leave the rubber preference to the new owner, as tire selection is quite a personal thing.  My bike starts and runs great.  The sound of the twin through the Arrow Racing exhaust is intoxicating.  Evoluzione engine management system with infinite on the fly adjustment will keep performance at optimal levels during riding.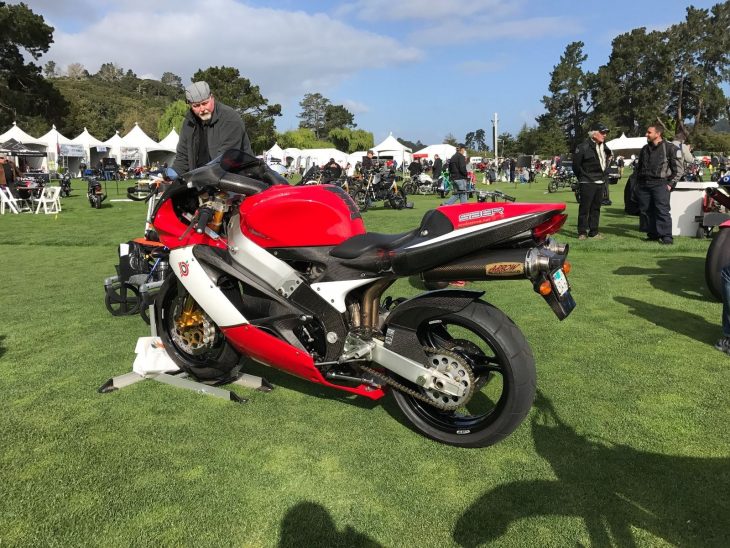 Though exotic European show bikes often need a lot of TLC, the Suzuki drivetrain should make for lighter maintenance, and the the owner says beside tires, it's ready to ride.  With its low-volume fabrication and carefully executed improvements, the Bimota SB8R delivered the riding experience that the Suzuki TL-1000 only promised.  This particular SB8R could either ride or show, or better yet be ridden to a show…
-donn