Occupying a short window before the 999 was prepared, the 998 was the last machine of Massimo Tamburini's 916-996 generation.  Routinely described as way too much for the street, it was a sweet handling machine at speed, with 123 hp.  Subtly updated, the suspension and body have been substantially worked, and it looks better the closer you get.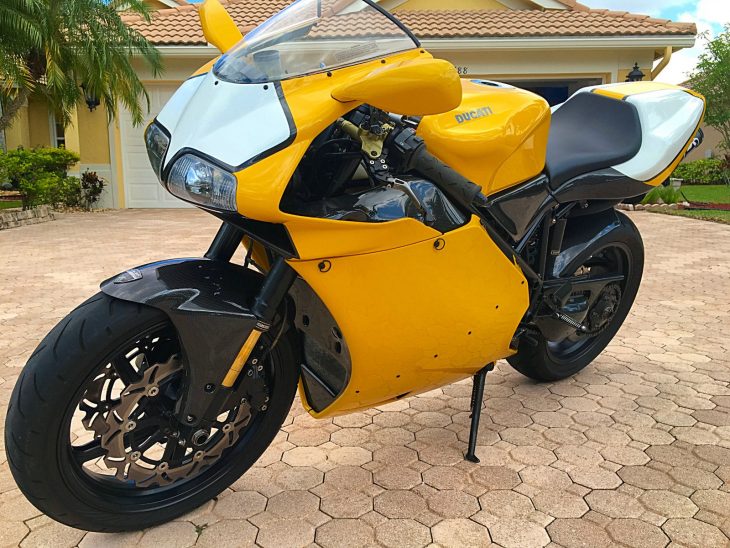 The 998 used a brand new Testastretta engine, and similar to the 996R where it was first used, it made gobs of hp and 71 ft.-lbs. torque.  The narrow-head engine had revised valve architecture and the adjustment intervals were increased to 7,500 miles.  Not much of the trellis frame is displayed on a 998, but this one is a rather unusual black.  It goes well with the DesmoPro-tuned suspension, and refinished Brembo calipers over the Galfer wave rotors.  The black theme continues with the semi-gloss alloy wheels.  But carbon is the real story on this 998, a lot of sweet factory and Shift-Tec carbon, so well matched in weave and finish that the carbon Termignoni mufflers look almost out of place.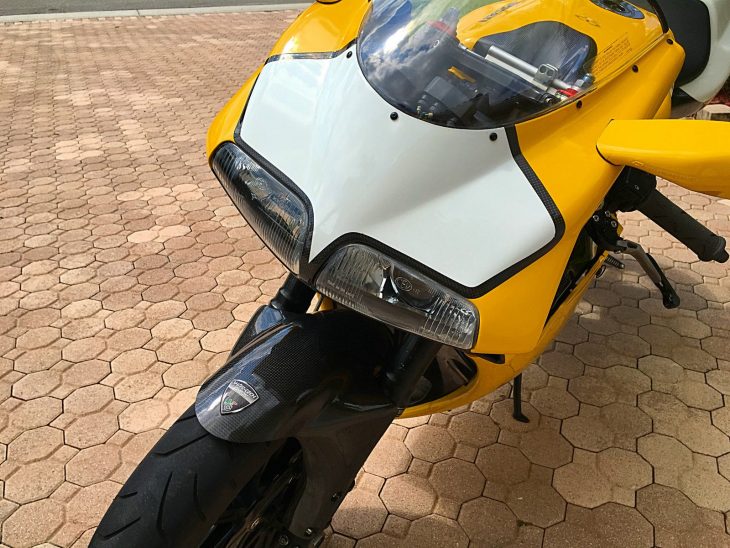 Good that the pictures are high quality, because there is too much to list, as the owner says in the eBay auction –
This 998 is one of a kind. Tons of carbon fiber, suspension upgrades, new and upgraded parts. The list is too long to mention.

2002 was the only production year this bike was made and is a collectors item. I ride it every weekend I can but the bike looks like a garage queen. It will feel equally at home as a daily rider on display in someone's office, shop or Living Room. The bike has been meticulously cared for and maintained by renowned shop Motocorse in Pompano Beach, FL.

Please look at all the photos to appreciate the extensive carbon fiber body work and other pieces. This alone is worth over $6K. I am selling it because I don't have the room for three bike in my new place and at least one bike must go.
The 998 had a short run but kept the classic superbike looks with a more modern powerplant.  The cooling system was an area of concern on the 998, and while it had dual fans, the fairing is tight and a manual fan override would be a sensible addition.  This example's quality upgrades are camouflaged in peek-a-boo carbon and black powder coating, and while the ask is fairly serious, the bike doesn't shout about it…
-donn