I still recall hovering around the Aprilia vendor tent at Sears Point the year these were unveiled. Everyone was very excited to finally see the RS250 make it North America, even if it was just for the one make race series and not for the street. I know I was secretly hoping it's success would eventually lead to the sales of a street legal version here.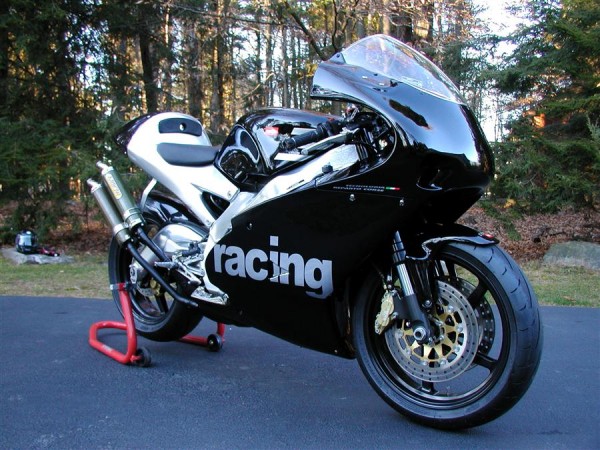 Sadly the street legal version never came, but that hasn't stopped the Cup bikes from living on here. An excellent track day package that is still enjoyed today. This particular example has been used sparingly with just a couple thousand miles on the clock.
1999 Aprilia RS250 Cup for sale on eBay
from the seller:
This was the last year Cup Racer RS-250 made. The only 2 stroke pure race bike ever sold in the USA. She is NOT street legal and can NOT be made so. If you don't know what this is than you have no business owning it! This bike was NEVER raced in the series, just run at track days and is in near SHOWROOM condition. This bike has been sitting on a shelf in my shop for quite sometime collecting dust so last winter I took her down and gave her a complete once over, replaced the pistons and rings ( they come in the race kit), New Dunlop Q2's and New brake pads. Figured I would take her out this season ( been at least 8 years) but never got around to it. I Have a few other track bikes to play with so the little apple never left the shop. There are only 2k miles on her and is just a blast to ride. You must be good at tuning because temp and elevation affect the performance. I have a good selection of jets and sprockets that are included.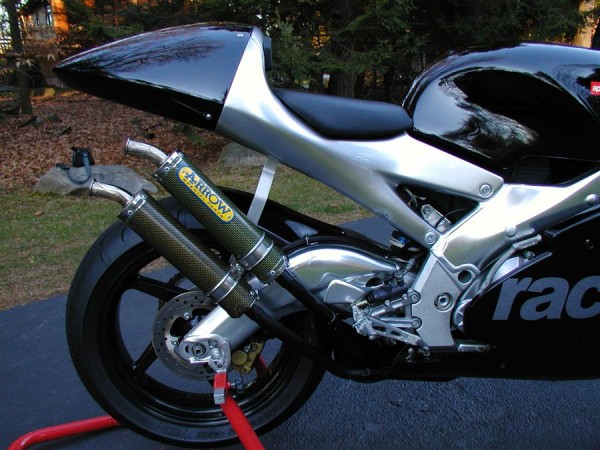 The seller has even included a couple videos to help make up your mind:
dc