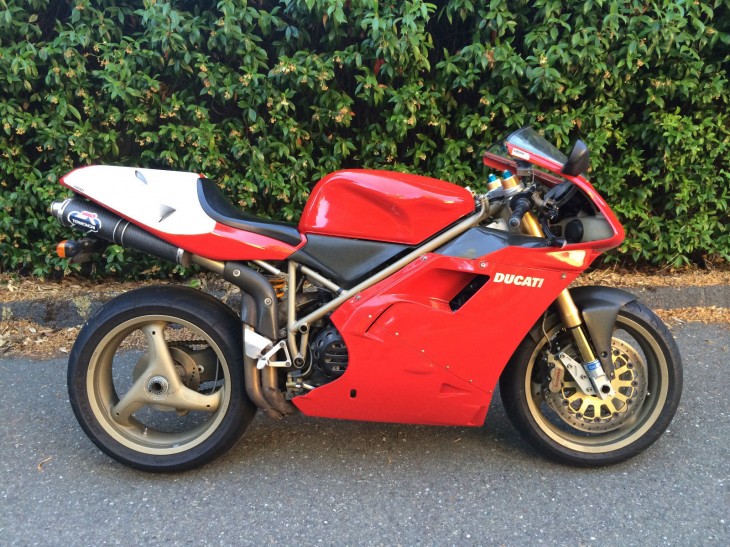 While the Ducati 916 was a styling bombshell, the standard/Strada versions only really come on the power around 7000 RPM which meant they need to be flogged a bit to get going. Ducati first attempted to resolve this issue by installing lighter internals and high lift cams to create the SP/Sport Production edition. Unfortunately even with the mods, the SP model still had a torque curve with most of the power at the top, resulting in tough riding around town and in traffic. So in 1997 Ducati tried again by taking their new 996 engine and putting it into the 916 frame. The result was the 916 Sport Production Special (SPS).
The primary reason behind the 916 SPS being built was to homologate the new 996cc engine for Superbike competition but fortunately for bike fans, the installation of the 996 engine into the 916 setup produced a bike that was described as "legendary", "astonishingly good" and "a true superbike". Reviews of the 996 powered SPS declared it to be something quite special, with some testers being able to crack 170 miles per hour with the Termignoni exhaust and ECU kit fitted, a pretty stunning speed for a twin with "only" 120-odd horsepower. The new engine gave a much wider power delivery band but this together with neck-snapping torque was enough to push the limits of the chassis. The 916 models in general did not respond well to ham-fisted riders, so it is not surprising that the SPS and its significantly wider powerband resulted in a bike that could be dangerous for even skilled riders.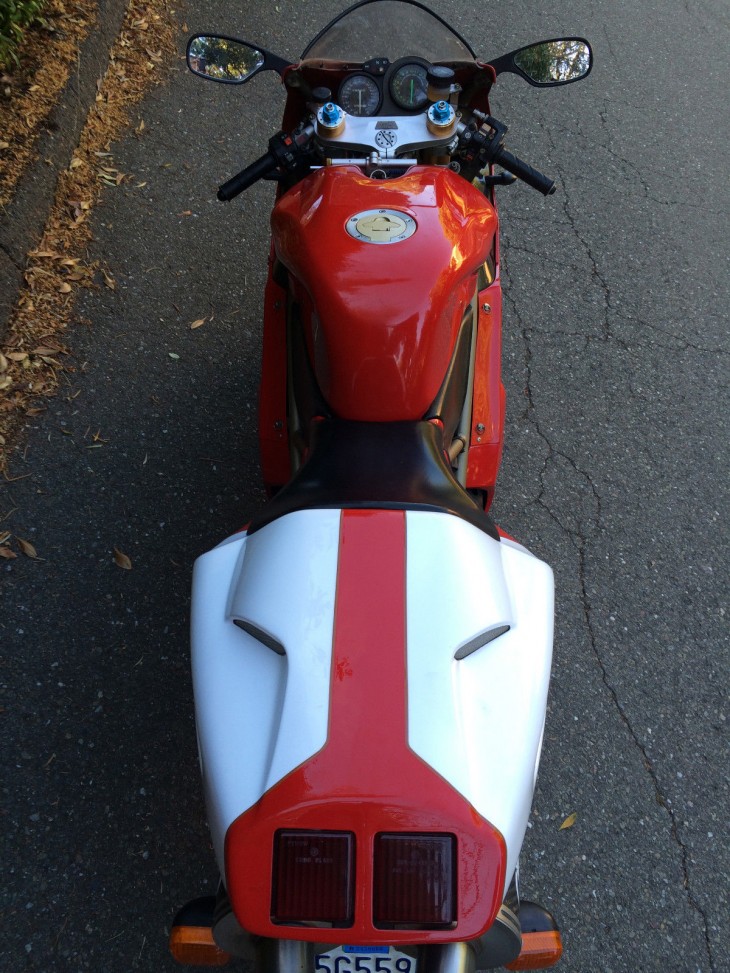 Despite its somewhat dangerous reputation the SPS was still smexy as hell with a sound like the apocalypse, especially if the termi pipes were installed. Price tag new was around $24,000 USD, a significant amount above the $16,500 Biposto and nearly double the price of a 748 model. Most reviewers declared that despite its dangerous nature it was worth the extra investment and there was a lot of demand for the SPS but since these bikes were built for homolgation, only 404 examples were built and only a small number of those brought into the USA.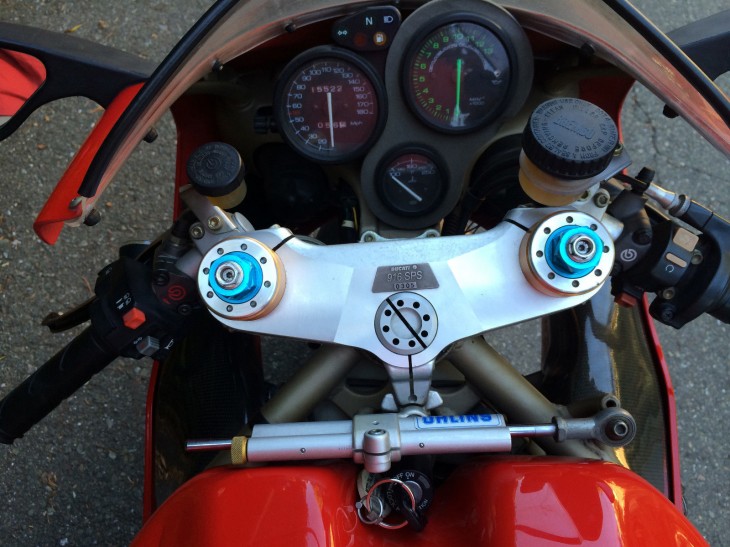 Here is what the seller has to say:
Homologated for racing, only 50 were officially imported into the US.This one is California registered. Bike features a factory tuned 996cc motor with dual injectors, Titanium rods, oversized valves and crank, strengthened engine cases and frame. It includes an Ohlins rear shock and steering damper, carbon airbox and front fender. The factory provided two sets of pipes including the off-road Termignoni carbon exhausts and matching ECU currently installed.

Bike has been modified to include Ohlins forks with billet lower triple clamp and Ohlin factory SBK valving. Front brakes are Brembo Narrow Track GP calipers and rotors with Brembo radial master cylinders. The oil cooler was replaced with an oversized Ducati Corsa unit.It also includes carbon air intakes, vented clutch cover and lightened flywheel.

Cosmetically the bike is in good condition with flaws typical of a bike of this age.There is a scratch in the gel coat on the lower left panel, a very minor dent in the tank on the left side and surface scratches on the tank in front of the saddle.
The carbon fender, airbox and exhaust canisters have faded to a matte finish.

I have additional aftermarket parts available for purchase separately including Marchesini mag wheels, new carbon airbox and front fender, billet racing (reverse shift) footpegs, an unpainted sharkskin fiberglass race body and most of the original stock parts that were switched out.

This motorcycle has had a recent complete service at Desmoto Sport in San Francisco which included valve adjustment and belt replacement. Tires are in near new condition.
So what's this one worth? Well its not pristine and it has actually been ridden with current mileage at 15,600. While these bikes have appeared previously on RSBFS occasionally, it is still certainly a rare piece of 90's Ducati tech and the seller indicates the major services have been done which is always a good sign. Another plus is it's a no reserve auction and starting bid is actually smack in the middle of KBB Trade-in/Retail values. Personally I think this is a hell of an opportunity, given that the the SPS was probably the ultimate Desmoquattro and the best Ducati you could buy until the 2001 996R.
-Marty/Dallaslavowner