Update 3.6.2018: This bike has SOLD! Congratulations to buyer and seller! -dc
Update 11.27.2017: The seller has renewed the Feature Listing for this very clean 748S and has dropped the price to $4,950. Thanks for helping to support the site Brett and good luck to potential buyers! -dc
America is the land of Golden Corral, the endless buffet, a place where "more is better" and we often shop by the pound. Do we really need an endless pizza buffet? Of course not, but wow, what a deal! And in that world, a bike like the Ducati 748 makes little sense. I mean, for just a couple grand more, wouldn't you rather have the 916? If you finance it, it's just like $40 more per month. But people who subscribe to that reasoning really will never understand the 748.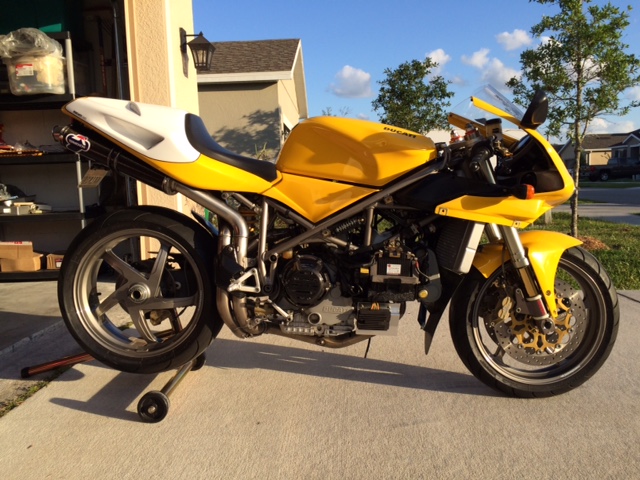 It's a situation where less really is more. Sure, the 916 came first, and the 996/998 are definitely more powerful. But the frame and suspension were identical, and the 748 came with a narrower rear tire that gave the bike sharper handling and better turn-in while that smaller engine was sweeter, revvier, and still made a solid 95hp. The bike needed to be worked just that much harder to get the most from it and, since the entire 916 series was a complete disaster when not being properly caned, it's not like you're really missing out on a relaxed experience the package never provided anyway.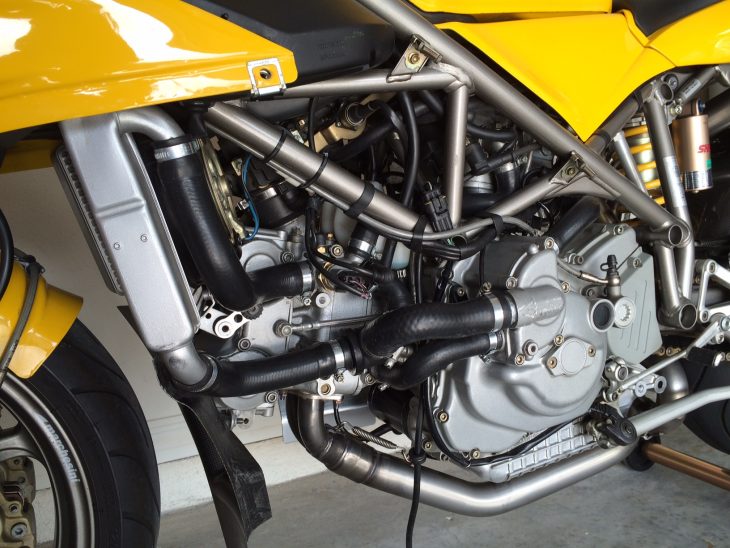 Today's featured listing isn't some zero-mileage garage queen, and about 13,000 miles have rolled under the wheels since 2001. But while there may be examples out there with fewer miles on them, there aren't too many that are cleaner. And even better, this one is yellow.  I realize that many purists will disagree, but I actually prefer yellow to the more traditional red. There aren't too many motorcycles that look good in yellow, but this is one of them.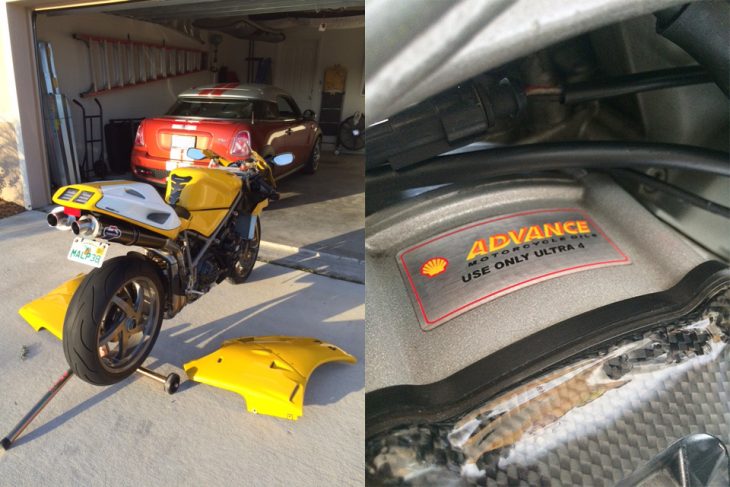 From the seller: 2001 Ducati 748S for Sale
While it may not be as collectable as a 748 'RS,' or 'R,' - it is in excellent shape.  And the 748 S, while not sporting a number badge, is a series of Ducati that can be hard to find nowadays,  if you're looking for a lower mileage, supremely clean, professionally maintained, and nearly OEM example.  There are plenty of monopostos out there, but not as many actual 'S' series – with the proper TiN Showa suspension, adjustable steering head, grey frame, and grey 5 spoke Marchesini wheel upgrades. 

The Termignoni exhaust is a professional repack and has under 500 miles – the canister carbon is in amazing shape.  A lot of the carbon on the Termis turned amber from years of heat.  Not this set.  These are now very hard to find in good shape.

Also: Carbon fiber clutch cover, cowl, and rear wheel hugger. 

Like the 749R that you provided the featured listing for, this cycle has been ridden constantly, about 850 miles per season. Never in the rain, never on a track. Dedicated mechanic. Kept in a heated garage. 

Timing belt replacement and complete tune and safety inspection less than 1000 miles ago by ECS in Middletown, NY.  Less than 500 miles on Michelin Power Pilots.  Cover and Pit Bull stand would go with the cycle.

2001 – 13,200 miles.

Asking price is $4,950.

As the seller mentions, the S model isn't as collectible as the more desirable R, but you do get the very nice Showa suspension front and rear, including the titanium-nitride forks, along with very stylish five-spoke Marchesini wheels that I prefer to the earlier three-spoke items. And you can't go wrong with the glorious noise generated by a classic set of carbon Termignoni cans.
Certainly, you can find a 748 for less than the seller is asking, but you probably won't find one better and I think this represents a very good opportunity for fans of the Tamburini superbikes.
-tad