Warning!
This post is in our archives. Links in this post have been updated to point to similar bikes available to bid on eBay.

Here's one I'd normally post up over at our sister site classicsportbikesforsale.com, but it's rare and it's a sportbike, so I thought this crowd could use a formal introduction to the Kawasaki Z1R-TC. If you're one of those folks who equate "sportbikes" with "handling", you may not be familiar with this hulking brute of a machine with a hand grenade for an engine and power to severely overwhelm the limited frame and suspension technology of the day. What's more exciting than that? I mean, Russian Roulette counts as a sport, right?

In the car world of the 1980's, turbos seemed like the perfect way to increase power and performance in a world suddenly obsessed with efficiency and air quality, and they were getting slapped onto just about everything, so it was only a matter of time before the obsession with boost spilled over into the two-wheeled scene, and Kawasaki was way ahead of the curve on this particular trend.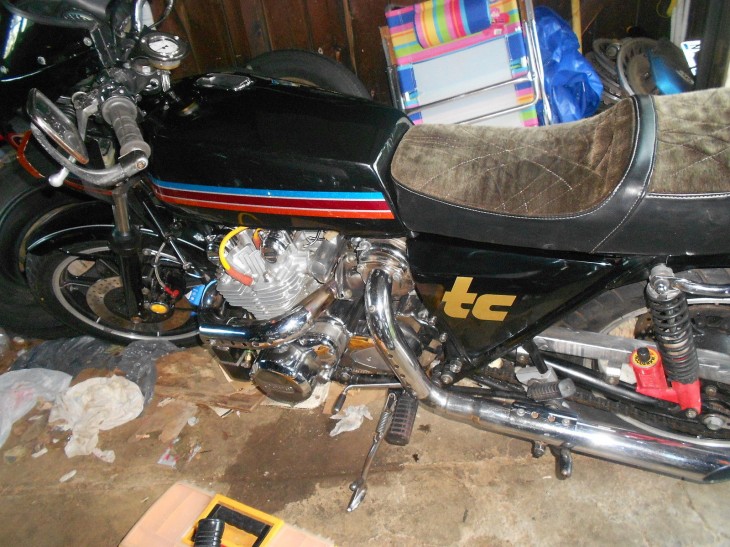 The TC was conceived as a quick way to move some lame-duck stock out of showrooms and give Kawasaki a performance feather in their cap. Collaborating with the Turbo Cycle Company, Kawasaki simply converted complete bikes with a bolt-on kit running 8-10psi of boost. Upgraded internals were available for purchase separately but were generally not installed.
In what would be an almost comical nightmare of liability today, buyers simply signed off on powertrain warranty waivers before whooshing off into the nearest wall, or blew themselves up when they ignored the sticker clearly warning them not to tamper with the wastegate to increase boost. Now who'd wanna do something like that?
And even if you didn't detonate your engine or wheelie into a tree, the very crude turbocharging technology led to wild, on/off boost delivery and made riding this a bit more terrifying than exciting: bendy 1970's frame and suspension technology combined with an engine that was already plenty powerful before you stuck a honking big turbo on it to give you the worst of both worlds, and a challenge fit for the manliest of motorcyclists…
This particular machine is technically not one of the original bikes and is, according to the seller, a "tribute" built up from a regular Z1R. But honestly this probably feels pretty authentic, since the original bikes were mostly cobbled-together from completed stock bikes.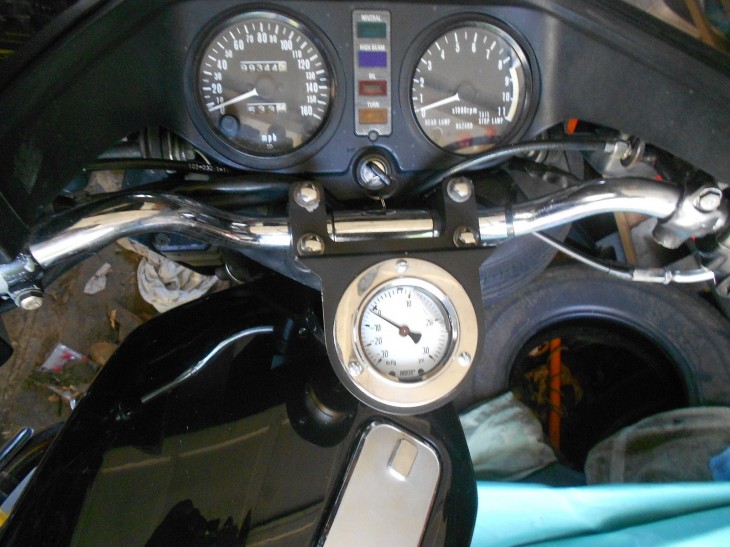 I really do wish these people would roll their bikes out of the garage to take some of these pictures, though. It will probably help if you imagine Matthew McConaughey reading this out loud as his character from Dazed and Confused.
From the original eBay listing: 1978 Kawasaki Z1R-TC for Sale
Truly awesome looking Z1R turbo with custom Molly graphics and recently painted black bodywork updates,powdercoated frame, many chrome parts on engine,kickstand,etc…very nice Z1R mag wheels,1 of a kind custom seat,early ATP turbo kit with log header pipe + "F" flow high volume compressor complimenting the 1200cc big bore motor  This is not a bike for the timid or in-experienced pilot….even with only 8-10 lbs. boost ,its very VERY fast!(of course you can ride it all day long without getting on boost,its all in your right wrist you know) This is a one of a kind bike with many tasteful updates + cool improvements…tires are in great shape..bike is very stable at high speed with  front steering dampner,fork brace and fully adjustable Marzocchi rear shocks keeping things under control…
Look, let's be clear here: I'm sure those rear shocks are an improvement, but there's no way they actually tamed this beast. You think you're all slick, using trail-braking out there, or using a bit of rear brake to settle the suspension? Try this for some fancy footwork: the power delivery for the TC was so laggy that fast passing on the road called for you to hold the throttle open to keep boost up, while dragging the brakes to keep the speed under control, waiting for an opening in traffic. Sort of like a rolling drag-strip launch…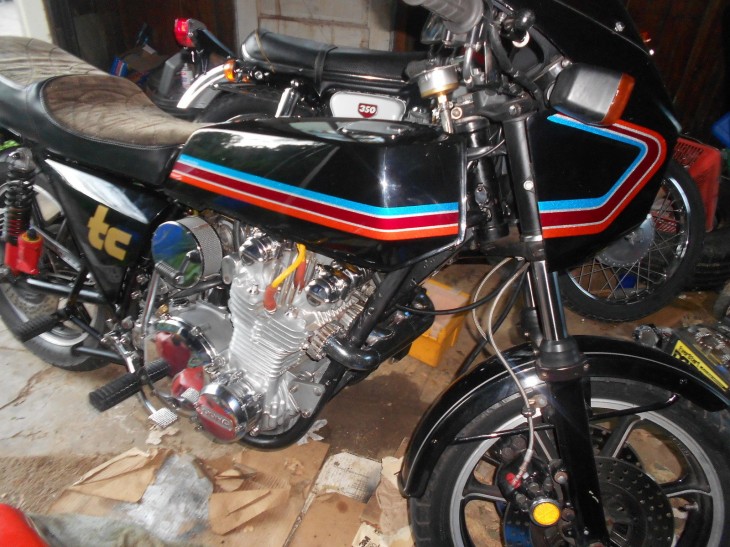 An exciting, hugely flawed stopgap before the much more modern GPz that followed, the Z1R-TC and the other turbo bikes of the era were an interesting footnote in motorcycling history. While not necessarily all that fast on a winding road, these are massively entertaining on the boost and could be a fun, point-and-hang-on-for-dear-life machine for scaring unsuspecting riders of modern bikes.
Ultimately, the turbo craze was a dead-end for motorcycles: they significantly increased complexity with no real upside: their power delivery was not really suitable bikes of the period and, in most cases, a simple displacement boost proved to be a more effective, reliable way of increasing performance. But whatever, man. Maybe people were just too square to get it.
-tad