Warning!
This post is in our archives. Links in this post have been updated to point to similar bikes available to bid on eBay.

These Ducati MH900e models are popular collector bikes, given the low number of miles that seem to accumulate on them (the first bike on this list is the rare, er, the RSBFS exception). By all standards, these are not mechanically unique rides. The Ducati two-valve, air cooled L-twin has been a rock-solid performer since bell bottoms were hip and disco ruled the airwaves. Overall power has not quite kept up with the times, but reliability, ride-ability and real-world torque abound. So mechanically there is no reason why these should not all have more mileage, but the collection factor (rare, individually numbered machines) and the bent towards aesthetics versus practicality yields what is essentially a gorgeous, mobile torture rack. It is not often that we find four of these bikes available simultaneously. If you are looking for a MH900e, it's a buyers market!
---
2002 Ducati MH900e with 7,677 miles in Ohio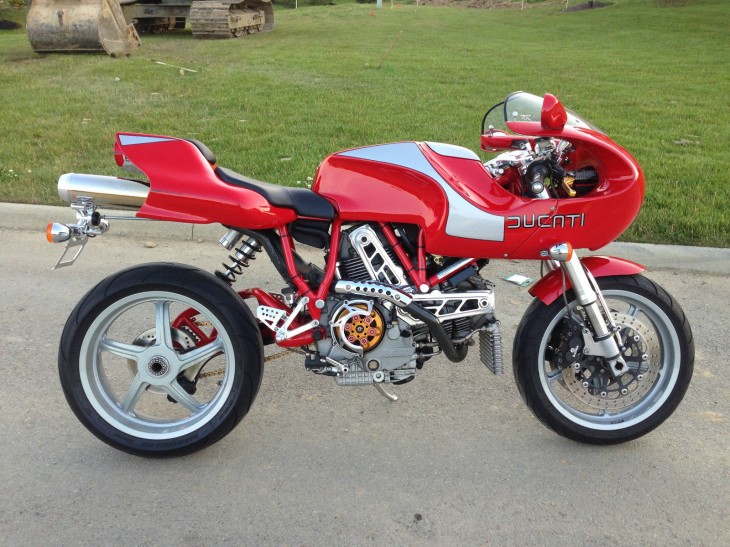 From the seller:
Here is my Mike Hailwood. Clearly you know what this is. Mine has been ridden 7677 miles. It has never been down. It has been modded with the aftermarket clutch plate, clutch cover, and GP levers. I do not have those stock parts, fortunately I believe they are easy to come by if you so choose. The bike comes with its plaque in the case, two keys, and manuals. It has recently had the belt service as well as a new chain and some general love. The pictures are representative of its condition. This is a nice example that spent the winter in my living room and that I enjoy riding. I am selling to get a two-seater as I enjoy riding with my girlfriend. Naturally, as the bike has been ridden it will command a lower price than a zero mileage NOS example.
---
2002 Ducati MH900e with 1,784 miles in Texas
From the seller:
This motorcycle is in showroom condition with 1,784 miles on it. The vin for this motorcycle is ZDM1LA4N72B001.
Aftermarket parts included:
-Ohlins Shock
-Vented Clutch and Belt Covers
-DP Levers
-Staintune Exhaust
-Carbon Rear Fender
-Bike Cover
-Stand
---
2002 Ducati MH900e with zero claimed miles in Georgia
From the seller:
If you are landing on this page you clearly know what you are looking at. You are bidding on a very special early 2001 MH900E with "100" miles. The reason for the quotation is because this bike has 0 miles on the odometer. My understanding is that the dealership has to pay additional fee's if they sell a brand new vehicle with "0" miles. Thus I believe it was recorded as "100" miles instead of "0" The title and registration (which has been paid for 2014) will reflect 100 miles on the bike. The bike is immaculate. The paint and body have been professionally detailed with mezerna polish and swissvax wax so the the bike looks better than the day it came off the dealership.

Bike comes with:
MH900E Stand
MH900E Numbered Shirt
MH900E Commemorative Numbered Plaque
MH900E Manuals
MH900E 2 Black Keys
For any collector, these items are a must to be included to retain top value for the bike.
---
2002 Ducati MH900e with 1,425 miles in Arizona
From the seller:
2002 Ducati MH900 Evoluzione. Very Rare and a Collector Bike. only 2000 Made. Like New. Ready to be Ridden. All factory, This 2001 MH900e Mike Hailwood EVOluziorve has only 1425 miles on the odometer – beautiful and works great. Numbered 1595 of only 2000 manufactured. (Only 500 or so made it to the states). Hard to believe it's almost 13 years old – Michelin Pilot Tires, all fluids checked/changed, new batteries, runs great. Overall I would rate the condition of the bike as excellent.
---
Well there you have it – four examples of the most collected model in (recent) Ducati history scattered across the US. Prices range from $16,800 to $25,000. If this is your bucket bike, then now is the time to buy. Good Luck!!
MI