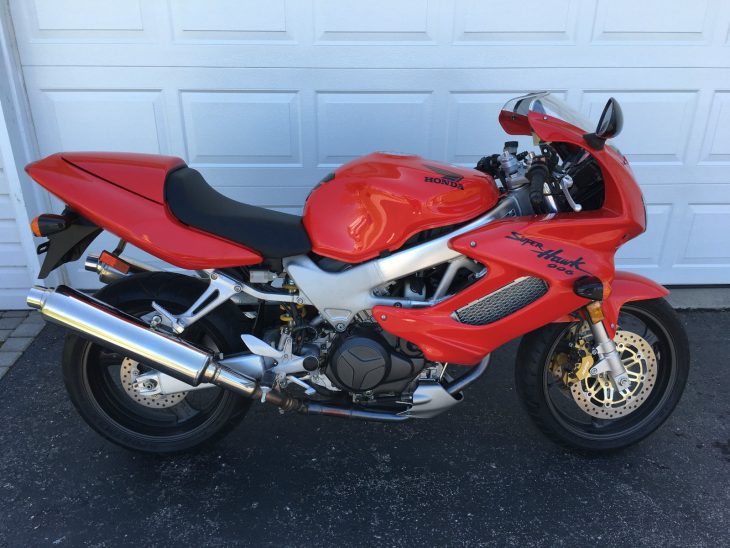 In the mid-1990s when Ducati was dominating World Superbike racing and the all-important bedroom-wall-fantasy-poster competition, it seemed like everybody wanted to get into the v-twin market and "beat Ducati at its own game." It shouldn't have been that hard, right? I mean, Ducati made fast bikes, but part of why they were so successful in WSB could be dismissed as them simply exploiting rules that gave an advantage to v-twin motorcycles: obviously, 750cc twins can't compete directly with 750cc inline fours in terms of outright power, and the rules allowed a displacement advantage to keep racing relatively equal. But it wasn't as easy as all that, and the short-lived competitors to the Bolognese twins like the Suzuki TL1000R/S and Honda VTR1000F Super Hawk are proof of that.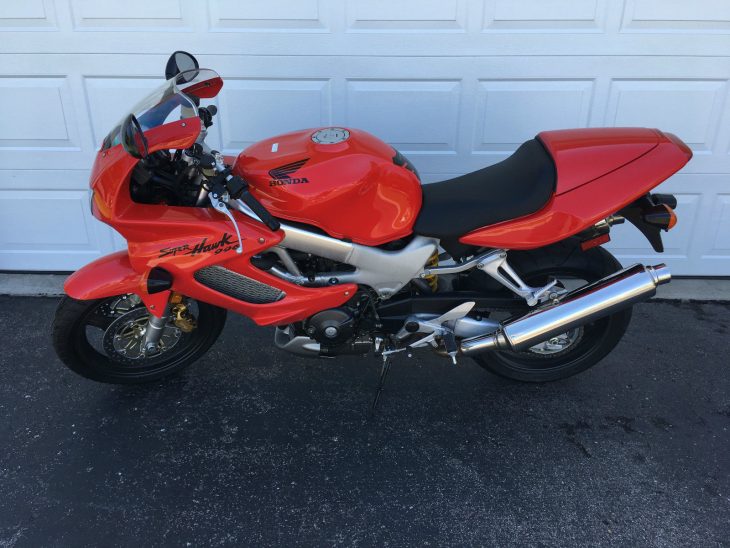 On paper, it looked like a recipe for success: the Super Hawk was powered by a 996cc 90° v-twin that featured liquid-cooling and four valves per cylinder, so it really was closer in spec to Ducati's 916 but priced closer to their air-cooled 900SS. The half-fairing resembled the Super Sport as well, although the slick side-mounted radiators made it clear this was an altogether more sophisticated machine and of course it used an aluminum beam frame instead of Ducati's signature trellis.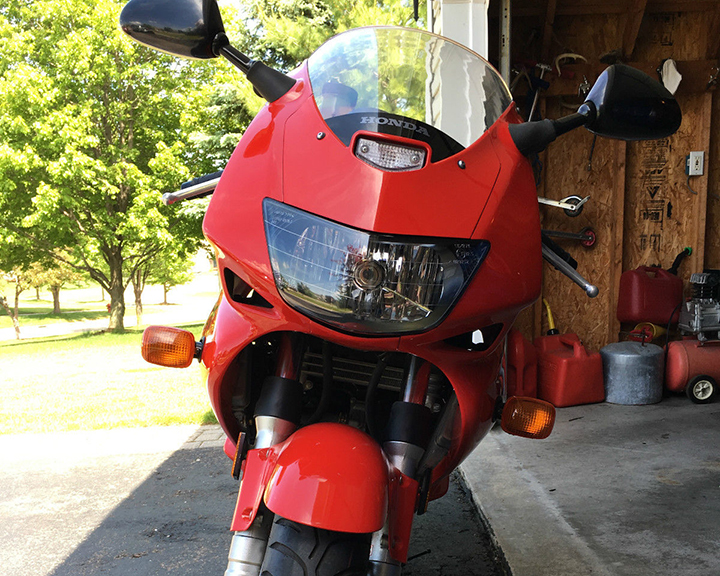 But the problem was a distinct lack of focus: where the 916 was an uncompromising racing machine barely tamed for the road, the VT1000F was much more road-biased. Back when these were new, before Honda introduced the much more aggressive SP1 and SP2, folks did try to take the Super Hawk racing, but it was never really designed for that. The frame was designed to allow controlled flex for better roadholding while cranked over, but it was a bit too limp for racetrack use without significant modification.
Of course, the fact that the Honda Super Hawk wasn't a big sales success doesn't in any way mean it was a bad bike. In fact it was a pretty great bike, aside from the bland styling and stupidly small fuel tank that combined with mediocre mileage to limit range. Fit a set of aftermarket exhausts or run it dead stock, strap a jerrycan to the passenger seat, and just ride the wheels off it! Of course, the big selling point of today's machine is the incredible time-capsule condition, sporting a showroom-new 355 original miles, so this is either a great opportunity for a collector, or for someone who regrets not buying one new and wants to rectify that error now...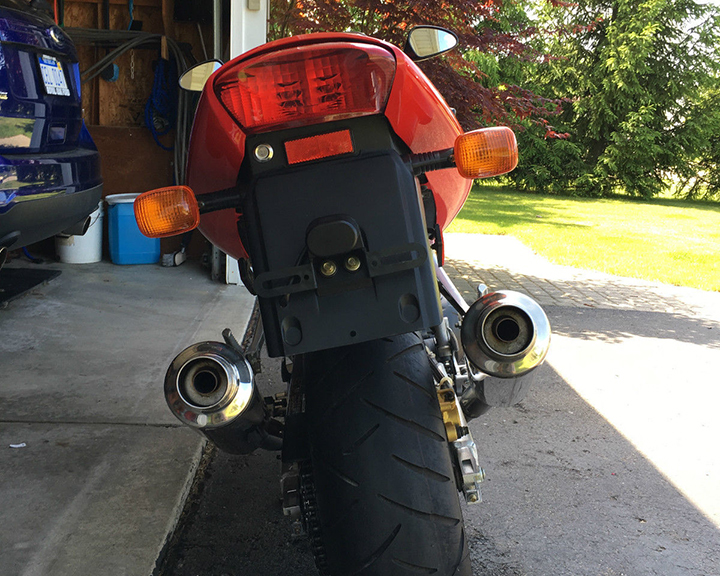 From the original eBay listing: 1998 Honda VTR1000F Super Hawk for Sale
Here is your chance to buy a new bike at a used bike price. I have for auction a 1998 Honda VTR1000F Super hawk, with only 355 total miles! Bike was ridden by the original owner for just a few hundred miles, then stored in his living room. Bike is in excellent condition, with only a few minor scratches (as pictured). New battery, with carbs and tank inspected and it runs great.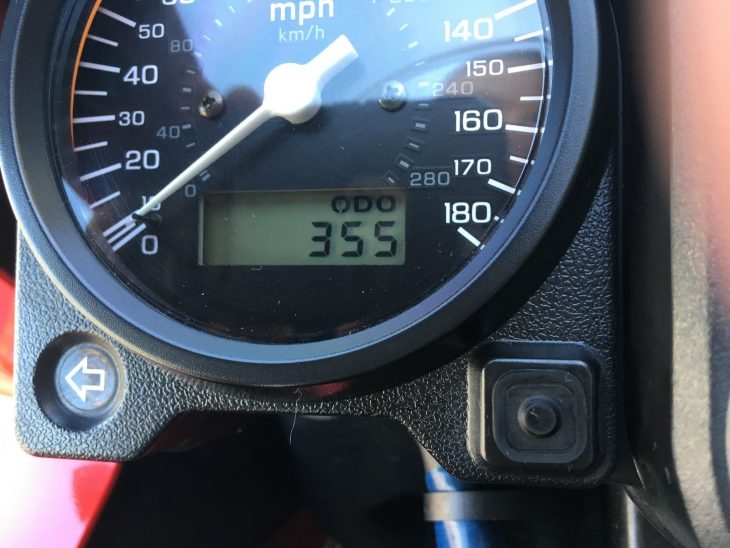 Part of the appeal of the Super Hawk is the famed Honda reliability and the Honda practicality, so it's a shame about that tiny tank, but considering the low prices these have been commanding for years, you're still looking at a lot of bike for the money. You might not get Ducati looks, but you get throaty v-twin sounds, excellent road-biased handling, decent comfort, and good reliability. This is a no reserve auction and bidding is pretty low so far, but active and creeping steadily upwards so I'll be curious to see where the bidding stops.
-tad