Warning!
This post is in our archives. Links in this post have been updated to point to similar bikes available to bid on eBay.

For sale: 1977 Honda MT125R completely original!
How is this for a great little Christmas present? An all original 1977 Honda MT125R race bike in exceptional shape! Sold directly by Honda via their dealer network, the MT125R was produced by Honda Racing Service Center (RSC) and made available to the general public. This was, for all intents and purposes, a true GP roadracer intended for closed-course competition. Randy Mamola got his start on a bike very much like this one.
Honda built this bike by borrowing heavily from the parts bin. Many pieces on the roadracer originated from the MT125 Elsinore dual-purpose bike. The engine is an air-cooled, single-cylinder two-stroke, coupled to a six-speed transmission. Horsepower was purported to be around 26. Just check out those tiny clip-ons!
From the seller:
I am offering for sale my 1977 Honda MT125R racing bike. This machine is completely original and does not appear to have ever been raced.

The MT125R is a factory produced race bike that draws from the very successful Elsinore CR125M motor crosser combining a modified CR engine with a unique frame, front fork assembly and a one-off faring tank and seat unit. The MTRs were manufactured for two years and used for a one make/model race series sponsored by Honda which ran in America and Europe. Many racers started their careers on MTRs.

This machine is as new! It has all of the factory items except the original stand. Included is the original MTR tachometer, mechanical front disc brake system and some spares including sprockets, jetting and copies of the factory literature. It incorporates the original MTR engine with a 34mm Mikuni carburetor, ultra close ratio gearbox and MTR pipe. The wheels have 1.60 DID rims with the factory Dunlop KR73/76 tires.

The bike was purchased in the condition you see it in now. When I got it, I checked the compression, started it up, rode it around the block and put it away. It runs perfectly. It is ready to race with the exception of needing new tires (the original tires are perfect for showing) and drilling/safety wiring all of the bolts. Or you can just place it in your shop or den and appreciate this beautiful little Honda factory racer as is.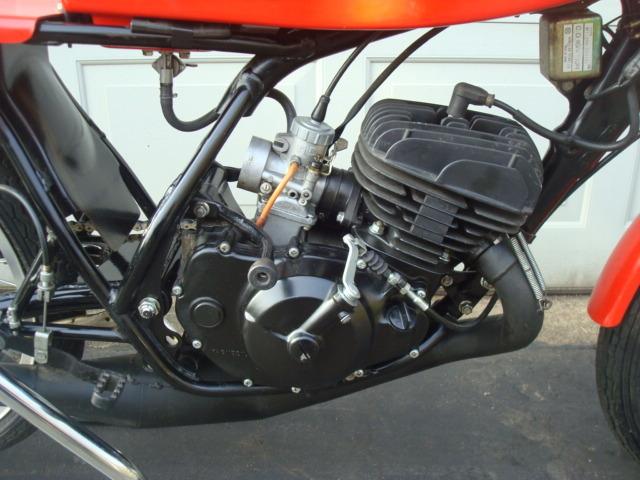 This excerpt from Cycle World circa 1978 really tells what riding one of these bikes is all about. And with the New Year just around the corner, this would be the perfect way to set yourself straight with a resolution for more track days!
There is more information and pictures in the auction ad. The price, while higher than the MSRP when new in 1977 (which was just under $2k), seems entirely reasonable given the condition and the vintage of the bike. Your chance to own this neat little piece of Honda racing history is
MI