Warning!
This post is in our archives. Links in this post have been updated to point to similar bikes available to bid on eBay.

For Sale: 1994 Honda RVF750R RC45

Update 10.19.2012: Relisted again for $35k. Maybe he offers a layaway plan for Christmas delivery! Links updated, -dc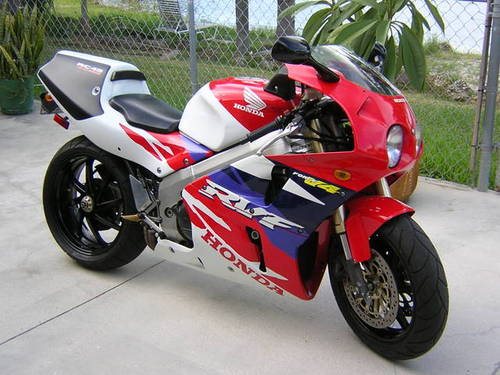 From sunny Miami, Florida comes this very rare RC45. You might think that the pictures look familiar, and you would be correct: This seller originally tried to sell off a RC30 and a RC45 together in a single auction (see that post here). The original bundled price started out at $99,999, then dropped down in steps to $69,999. But just because today's RC45 represents only 50% of the pair, don't think that the price has dropped by a commensurate amount….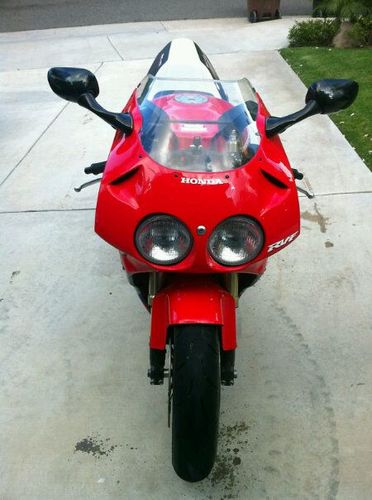 The RC45 was a homologation machine – in that Honda built just enough street bikes of the model lineup to qualify it for Superbike regulations. Much has been written about these legendary steeds (search for RC45 on RSBFS here) and there has been much argument about whether the RC45 is "better" than the RC30. When you look at race wins and success at the track, there is really no contest. But there are those who prefer the more rounded look of the RC30 versus the more modern appeal of the '45. Either or, I'm not cryin' if one shows up under my Christmas tree.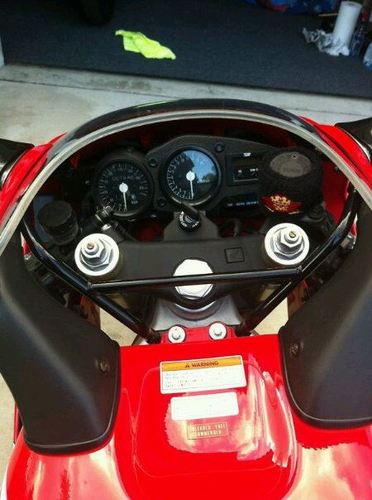 From the seller:
Up for sale is A 1994 RC45 #20 OF #50 made….6842 miles, AMERICAN SPEC!!!! these R NOT EURO MODELS!!!!!

BIKE IS FLAWLESS !!!

RC45

ORIGINAL OWNERS MANUAL,TOOLS,ORIGINAL PIPE FOR RC45 AND REFLECTORS. (ALSO HAVE A SET OF BLACK MARCHEZINIS WITH TIRES THAT GO WITH BIKE)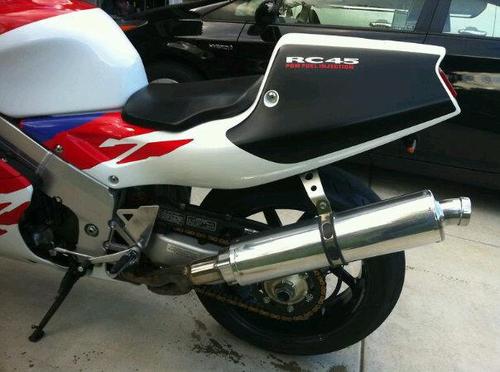 When this auction originally launched with both bikes, I was curious about the interest level – after all, these are rare collector bikes. But the sky-high pricing didn't win any bidders. Now that just the RC45 is on the block, pricing is still an issue. I'm pretty sure Honda did not create the code names of the bikes by setting a price, but this RC45 is a whopping $45,000. Hmmm, with pricing like this, maybe it's time to sell my R65LS – first $65k takes it!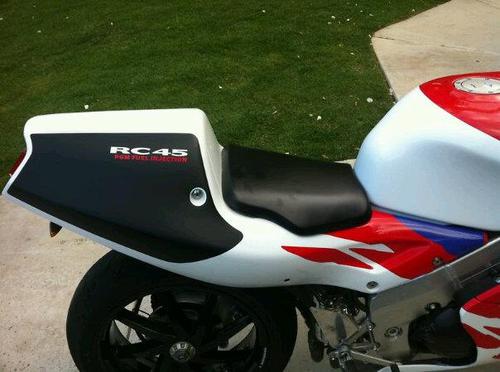 After seeing the pair of bikes so often on RSBFS, this lonely RC45 is starting to look like Garfunkel without Simon. For more info, check out the auction here. What do you think a minty RC45 (one with nearly 7k on the clocks) should go for? If rent or morgage were not a concern, what might you be willing to pay? Share your thoughts!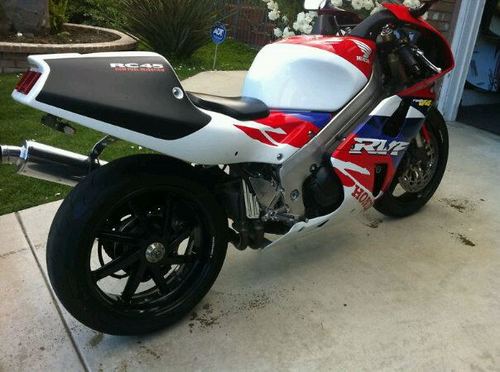 MI