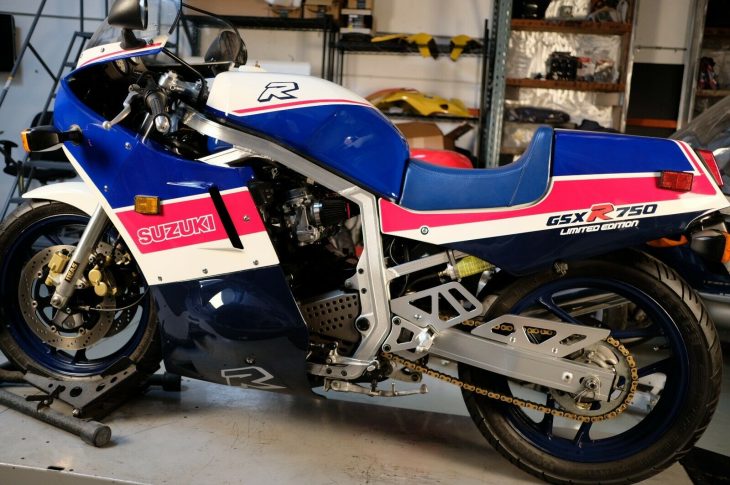 Suzuki's original GSX-R is often thought of as being the first modern sportbike. Other bikes had similar specifications and were produced during the same era, but none have quite captured the riding public's imagination in the same way, combining the ubiquitous Japanese inline four with a monoshock suspension, an endurance-racing full-fairing, and an affordable price point. This first-generation GSX-R750 LTD or Limited Edition incorporated a few extra bells and whistles Suzuki wanted to homologate for production-based racing and is very rare, with just 299 examples imported to the US.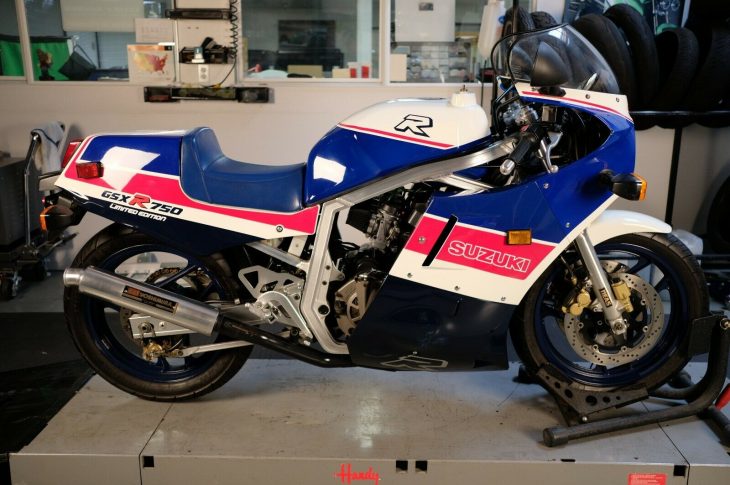 The original GSX-R400 that was introduced a year earlier used a more traditional liquid-cooling system, but the 750 and later 1100 ditched the radiator and additional plumbing to save weight. To keep the big four-valve, twin-cam four cool, Suzuki's Advanced Cooling System or "SACS" that featured a double-chambered oil pump to circulate and cool the bike's lubricant, along with oil jets that sprayed the undersides of the pistons. First and second generation GSX-Rs are often referred to as "oil boilers" as a result.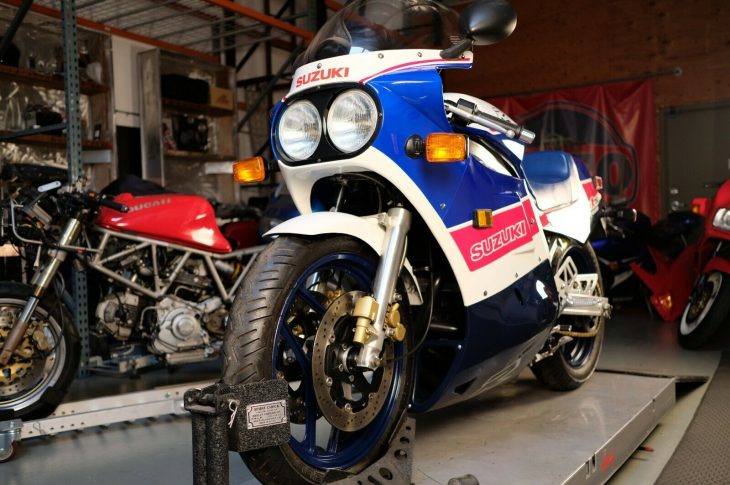 The Limited Edition was distinguished by a vented dry clutch, solo seat, and a longer swingarm, along with Suzuki's electronic anti-dive forks from the GSX-R1100 and that very distinctive graphics scheme. Cost for the LTD was significantly higher than the standard model, but collectors didn't care much then or now. Interestingly, the rare and valuable dry clutch made the bike a popular target for thieves when new but, luckily many survived to grace the pages of RSBFS!
From the original eBay listing: 1986 Suzuki GSX-R750 LTD for Sale
1986 GSXR750 LTD
This is a running motorcycle that just had a complete service. Mostly original paint work here, there are a few scratches. (see pictures please). Period correct Yoshimura Duplex pipe in near mint condition, coupled with factory set of 1989 Slingshot carburetors jetted with a Factory pipe products jet kit. Carbs were just Ultrasonic tank cleaned and are ready to be synced. I did not want to add gas after the cleaning so the motorcycle has no fuel in the system whatsoever. Dry clutch works great and OH that sound.

The bike will need tires and a carb sync if you want to ride it. We can preform this service for you at an additional charge.

Also this bike can be delivered to the port of Long Beach for a flat fee of $100.00. Please have a look at the pictures and ask any questions before buying. Motorcycle sold as is.
There are a couple minor blemishes [note the deep scratch on the belly pan in the pic of the headers], but looks very clean and original, apart from the period-correct exhaust and the later-model carburetors. With 12,000 miles on the odometer, it's pretty clear that "a complete service" at the very least included an extremely thorough cleaning, and this looks like it could be a great opportunity to pick up a sharp-looking homologation special, although the $17,900 asking price is a bit steep.
-tad