Here is a legend, the Yamaha OW01.  In 1988 Yamaha akready had a very fine Superbike in the FZR750R, a bike which managed to challenge the WSB winning Honda RC30.  But as good as the standard FZ was, the introduction of the OW01 in 1989 took the game to a whole other  level.
The OW01 was built to allow Yamaha to go Superbike racing and these homologation machines are pretty close to being true "racebikes for the street" .  The highlights include:
Alloy Delta box beam frame based on the FZR but with thinner, lighter and higher quality aluminum
Upgraded front and rear suspension including Ohlin race unit with a remote hydraulic pre-load adjuster.
Upgraded engine internals cluding titanium conrods, 2-ring pistons, hand finished ports
Magnesium brake calipers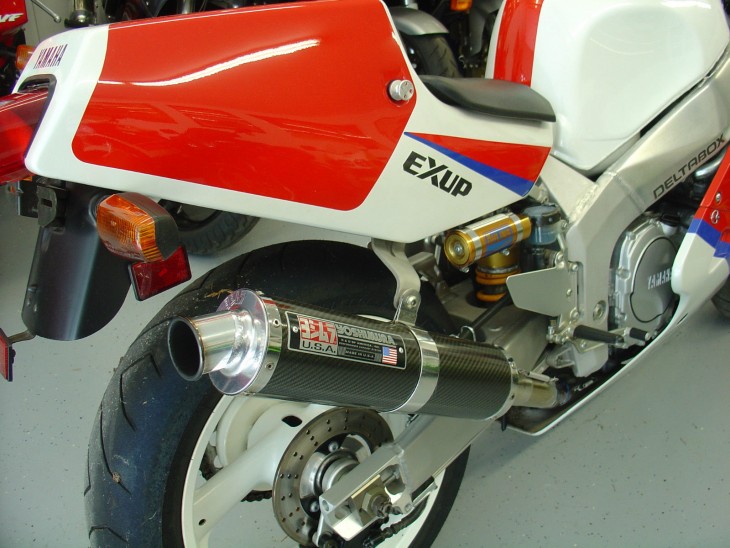 This particular OW01 looks to be owned by a serious collector.   The bike isnt perfect, with a scratch or two on the rear fairing, some odd side reflectors and an aftermarket pipe but otherwise the bike looks really good and has very low mileage.
Here is what the seller has to say:
Has been kept in a climate controlled environment and only ran once or twice a year.
Bike is completely stock except for the Yosh slip on which really makes this bike sound like it should. I do not have the original pipe, but they pop up from time to time, mostly on ebay.uk. In all actuality though this Yosh is far more rare than the stock pipe would be to source.
Only damage on this bike is the left side of the tail section. The red paint has been touched up next to the aluminum bobbin fastener and upper right corner of the red number plate has some stress cracks in the finish as the pics show.
One note – given the pictures on the auction, this seller seems to have a fair number of bikes so fresh fluids and rubber would probably need to be factored into the price.
What's it going to take to acquire this legend?  Well typical prices for the OW01 seem to be hovering around the $20,000 USD and those tend to have more miles than this excellent example.   I think the price on this this one will end up somewhere north of 20k.   To be honest, given the iconic nature of the OW01 I think there is a good chance this auction will end early when someone makes the owner an offer near their reserve so if you are interested I strongly suggest you act fast.
-Marty/Dallaslavowner