As the 80's turned into the 90's, Yamaha's superbike had ceded some of the sportiest territory but evolved into a mile-eating GT. Today's has a few choice additions and the original colors in very good shape.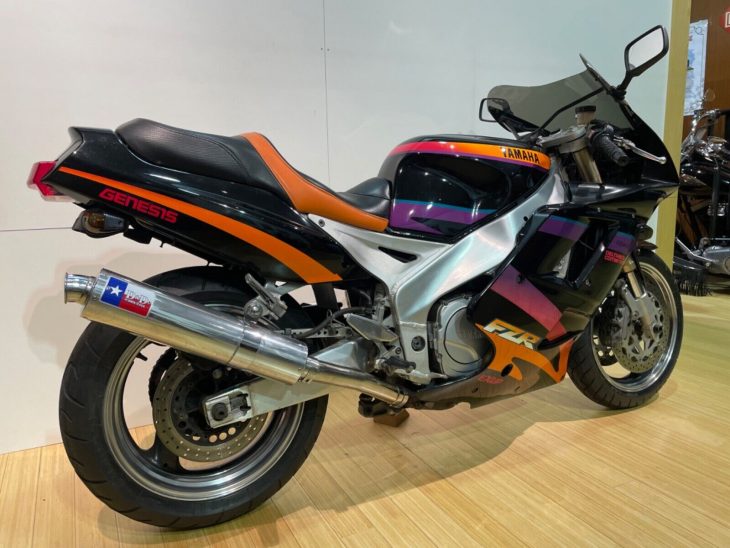 Genesis and EXUP can't be found on current Yamaha's, but back in the day five valves helped the engine make 145 hp and exhaust plenum stretched the 79 ft.-lbs. of midrange torque so the bigger gears of a five-speed transmission could be used.  Long-awaited USD forks were fitted with 6-piston calipers, and one finger could haul down the 520 lbs. wet weight.  The Deltabox chassis angled around the four downdraft Mikuni's, and the concept is still found on a new R1.  The 1,002 cc's kept the FZR out of some racing formulas, but open class endurance racers did well.
At this age the list of owners could blow up the comments section, but this FZR presents very well, with a custom seat, Zero Gravity windscreen, and Power Commander to go with the D&D exhaust.  New expendables and tune-up are mentioned in the eBay auction –
In original condition with the exception of a four into one exhaust system. The bike has new tires front and rear and a new battery. The carbs have been cleaned and the bike is ready to ride. Condition is cosmetically an 8 out of 10.
The FZR name gave way to YZF for 1996, the Thunderace using much of the FZR tech but put on a strict diet.  The almost liquid power of the FZR has stayed legend, with short-shifting the norm, and 134 mph through the 1/4-mile traps.  This one is on a regular auction and has a reserve indicating the seller still loves the black with neon livery.  GLWA and looking forward to seeing where it ends.
-donn