For Sale: 1989 Honda NSR 250R MC18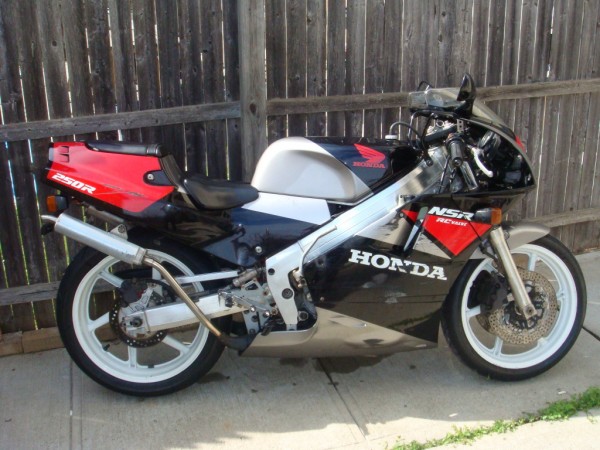 You might think the RSBFS staff a strange bunch; if it's not 400cc rockets like this one or this one, it is two-stroke smokers like today's bike, a 1989 Honda NSR250R MC18. Now, we have seen quite a few MC18s on these pages, and you can do your homework here. And while later generation bikes are certainly more technologically advanced, many believe that a well-sorted '18 is the bike to have. Let the flames begin!
The seller was good enough to share some broadside shots of the bike, including the obvious rash on both sides of this little gem. The damage is unfortunate, as I really like the red/black/silver color scheme, and actually prefer it to some of the race-replica livery (let the flames continue!).
From the seller:
Up for grabs ultra rare all original 89 Honda NSR black / red color combo "mc18". 26000 kilometers or 16000 miles , Fresh oem top end installed less than 400 miles ago. oil injected so no messing around with premix.Bike runs mint and starts on first kick no matter how cold or hot it is. brand new Michelin tires, brand new brakes. the only thing it needs is fairings repainted to look new again. previous owner scratched up right fairing and slightly left fairing "look at photos". other than that it is mint. if you are local you are more than welcome to come over have a look and test it. Title clear and clean in hand so the bike is totally street legal
This bike is not exactly low miles (odo shows just under 27,000 km) or cherry, but the seller does state that the bike is titled in NJ despite the fact that the pics show no plates. There is much that is unknown here, and as always we will recommend that you contact the seller for more pictures and more information. For additional information on NSRs, you can also check out this link.
This auction is going on now, and there has been some early action; the current bid is at $2,650 with reserve still in place, and the BIN is set at $5,500. That latter number is quite a bit high for an MC18 in this condition, but if the reserve is set at a rational level then we could have a good one going yet. For more information and pictures, . Tell 'em you saw it on RSBFS!
And if you are interested in something a little newer, be sure and check out our featured listing: a gorgeous MC28!
MI