Warning!
This post is in our archives. Links in this post have been updated to point to similar bikes available to bid on eBay.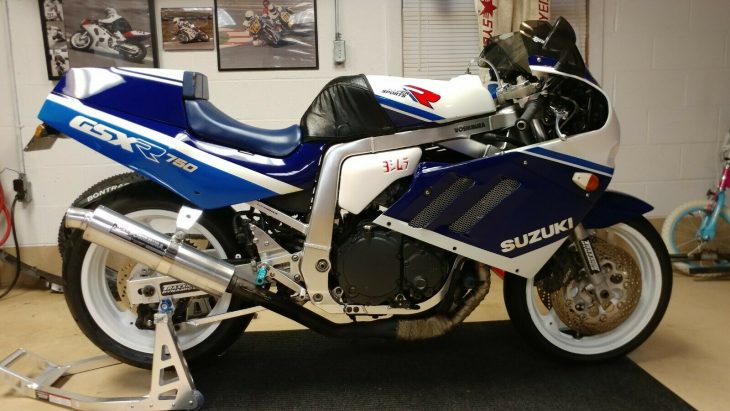 When I got into bikes, it was easy for me to indulge my existing bias towards European machinery, since Japanese bikes were garishly colored and festooned with neon graphics, with silly names [Ninja? Katana? Really?], owned by posturing riders who thought t-shirts, sweat shorts, and high-top sneakers were appropriate riding attire. Welcome to New Jersey, circa 1990. I've since learned the error of my ways and, although I still prefer European bikes, the second generation of the Suzuki GSX-R750 is one of my favorite motorcycle designs of any era.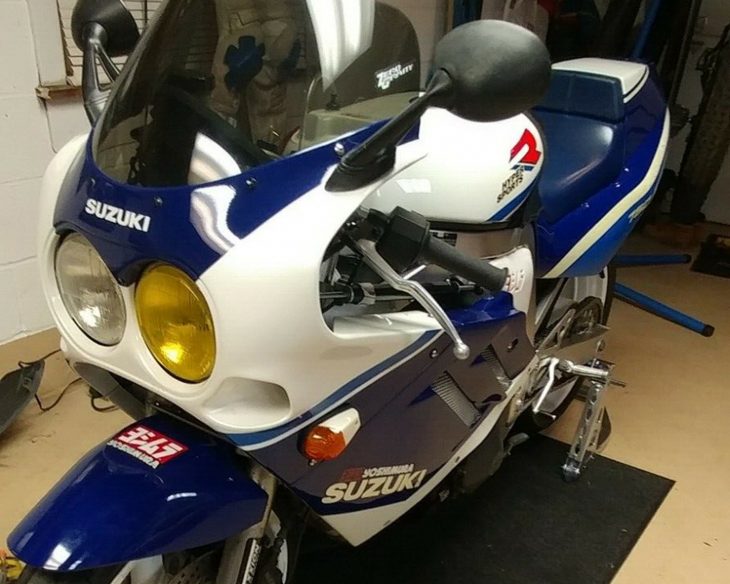 Sure, the double-cradle frame design was fairly primitive and had been superseded by modern aluminum beam units like Yamaha's Deltabox, and Suzuki's oil-cooled inline four experiment ultimately gave way to the liquid-cooling used by the other superbike manufacturers, but Suzuki made the somewhat outdated package work just fine on both road and track. The Gixxer always had a bit of a bad-boy image that makes them far more collectible today than Yamaha's more technologically advanced machine.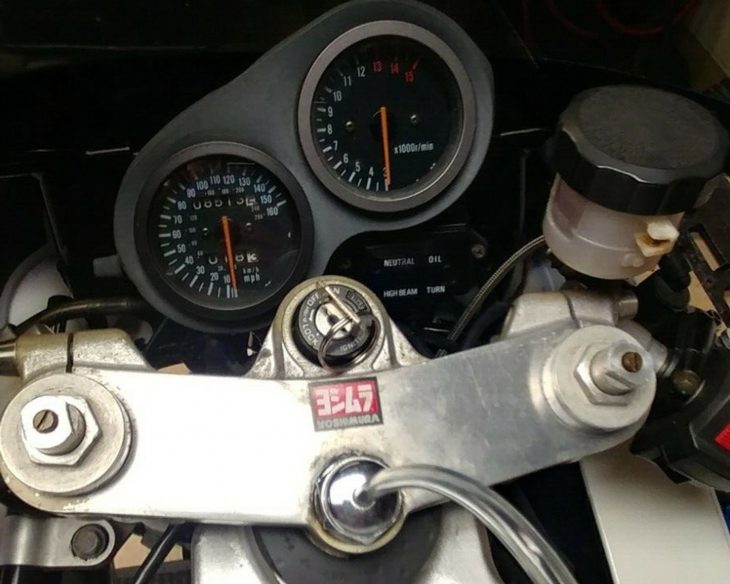 The second-generation machine is often referred to as the "Slingshot" to differentiate it from the earlier "Slabbie" models, supposedly in reference to the quartet of semi-flat-slide carburetors, but I've never seen any part of the things that actually looks anything like a device used to fling small projectiles. It retained Suzuki's Advanced Cooling System that was meant to simplify and add lightness by eliminating a coolant-filled radiator and kept temperatures under control using a high-capacity oil system.
Bore was larger and stroke shorter than the earlier bike to increase the bike's appetite for revs and make the powerplant more suitable for competition. Although that backfired a bit when racers complained of a lack of torque, and Suzuki's homologation GSX-R750RK reverted to the earlier bike's bore/stroke dimensions. Wheels went from 18″ to a more modern 17″ and the fairings were redesigned, but it kept the twin-headlamp endurance-racing style of the original bike. Dry weight for this version was a claimed 419lbs, and the bike made 112hp.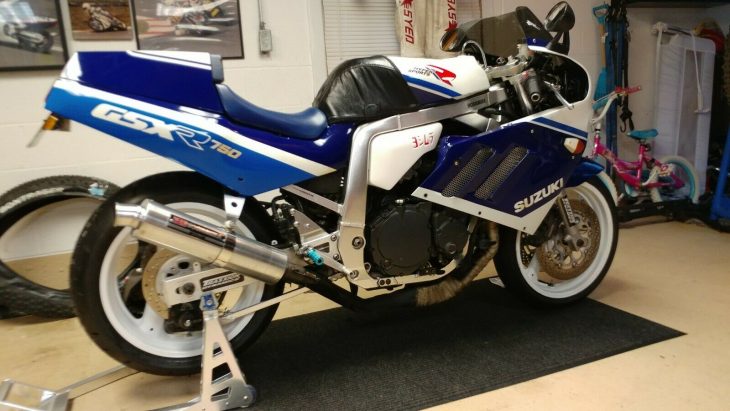 From the original eBay listing: 1989 Suzuki GSX-R750 for Sale
"Excellent condition Classic Superbike"

1989 Suzuki GSXR750 with clear title in outstanding condition. 10k miles on new motor. Same year (89 short stroke) motor as original. All gauges and directionals work. Mild restoration including brand new NOS stock upper and seat cowl. Freshly painted rear wheel with new wheel bearings and brand new Battleax tire.

Some of the mods are as follows.

38mm CV Carbs jetted perfectly with filters and Yoshimura carb cover
Freshly painted 1992 Rear wheel/cush drive/shock with 180 Bridgestone
Toby steering damper that really works. Also forks and Shock recently serviced 
Brand new NOS stick Suzuki upper
Brand new NOS Suzuki rear seat cowl
Full Yoshimura Duplex exhaust with header wrapped header

This bike is a great running bike I've had fun with. It's not a perfect bike cosmetically bit very close. Some nicks here and there nothing bad, no dents in tank etc. Still represents VERY well for its age and can be put into a collection as is. I do have the lowers in very good condition and will post pic of them shortly. Also included is side mounted oil catch tank.

These bikes are near impossible to find in this condition so don't miss out! Will ship but buyer to arrange all details. I can be here to meet the shipper but that's about it.
The low miles on the motor are nice if you're looking for a bike to ride, but may turn off numbers-matching purists. The change to an updated, wider 5.5″ rear wheel allows that 180-section tire to be fitted, since the original was a 160. Not too hard to find today, and should make for a more agile bike, but not as cool-looking. And note that the seller does have the fairing lowers, although they're not pictured at this time. I believe removal facilitates cooling of the oil-boiler engine and improves ground-clearance, but I think the bike does look much better with them on. Overall, this could be a very nice, usable superbike for a buyer looking to relive their youth but not fussy about complete originality.
-tad