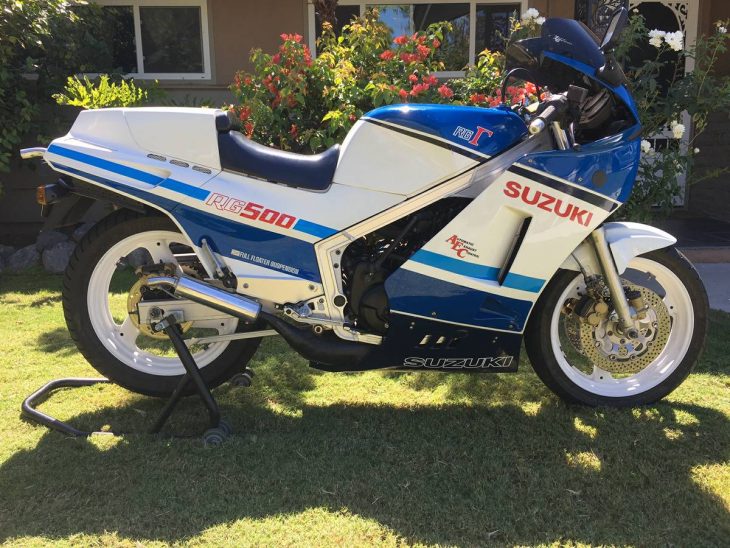 Yet another two-stroke from the land of Craigslist, this 1985 Suzuki RG500 Gamma wears the brand's iconic blue and white superbike livery and looks very nice, despite its fair share of scratches and scuffs. Further signs of the bike's age and use are cracked bolt holes at the mirror mounts on the cowl.
With the ugly stuff out of the way, this looks like the perfect Gamma to enjoy on your local backroads, with a set of aftermarket pipes and pod filters and a set of 17-inch rims from a Katana, which will improve handling and tire choices. The front brakes are Katana fare, too, and are a good bit bigger and more powerful than the stock units. The improved handling and stopping will be a welcome change on the Gamma, which has a reputation for being something of a demanding ride.
Save the pod filters and pipes, the 500cc square-four mill is stock, and was good for a stout 93 horses at the output shaft when new. That's more than enough to make the front end lively when the power hits, especially given the bike's 400-ish pound wet weight.
From the Craigslist ad:
Canadian model. Clean California title in hand. 19,640 kilometers so about 12,200 miles.

The good stuff: Bike runs awesome. Motor, tranny and carbs are stock. Has LG style pod air filters. Battery is new and has been relocated to original airbox location. Stock oil tank and pump in place. Upgraded with Katana front 3" and rear 3.5 X 17" rims. Larger Katana front rotors and calipers for better braking. Braided brake lines front and rear. Nikon pipes. New spark plugs. New transmission oil. Jetted for pods and pipes, but you will want to verify jetting for your area.

The bad stuff: Minor scratches on tank, solo seat cowl and mid fairing. No dents in tank or broken tabs or cracks on bodywork except upper cowl. Upper cowl has the typical cracks at the mirror area, but cosmetically it is very nice. Lower cowl is a fiberglass Lance Gamma replacement. See pictures for details.

Overall this bike is a great example of the RG500 that has the proper upgrades. Minor cosmetic work and the bike will be perfect. $14,500.00 OBO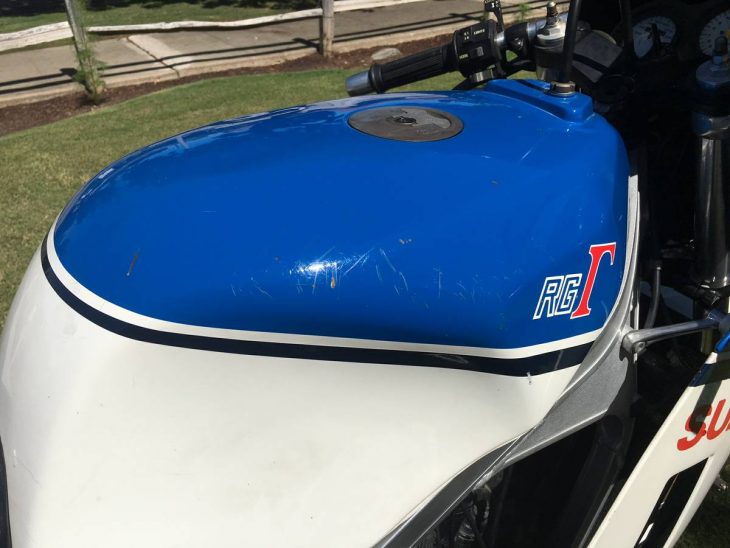 With the rideability modifications the bike should be a peach of a canyon carver. The ask is healthy for a 32-year-old bike, to be sure, but the values of these old GP-style two-strokes have spiked recently, so it is not outside the range of reason.