For Sale: 1988 Benelli 900 Sei Seria 4
Located in Kiel, Germany is this wonderful Benelli Sei. If one needed any more proof that the Italians have a style all their own, this must surely be it. Six cylinders, six exhaust pipes, miles of chrome and some neat technological tricks, the Benelli was briefly atop the world in terms of technical sophistication – beating even the mighty Honda. Alas production issues and problems with quality ensued, and the oldest motorcycle factory in Europe (established in 1911) was sold off to Moto Guzzi. The fall did not end there, however, as the Benelli name is currently under control of the Chinese Qianjiang Group.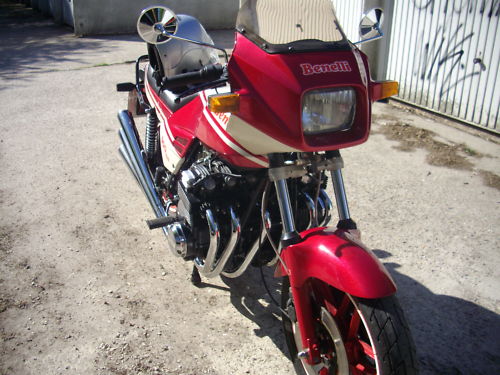 From the seller:
Hallo,

I'm owner of an Benelli 900 Sei of the last build Seria. The cycle is rebuild with new clutch, piston, camshaft, tires, brake and with an special for the 900 Sei 6-6 exhaust-system from "UK-Exhaust. It's not the 6-6 from the 750 Sei, it's specialy build only for the 900!!! The origen exhaust-system in black-chrome belongs to the cycle too.

I think, the transportation in container will cost 1.000 Dollar, but I dont know it exactly at this time. I will have a start price for the Benelli with 13.500 Dollar.
The six-cylinder format devised by Benelli – with the alternator placed behind the cylinders rather at the end of the crank – was originally offered in 750cc. Reports indicate that fewer than 2,000 of the 900cc bikes were produced, and far fewer than that of the final model run. Note that this is a 1988 model, the same year the Benelli plants at Pesaro were sold off, and Benelli was absorbed by Moto Guzzi to form Guzzi Benelli Moto S.p.A. This bike is really the end of an era.
The seller has priced the bike at $13,500 – an seemingly large sum for a Sei. And given such little information about the bike (likely due to lack of English language skills), the opening ask is more about the opportunity to find out more. There are some decent pictures from the seller, but buyers interested in this rare piece of motorcycling history will certainly want to request more.
For your chance to inquiry about this unique Italian superbike, click the link and jump over to the auction. And if you find out more information about this rare beast, be sure and check back and let us know. Good Luck!
MI