Warning!
This post is in our archives. Links in this post have been updated to point to similar bikes available to bid on eBay.

Until very recently, Bimota's exotic, Ducati-powered offerings like this DB2 featured the air/oil-cooled two-valve engines, instead of the more powerful four-valve water-cooled engines from the 851/916 models. This meant that, although the bikes weren't the fastest straight-line performers, they were light and lithe, enabling riders to make good use of every horse available.
This was originally, and perhaps ironically given that we're talking about Italian exotica, a financial decision. The DB bikes have always been intended to sell well, and helped to keep the company afloat at different points in their history: with over 600 made, the original DB1 was about as mass-market as Bimota ever got. A little more than 400 of the later DB2 models were made, with production split between half and full-fairing styles, although I very much prefer the full-fairing on this particular example.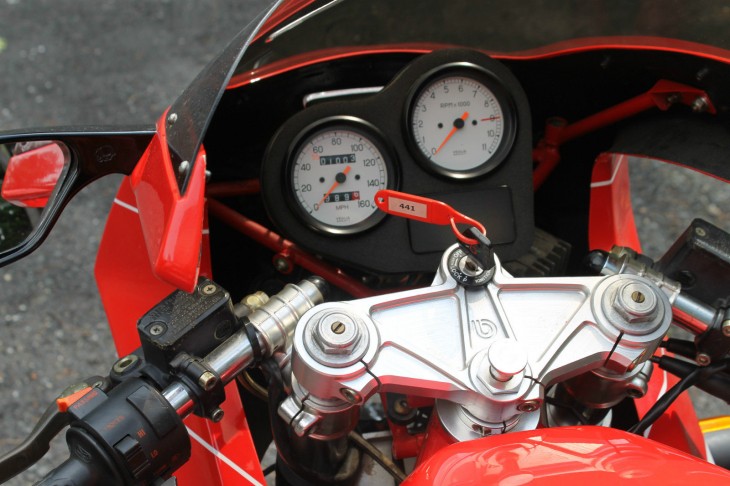 From the original eBay listing: 1993 Bimota DB2 for Sale
Perhaps Massimo Tamburini's finest design, the Bimota DB2 is the consumate combination of exotic componentry, exhilarating performance, exclusivity and style. Bimota made only 408 DB2's, of which 285 had complete fairing.

This motorcycle was completely restored in 2001 when it had approximately 3000 miles and donated to the Larz Anderson Transportation Museum in Boston, who elected to auction it to focus on their older collection of pre-war cars. The odometer currently shows 1003 miles, the amount ridden after the resoration and replacement of the speedo and tach.

Enhancements performed in 2001:

944cc Big bore kit; Stainless steel engine studs; Carburetor jet kit; New timing belts; Carbon fibre belt covers; Braided brake lines; Polished wheels, mufflers, intake manifolds; New chain and sprocket; Adjustable brake and clutch levers; Tinted windscreen, Euro headlight; New speedometer and tachometer; Painted frame.
Since I purchased the bike in 2002, it has lived in a heated, air conditioned garage, and has been ridden less than 20 miles. After sitting so long, I decided to "re-commission" it in 2010 to make it roadworhty again. This involved new tires, new battery, new timing belts, rebuilding the carbs with new floats and jets, all new fluids, etc. It has not been ridden since.

This bike is absolutely stunning, and is virtually new. It deserves to escape from my garage, and be ridden!!
Period reviews suggest that this bike does exactly as intended, putting the flexible, evocative, mid-range strong motor from a bike already well-known for stability into a chassis even lighter, with improved suspension front and rear. Given the relatively simple underpinnings, these are phenomenally responsive bikes, clearly benefiting from Colin Chapman's "simplify and then add lightness" ideology.
This is a bike for people with enough skill to appreciate the qualities this bike embodies: lightness over power, finesse over brute strength. Or just people with an eye for striking Italian design.
One of the nice things about bikes like this is that, unlike Suzuki's GSX-R models, these appealed to well-heeled collectors from the start, and many have been painstakingly maintained. This example has seen very few miles roll under the wheels, but was recently brought back to road-worthy condition after a lengthy spell sitting in a museum: no hideous paint jobs to undo, no extended swingarm to replace, or crash damage.
It does feature a big-bore 944 kit [up from 904cc], which is great for power but reputedly can run a bit hot in traffic. The listing doesn't mention if cooling has been improved, but it's unlikely to be used for commuting, so I'd imagine this should be great for the back-road sorties this bike was made for.
-tad