OK so I am sure some of you are wondering why this is up as a rare sports bike well it was priced under the era when Cagiva owned Ducati and this used the 650 Ducati engine. In fact only 500 of these bikes ever made it to the US..  It was from a time when Ducati was in transition having had huge financial problem and been saved by the Cagiva purchase.  The Pantah engine which is used here was getting tired and not long after these venture Cagiva went back to using the Ducati name and the company introduced the 851.  The reset as they say its history.  However this part of the Ducati heritage should not be overlooked.  The parts used were high quality and you have to love the Silentium exhausts which were anything but!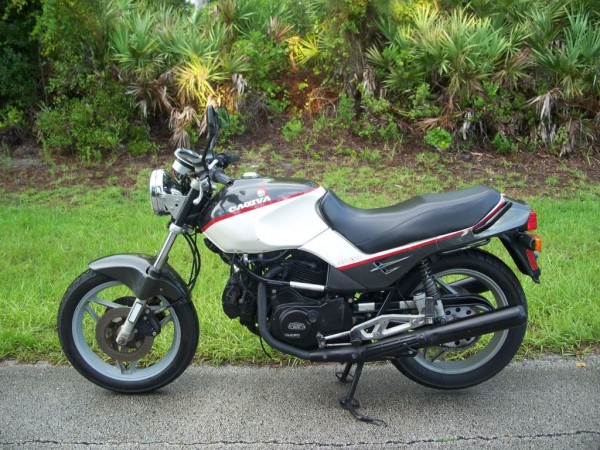 650cc…..5 speed…..Brembo brakes…..

On the block:1987 Ducati/Cagiva Aluzzurra SS 650……..Made by Ducati for the parent company Cagiva.Ducati engine,Ducati frame,Ducati decals,etc……..

In 1985 Ducati was purchased by the Castiglioni brothers (Cagiva),which was already the largest manufacturer in Italy(mainly small street bikes and mopeds),with the intention of entering into the sport bike market.The Aluzzurra SS650 was an upgrade of the defunct Pantah.

"Gone are the swoopy paint, flashy lines and radical seating position of the Pantah," Rider said in its March 1985 review. "Instead, the Alazzurra has been designed to appeal to a far broader spectrum of riders … Whereas the Pantah was an outrageous Italian flashbike, a mini machomobile, the Alazzurra is a sensuous rolling sculpture of tasteful and graceful proportions."

Thankfully Cagiva realized the importance of the Ducati name,and restored the mark in 1987 with only the Elephant retaining the Cagiva name.

When I got this bike it hadn`t been riden much. The spark plugs were old,and the carbs were dirty,and not adjusted properly. I took it to my mechanic who removed/cleaned/adjusted both Dellorto carbs. Installed new NGK plugs,and a new battery. Charging system works excellent.

I drove it about 40 miles.The more I drove it the better it ran.Fast and nimble.Trans/clutch are like they should be.Lots of fun for a cheap price!

Note:Sold as-is.This is a 25 yr old bike so expect wear. Look at all the BIG pictures. I`m sure I missed a ding-scratch-crack-blem or whatever so ask questions. Will need tires soon.Good tread but old. Smokes SOMETIMES when first started. The more I drive it the less it happens. No extra parts. There are e-bay listing for lots of Cagiva parts.
This might just be a cracking bargain for someone with it no doubt going for a small sum.
AS