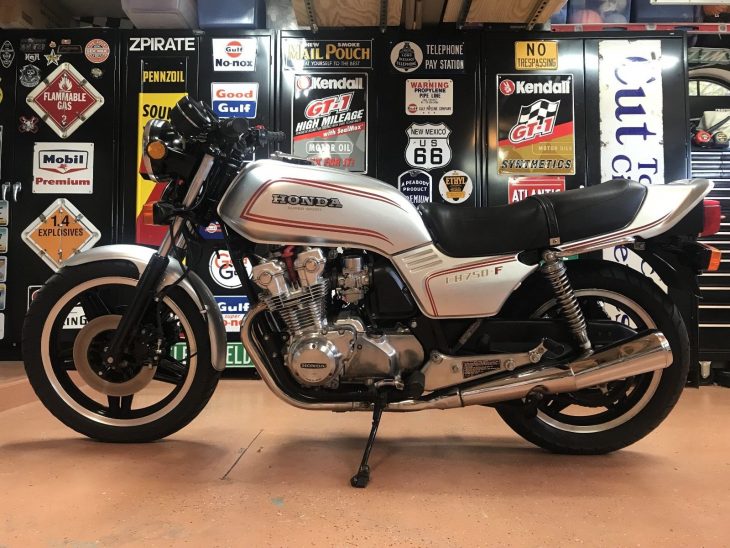 Although the term "sportbike" evokes images of sleek, fully-faired two-wheeled plastic darts, the term has been steadily evolving and originally would have been used to describe bikes like this, the Honda CB750F Super Sport.  Strangely practical-looking for a sportbike, the CB750F was the logical evolution of Honda's revolutionary, but long-in-the-tooth CB750. That bike set the motorcycling world on its ear in 1969, but ten years is a long time, and the bike was in serious need of an update.
Introduced in 1979, the CB750F took the earlier machine and moved the game on a bit: SOHC became DOHC, and two valves per cylinder became four. It was still air-cooled, but the changes led to a claimed 72hp from the 748cc engine. Bore and stroke were perfectly square: 62mm x 62mm. Why not more oversquare per typical, high-revving motorcycle convention? Well Honda felt that the narrower bore meant a narrower, more aerodynamic engine and less surface area meant better combustion. It wasn't particularly light, although the 503lb dry weight was pretty standard for the period, as were the 19" front 18" rear wheels, now cast instead of spoked.
The bike was updated slightly for the 1980 model year seen here with improved rear Showa shocks, a reinforced swingarm, a frame revised to increase rigidity, and heavier, but stronger wheels that replaced the 1979's Comstar hoops. Overall, weight was increased, but so was handling. The package might seem underwhelming for riders used to modern hardware, but period reviews were very positive, praising the bike's agility, stability, and the powerful engine.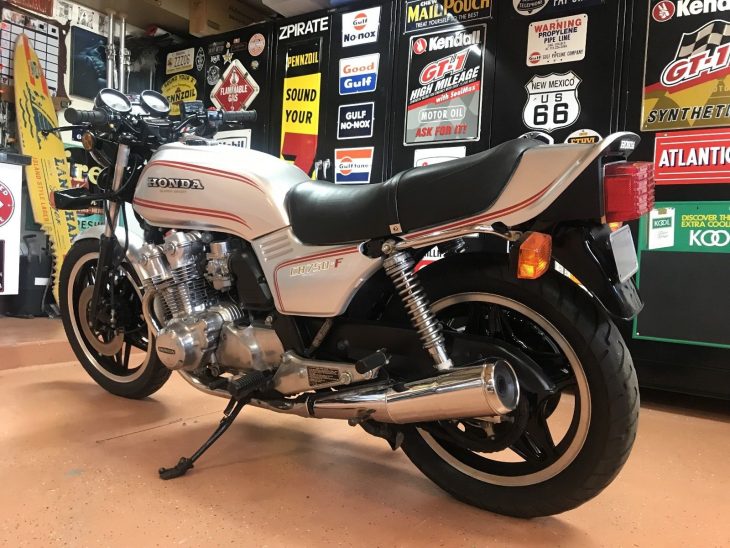 From the original eBay listing: 1980 Honda CB750F Super Sport for Sale
Amazing pristine collector Super Sport bike in rare "seldom seen" condition

750cc inline DOHC engine
78HP 5 speed
12 Second 1/4 mile sport bike
Timeless design
Super Sport racing handle bars
New tires 
Two owner bike

Silver Metallic paint that appears brand new. Bike has had recent service. Meticulous detail work done and looks and runs like brand new motorcycle. Garaged kept by collector and still looks new 38 years later - She's ready to ride! Beautiful bike with a style that will keep on pleasing. I get compliments on this bike every time it goes out. Rare condition and there will be absolutely no disappointments. I'll be here to assist your shippers any way I can. 

To me it appears to have been completely restored, but I'm not certain. This just my opinion. I've restored a lot of cars in my time but not a bike. This bike is absolutely gorgeous and looks freshly done. I purchased it from a fellow car collector. Again, it looks like a complete restoration had been performed but I can't be certain. Bike has never been dropped or laid down. You can't restore a bike for what I'm asking. Please look closely at the photos as they are a true representation of the immaculate condition of this Super Sport bike.

Here's a beautiful sport bike being offered here in exceptional condition!  You will not find another motorcycle like this one in this condition for this price! It's cheaper than a dirt bike! I've put a very reasonable price of only $5,800 on the bike. For the money that has been spent on this bike, it can't be duplicated for anywhere close to what I'm asking. Jump on this deal… she needs a new home, admirer and a rider that wants to show her off! Again… you will not be disappointed! You're buying the "BEST"

Thank you for your consideration. Drew - Arizona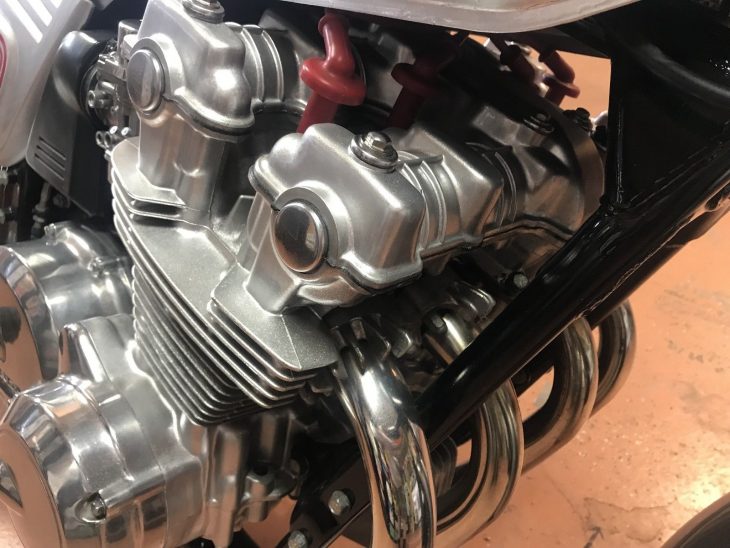 Wow. Well this CB750F is very nice, but $5,800 is a pretty big jump over the last time I eyeballed values. Of course, in a couple years' time, that might start to look like a bargain... Certainly, these aren't modern sportbikes in any sense of the word, with an air-cooled engine, dual shock rear suspension, spindly forks, and huge wheels. And the weight is pretty shocking as well. But unlike the potentially crippling ergonomics of something like an MV Agusta F4, this old school superbike offers a pretty relaxed riding position and a wide, flat seat that probably works well for two, so you can share your vintage sportbike with your vintage back, and maybe a vintage companion.
-tad