Warning!
This post is in our archives. Links in this post have been updated to point to similar bikes available to bid on eBay.
This isn't something we'd normally feature here on RSBFS, but given the effort that went into this restomod Kawasaki Z1 and the performance that's likely on tap, it seemed like a fun bike to share.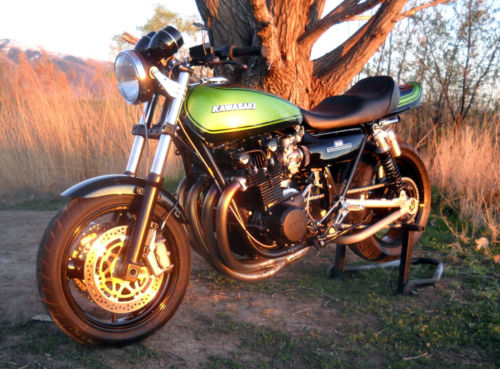 Keep in mind: "musclebike" and "sportbike" are general terms at best, not a specific category of motorcycle. And remember, they raced "superbikes" that looked a whole lot like this one on tracks throughout the 1970's. On the road, where slow in, fast out is the name of the game, I'd bet a bike like this one would give most "genuine" sportbikes a real run for their money.
Based around Kawasaki's beastly Z1 that dominated the roads of the mid to late 1970's, much of the customization that's gone into this one seems intended to address the original bike's glaring weakness: a flexible frame that made serious cornering pretty much out of the question.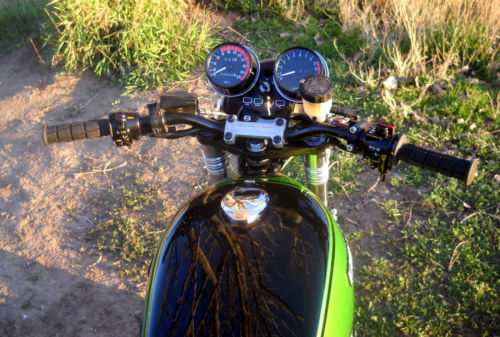 There's plenty more detail regarding the build and seemingly every part that went into it over at the original eBay listing: 1975 Kawasaki Z1 900 Restomod Streetfighter
I built this bike to mimic a Sanctuary built streetfighter from Japan. I built it as though I were going to ride and enjoy it. The stock Z1s are cool, but they are flexi fliers. I wanted a bike that would handle like a modern bike, but still have the look and feel of the original Z1. I started with a 75 Z1 900 and a 2000 ZRX1100 then added time and money. Having completed the bike, I now realize that I really enjoy building these bikes. So I thought, if somebody were interested in this bike at a good price, I'd let it go and build another.

This is a matching numbers 1975 Z1 with updated suspension, wheels and brakes.

Frame: stock Z1 frame modified with gussets to minimize flex, rear shocks cantilevered.

Forks: KYB 43mm, 2000 ZRX1100.

Electrical, all new harnesses including a hybrid electrical system. This hybrid system has modern relays and uses modern fuses, 5 of them. The system includes electronic ignition and a voltage regulator/rectifier combo. The goal was to provide a dependable electrical system for years to come.

Engine: Fresh built, less than 50 miles. Transmission, shift forks, cylinder head, cylinders and crankshaft are from a pristine low mileage 1978 KZ1000(11K miles). The internals were beautiful so I kept them aside for this project. The piston kit is an MTC 1076cc. Cylinders were bored to match by Joe Hooper at Pit Stop Performance. The cylinder head was worked by Joe at Pit Stop as well. The head has been completely rebuilt including fresh valve guides, seals, heavy duty springs. The valve train is standard over bucket shim. The cams are new Web Cams, 410 lift and they have been degreed per manufacturer's specifications. To finish out the valve train, a new cam chain, guides, pillow blocks, and all 3 rollers were installed. The side covers are all powder coated flat black, the cases, cylinder and head are high temp gloss black. No broken fins or cracks, the best of the best on this motor.
If you're not familiar with "Sanctuary" as mentioned by the seller, pop onto Google and take a look. They're based out of Japan and sell premium parts like titanium headers for Japanese bikes. Complete Sanctuary builds tend to be stunning distillations of the Japanese superbikes of the 1970's and drip with titanium, carbon fiber, and exquisite detailing.
This guy may not quite achieve that level perfection, but you're getting 90% of the finished product for 30% of the cost, and that seems like a pretty good deal for a bike you can ride to bike nights, rip around backroads, or even pack up with luggage and ride to the ends of the earth…
-tad