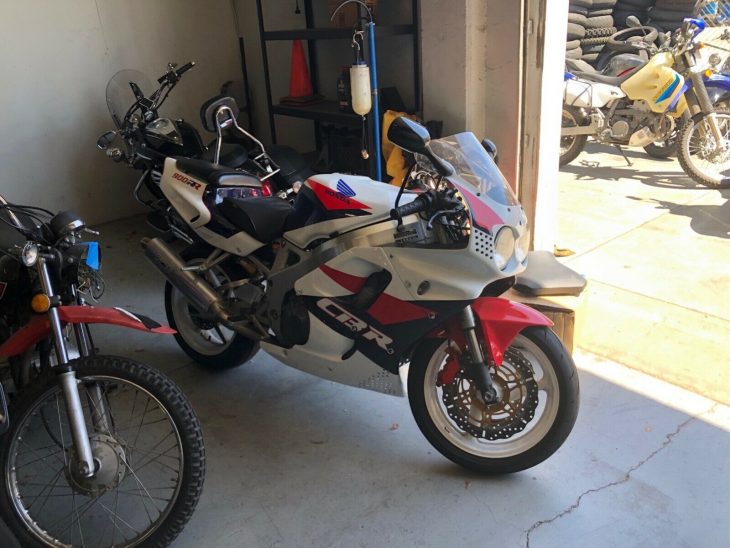 Honda's seminal CBR900RR remains a desirable 90s sportbike, and remains one of the most collectible motorcycles of the period. Subsequent versions of the "Fireblade" were always incredibly polished and competent motorcycles, but somehow failed to capture the original's lightning in a bottle. So what made the original so special?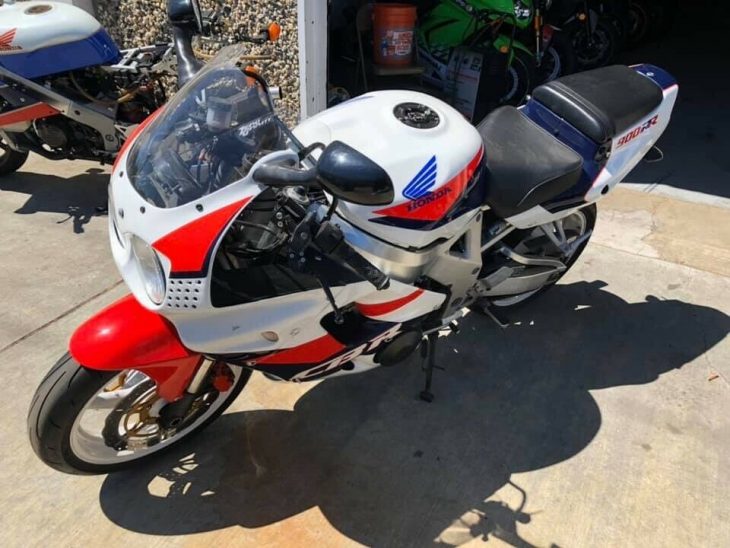 Most importantly, the CBR900RR was designed by Tadao Baba to be the ultimate roadgoing sportbike. That meant it didn't bother trying to fit into any established production racing class, freeing Honda up to make a light, agile motorcycle with a much bigger engine. Without the need to maximize high-rev power, they stroked a 750cc engine to 893cc to keep the powerplant as compact as possible, then slotted it into a package that weighed just a few pounds more than their CBR600. The long-stroke engine could still rev but, more importantly, had an incredible midrange that spoke to the bike's roadgoing intent.
The entire package prioritized rider feel and engagement over outright performance, but that didn't mean the bike wasn't blisteringly fast: 111hp meant it was plenty quick in a straight line. The 900cc engine combined with the light weight to leave it in a class of just one, since the big-bore superbikes from the other Japanese manufacturers were all 1000cc or more, and much heavier. The GSX-R1100 and YZF1000 were fast motorcycles, but compared to the CBR, they were more GT than pure sportbike.
From the original eBay listing: 1993 Honda CBR900RR for Sale
Re-listing because previous buyer's check was fraudulent. priced to sell

I'm selling my 1993 CBR900RR restomod. I have invested over $10k in this bike.

List of mods:
Rebuilt motor bored out to 998cc. Done by professional race mechanics. Less than 600 miles on the motor. Odo reads 30k.
Front end from a CBR929, completely redone. Valves, spring and internals.
17 inch front wheel from an RC51
Brembo adjustable master cylinder
Galfer Rotors
Nitron 3 way rear shock
Carbs tuned by Erion Racing
Almost every bolt is titanium
Comes with a set of Flatslides
And more

The bike is beautiful and priced to sell. Don't have time to ride it anymore. If you've ever wanted one, this is the perfect rider.
This example replaces the original RWU fork with more modern USD component from a later CBR, along with much more modern brakes. Significantly, it also ditches the '93 model's 16″ wheel that made for slightly twitchy handling then, and severely limits tire choice now. Miles are a bit high and the bike isn't completely original, but this thing should be an awesome rider for anyone looking to recapture the experience of Honda's famous Fireblade at the rock-bottom Buy It Now Price of just $3,500!
-tad