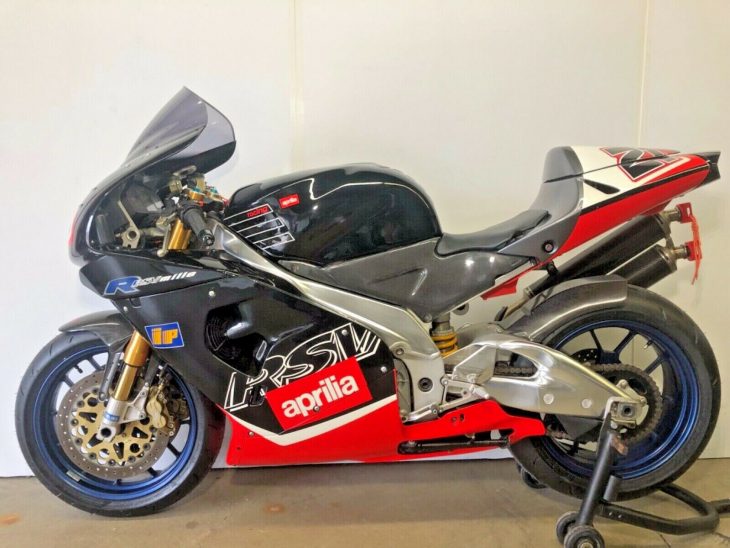 If you're looking for a track bike, your best bet is something as modern as possible, with broad parts availability. A reliable tool for going fast as effortlessly as possible. Something completely disposable. There's a reason you see a ton of GSX-R600s and 1000s, R6s, the occasional SV650, even a new crop of Ninja 400 and other relatively modern tackle that offer anvil-simple reliability. Basically the opposite of this Aprilia RSV Mille R in almost every way. But personally, I know I'm nowhere near fearless enough to delude myself into thinking I'll ever be more than a B-Group trackday rider, so I'm willing to make some sacrifices to style, and this would be at the top of my personal trackday bike list.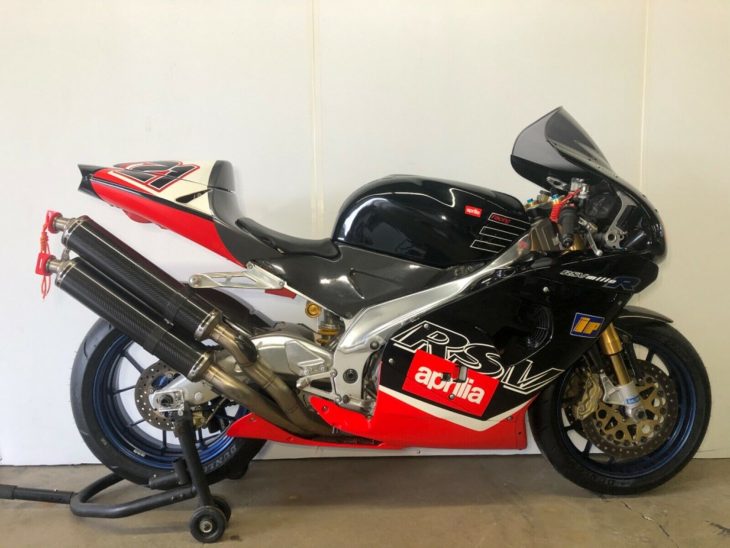 Styling is subjective and, while Aprilia's first foray into full-size sportbikes isn't exactly pretty, it didn't make the mistake of trying to out-Ducati Ducati: the looks were wild and very modern, with a gorgeous aluminum beam frame and curving swingarm. Handling felt much more "Japanese" in terms of turn-in and agility, compared to the 996's incredible mid-corner stability. Austrian firm Rotax eschewed old notions of what made a v-twin smooth and revvy, and created an engine with a relatively narrow 60° layout kept smooth with balance shafts, while four-valves and liquid-cooling gave it power to compete with the Bolognese brutes. In addition, they included something that seemes to have eluded Ducati until pretty recently: reliability.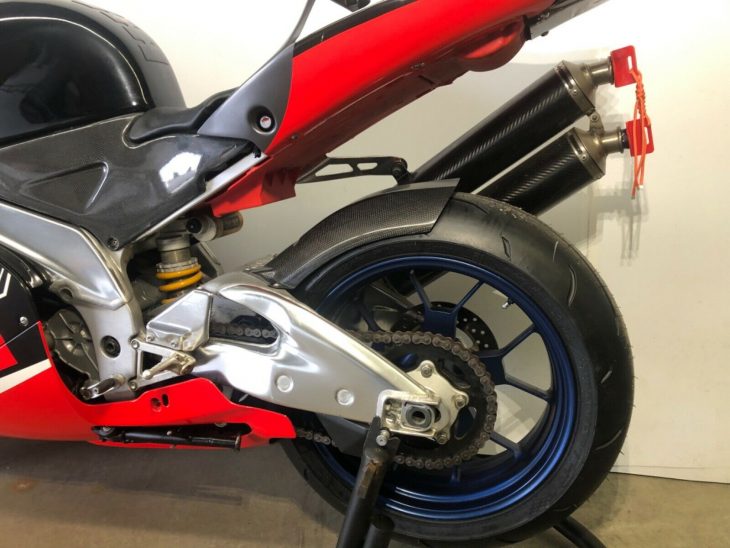 So it was exotic, fast, blessed with excellent handling, and surprisingly durable. And it came with lots of trick equipment straight from the factory: Öhlins components at both ends, along with a steering damper from the famous Swedish suspension specialists, and a smattering of nice carbon bits. The biggest limitation here is that the bike is sporting what appears to be largely original bodywork. Certainly, it's painted to look the part. That makes a trackday crash a pretty pricey proposition, so if you're really planning to flog it, perhaps some less stylish trackday bodywork is in order.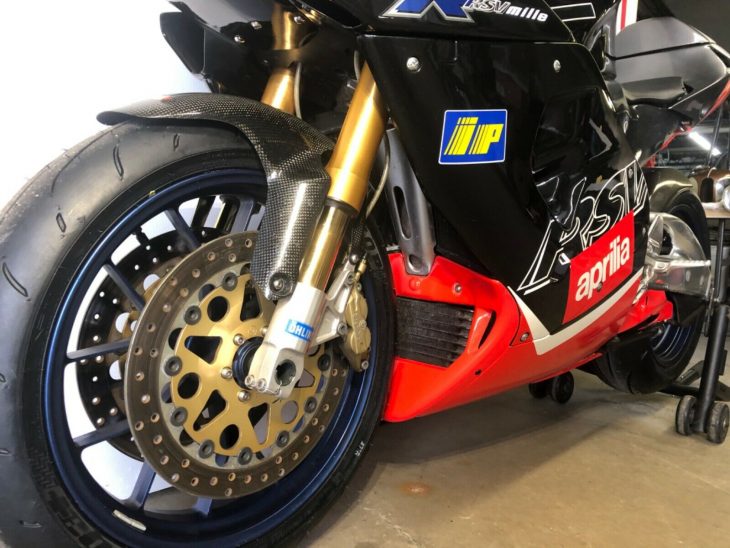 From the original eBay listing: 2000 Aprilia RSV Mille R for Sale
With a total of 2,293 original miles this was a one owner bike bought brand new in 2000. A well cared for, great riding great sounding clean bike. Has been in indoor climate controlled storage for years. No ethanol fuel was ever ran through this bike. Also on a battery tender.

I purchased from original owner with the idea of making a track bike. I reworked the seat and put brand new Dunlap SportMaxx tires on both front and rear of the bike (high speed balanced). Change oil filter (K&N), fresh oil (Motul) all new fluids for brakes and clutch (Motul) and radiator. Pingel deadman kill lanyard switch was installed.  

Bike is safety wired for tech. I removed mirrors and installed mirror block off plates, removed turn indicators, tail lights, disconnected head light, etc. All wiring was not cut and factory din connectors are all labeled and properly routed and zipped tied for ease of re-installing lights. All stock turn indicators, rear tail light, mirrors, an extra Motul oil filter, Motul oil, Motul DOT5 brake fluid, full 5 of Sunoco race fuel, are all included in sale along with a manual and factory books & key. This bike has a clear clean Ohio title in my name and is street legal with lights installed.

This bike has Full Ohlins suspension, Brembo brakes, carbon fiber fenders, chain guard, and side panels. It is completely stock except for chip and upgraded exhaust, installed by previous owner. Here is your chance to get a track made bike ready to go for cheap. I even have full Vanson race leathers and boots in another listing to make it a full race package. Can help with shipping but shipping cost is on buyer. Please check out photos as bike is sold as is and if you have any questions please don't hesitate to ask. Thanks.
The asking price? $3,400 and that includes all of the road-legal equipment, making that a very nice price for a track-ready machine and a pretty screaming deal for an Italian exotic. I'm not the biggest fan of the RSV's styling, but you can't argue that the package offers tremendous bang for your buck: it looks very trick, the specification is amazing. I've always wanted one just like this as a track bike…
-tad