KTM's first superbike was introduced on the 2005 show circuit using the 999cc Duke engine.  When production began in late 2007 the 1148cc LC8 was ready and though it was updated the next year, the bike was a success and the factory has campaigned it in AMA and World Superbikes.
KTM developed the 4-valve 75-degree V-twin in record time, and it provides 152 hp and 88 ft-lbs. torque.  The engine is almost 10 kg. lighter than comparable powerplants, which helps the WP ( a KTM subsidiary ) upside-down forks and monoshock do their job better.  Brembo radially mounted calipers hug 320mm front disks and 240mm rear.  The styling separates the RC8 fans from those who make parenthood jokes about the angularity and color schemes.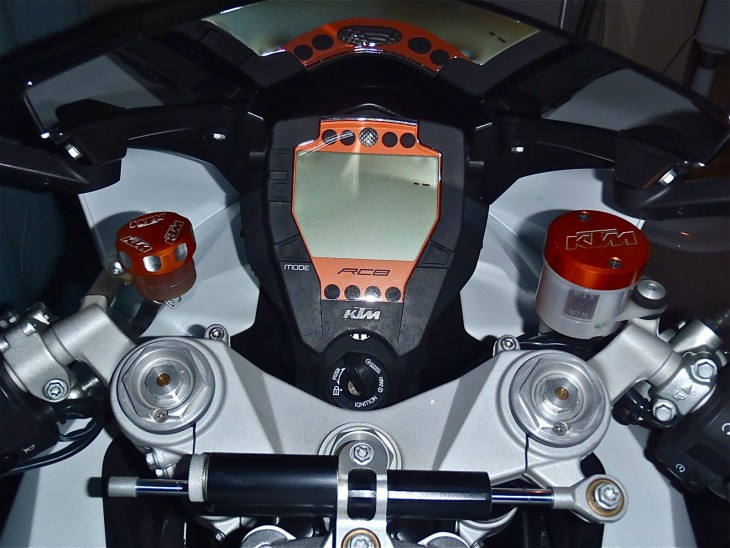 Number 42 of a Special 2008.5 Edition of 50 ( Red Bull and Akropovich editions didn't come out until 2010 ),  this monochromatic treatment has a lot of carbon as well as exhaust and chip.  A surprising combination of 2250 miles and new tires, also a new lithium-iron battery, it's a beauty to behold.  From the eBay auction:
This is the rare 2008.5 model in stellar condition, #42 of 50 imported into the US. Numbered Plate (metal) included.  

Brand new Michelin Power Sport 3 tires.

It has the Power Commander on the bike, with a custom map from England tuned to the QD Exhaust, a big investment. The bike runs flawlessly with stellar throttle response and power..

All the Akropovic flat carbon bits are perfect as well. The entire tail piece, front and rear fenders, clutch guard are all Akropovic matt carbon. The original tail section is included, immaculate also.

It has orange anodized KTM billet covers installed for clutch, and both brake reservoirs. Then, CRG levers; orange silicone coolant hoses, as well as front and rear axle sliders. Includes R&G tail tidy, and KTM genuine accessory bag, it is made for the RC8 by KTM and plugs into the two holes you see in the tailpiece, which are controlled by the seat latch. Lastly, gorgeous R&G rearsets from England.

The carbon tank shield is from Australia.  I replaced the seat with a carbon fiber pattern-imprinted leather beauty from Corbin. Perfect fit and nicely parallel orange stitching. Original included with sale.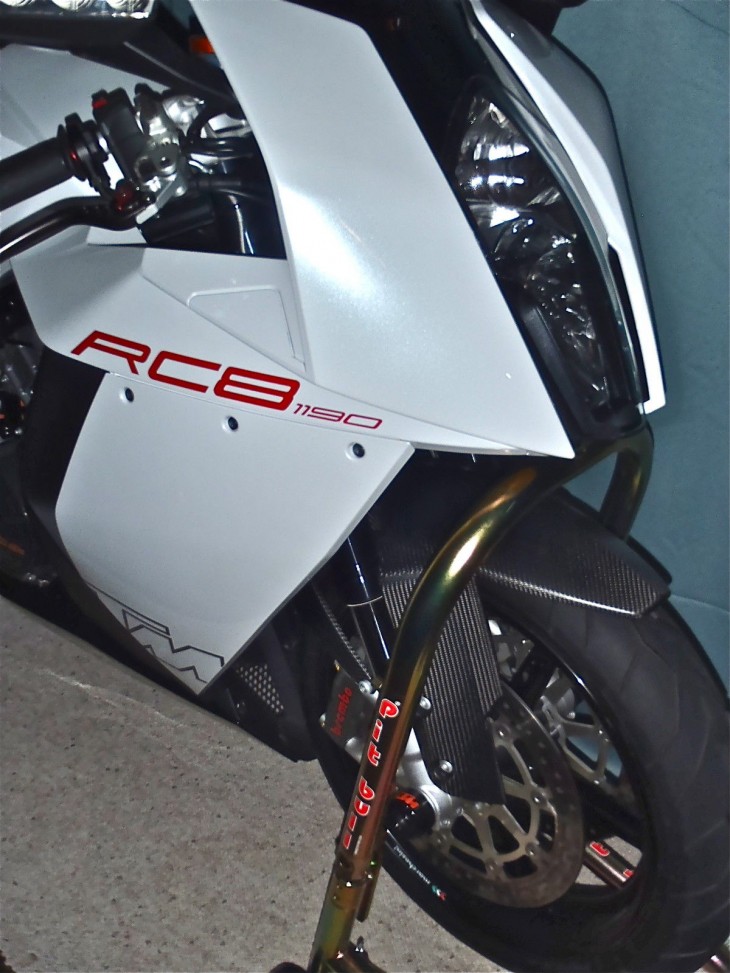 The flat white, black frame and carbon look cool, with signature KTM orange playing peek-a-boo.  Outstanding digital dash and centralized-mass exhaust is better resolved than many.  Real-world ergonomics have slightly larger seat and higher bars than you might initally expect, but very adjustable, and the bike tested quick and comfortable.  Performance was substantially equal to a Ducati 1098S, their inspiration and competitor.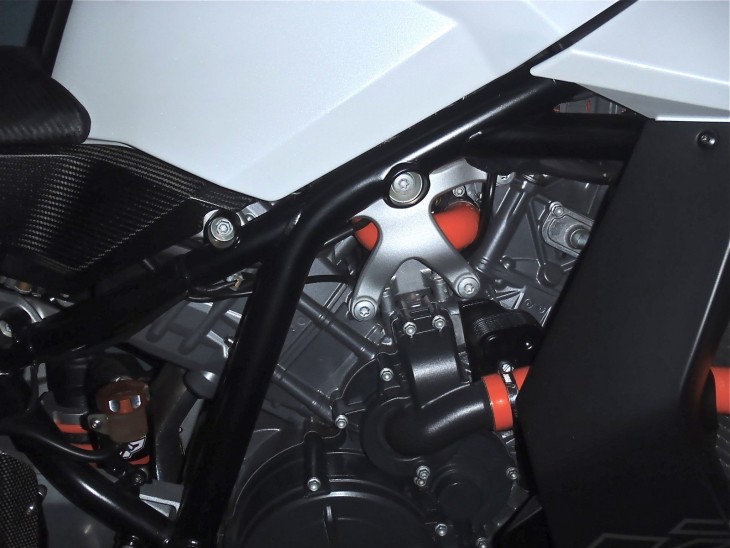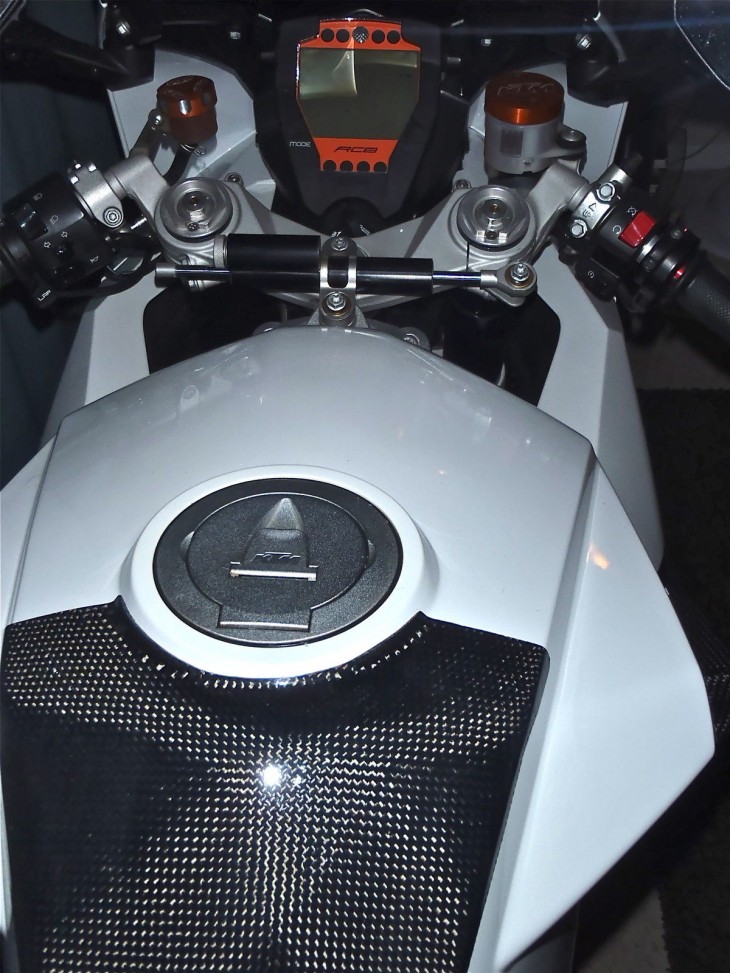 Nicely accessorized by the owner with tankbag and cover, there're also no cam belt worries on a KTM, using a gear and chain system.  This Austrian upstart looks ready to go for some post break-in miles !