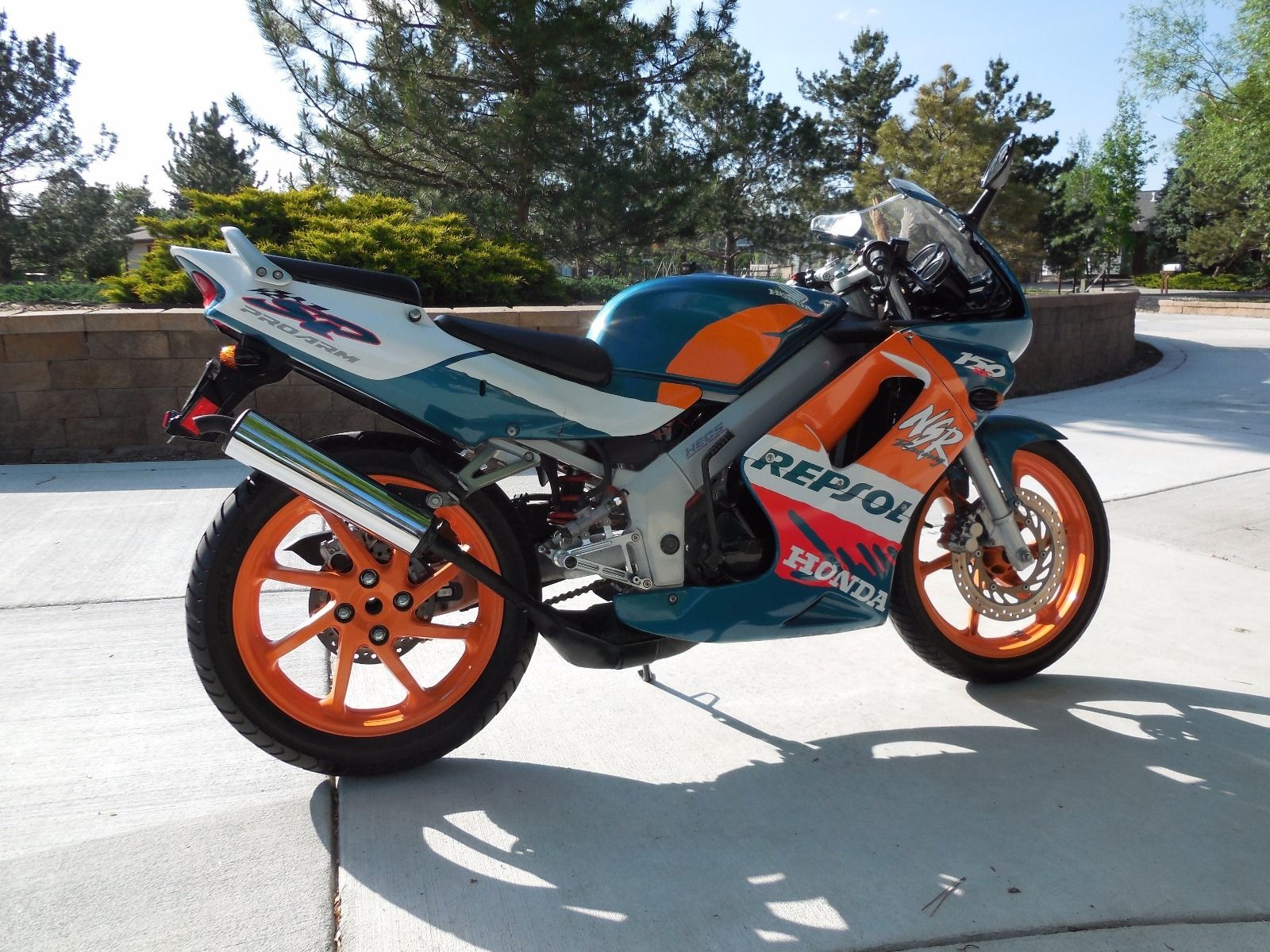 The Honda NSR150 SP is an interesting bike. A solid step above the sub-250cc scooters one might see in major Asian metro areas, the SP provides the bits and pieces to make this a steed worthy of the Repsol livery: single sided swingarm, perimeter aluminum frame, cast wheels, liquid cooling, power valve, and dual-piston front caliper. In other respects, it is similar to any "big" bike, with real rider amenities such as a full instrument cluster complete with speedo, tach, temp gauge and fuel level indicator. While not quite a feast, this NSR150SP brings us a total of TWO that we have seen here on RSBFS this year. Perhaps the famine is waning...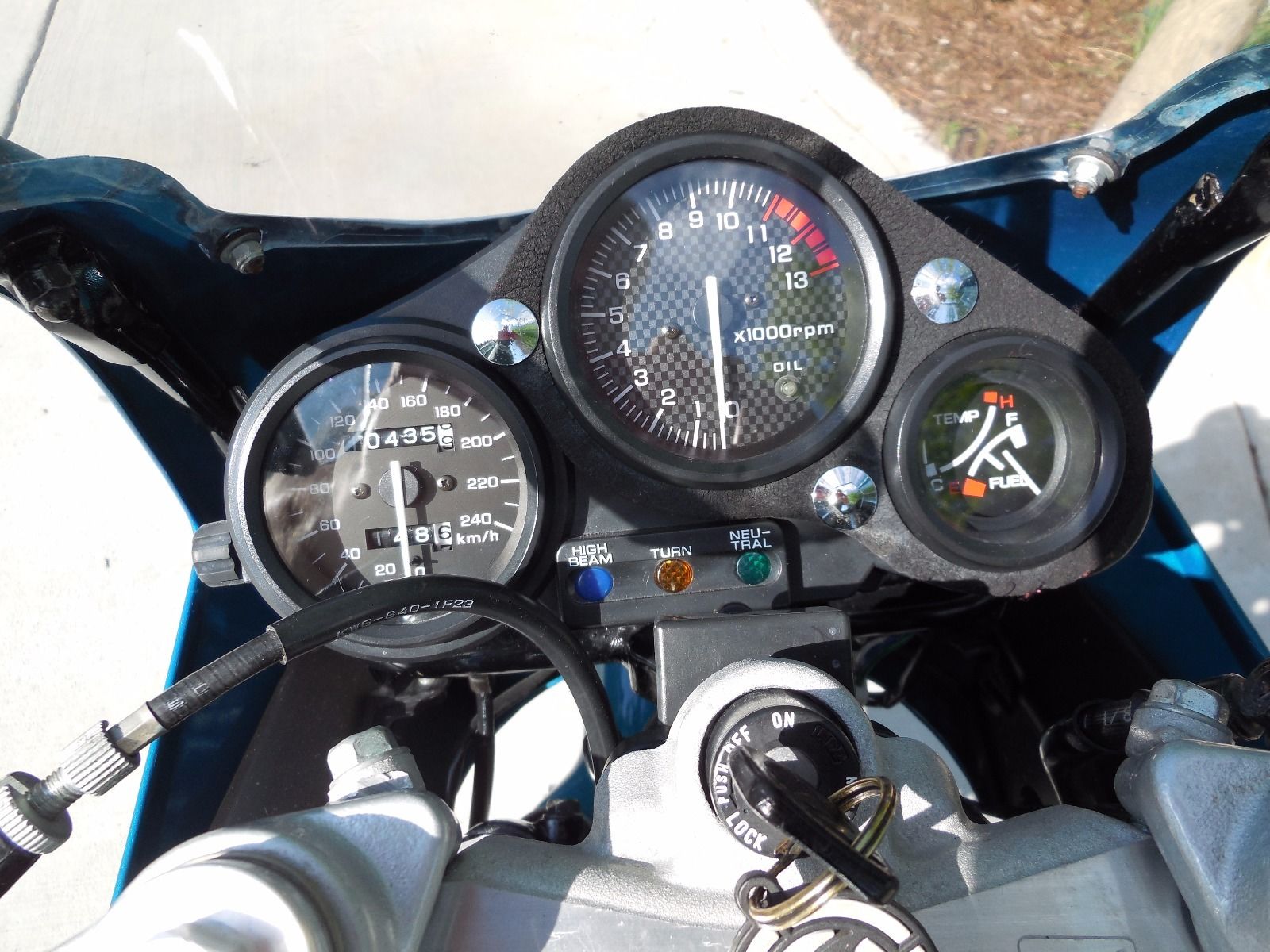 The NSR150 model line is a multi-country affair. Styled in Italy, but assembled in Japan, Thailand, Malaysia and Taiwan, all the early NSRs had engines supplied by Japan (single cylinder, reed valve induction two stroke). Later variants had engines assembled in the factory that produced the bike, with each country offering subtle differences. All are marketed as Honda, although in Taiwan the same bike is also marketed as a Kymco NSR, while remaining an exact twin of the Honda. Again, these were built for the massive Asian markets where small bikes dominate. The SP is a way to separate from the crowd of commuters and offer a true sport bike that can do more. The Repsol livery doesn't hurt if you're trying to stand out from the crowd.
From the seller:
Here is a very hard to find Honda NSR 150 SP Resol Edition. To the best of my knowledge the NSR 150 SP was produced basically unchanged from 1997 to 2002. The NSR 150 SP features a water cooled counter balanced 2 Stroke single cylinder engine producing horsepower in the mid 30s, backed by a 6 speed transmission. As you may notice the SP also features a single sided swingarm seldom found on a bike of this displacement. Freeway capabilities are absolutely no issue, 90 mph can be seen.

This bike is original unmolested with the exception of the Tyga rear sets and maybe the grips and bar end weights. As you will notice in the photos this bike is not perfect by any means. Its a great rider or with a some work it can be fully restored. Parts seem to be not difficult to find either from Tyga Performance or Ebay. Most of the bike is really nice, the powder coat on the wheels, frame and such are quite nice. The body work is the area in most need. There are several scraps, nicks broken tabs, small dent in tank. Decals are peeling.
More from the seller:
The running order of the bike is great. Starts right up first or second kick, hot or cold. All the lights, gauges etc. work as they should. Oil injection is intact and functioning properly. I just rode this bike the other day over 200 miles mostly on the highway with no issues.

Also included is a Service Manual, Parts Manual, Original Owners Manual and reprinted owners manual. All are in English with exception of the small owners manual.

I purchased this bike 5 years ago with 7820 KM on the clock from a fella in California who was the person that imported the bike. At the time it was imported it was issued a 17 digit VIN and California titled as a 2008. I assume that was the year it was imported. Once I purchased the bike I then titled it in Colorado my home state.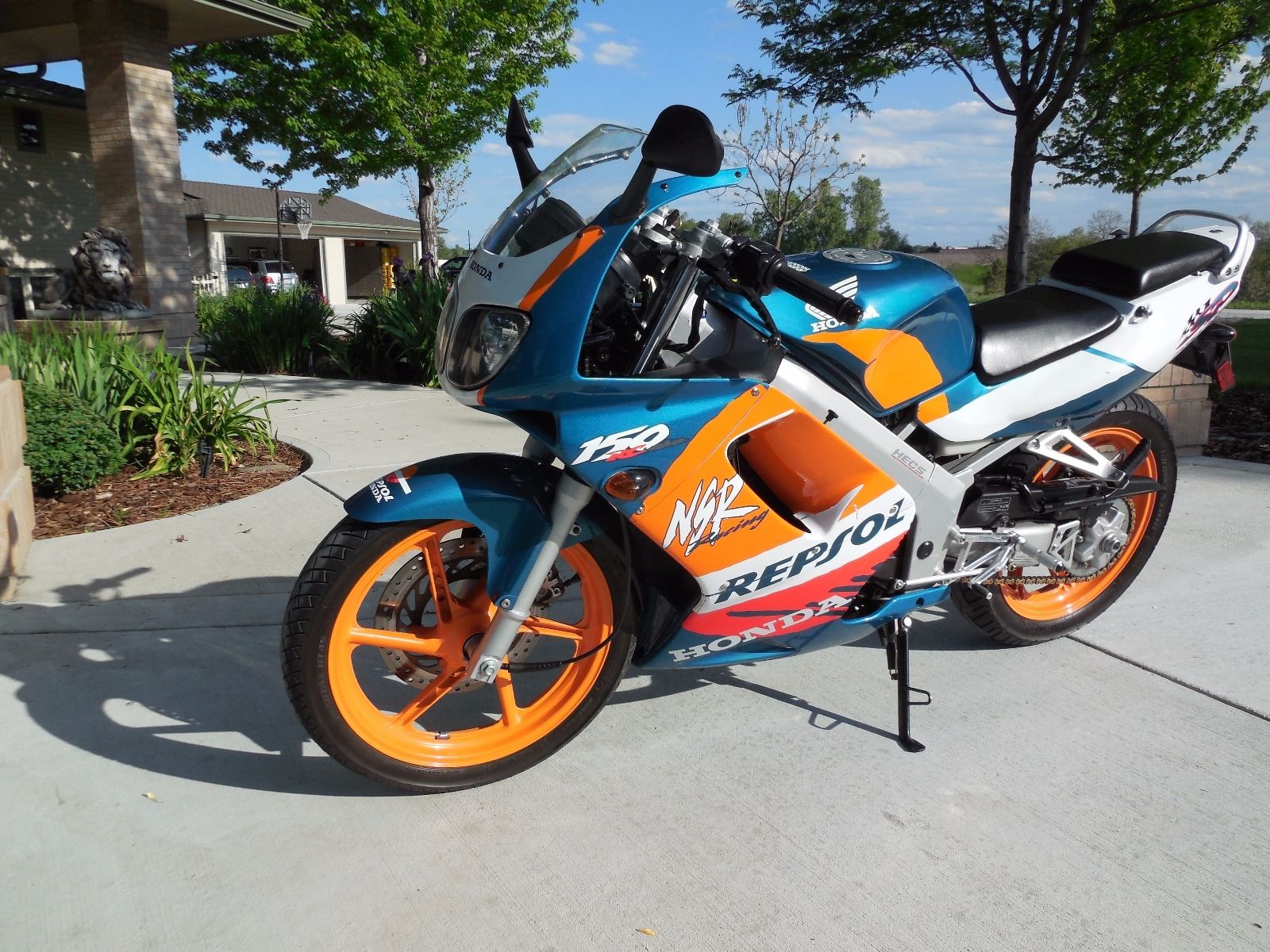 We have seen relatively few examples of NSR150SP models over the years - too few to gauge a true value. Way back in 2013 we saw one sell for $3,500, and another that had lower miles was listed for $4,500. Jump all the way up to this year for the next one, and we watched one sell out of the Utah Collection for $6,100. That is a big jump in time and in price, although the last bike was like new and had only 460 miles. Today's example has over 10k KM on the clock (just about 6,500 miles) and is not perfect - which makes it a perfect rider at the right price, especially with the title and plates. Currently bidding is just over $2k with reserve still in place. Check it out here. If you missed the Utah bike, here is another chance at a pretty rare model for the US. Good Luck!!
MI