Warning!
This post is in our archives. Links in this post have been updated to point to similar bikes available to bid on eBay.
The engine of any motorcycle is its living, beating heart and the powerplant of Aprilia's funky RSV Mille R was, at the time, as unconventional as the bike's styling. A 90° v-twin is generally considered ideal for sporting applications, as the angle between the cylinders provides "perfect primary balance" where the unpleasant vibrations caused by the pistons punching in different directions, crankshaft counterweights, and other whirly bits generally cancel each other out. This provides smooth power and character for which Italian sportbikes are generally known. You can always get around a lack perfect primary balance by using a heavy flywheel or limiting revs, but neither choices are ideal for a sportbike. Unfortunately, the ideal 90° angle between the cylinders makes for an engine that's difficult to package. In Ducati's original v-twin powered bikes, a long wheelbase necessitated by the nearly horizontal front cylinder wasn't really a problem as bikes of the period typically long wheelbases that aided stability. But modern sportbikes use shorter wheelbases to provide agility and a longer swingarm to increase traction.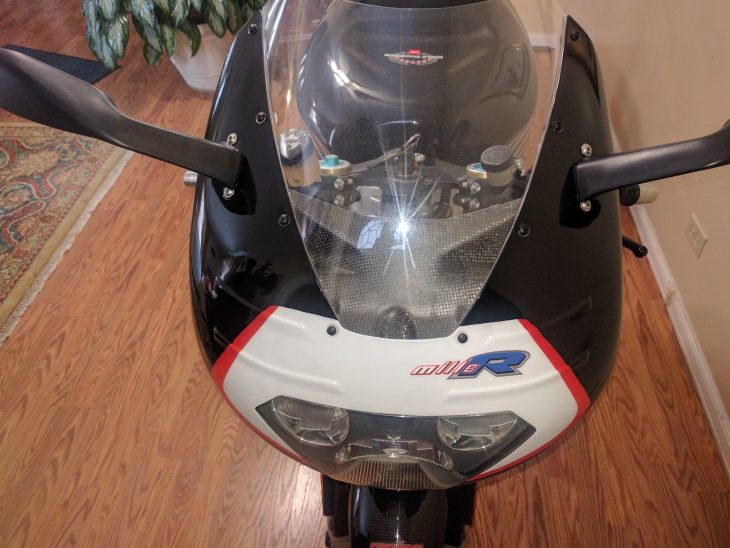 That's easy to do with an inline four, but very difficult with a transverse v-twin. You could go the route Guzzi chose and turn the thing sideways to give the bike a longitudinal crankshaft orientation, but then aerodynamics and ergonomics suffer, and you're also stuck with the effects of the crankshaft's rotation on the bike's handling. Or you could try, as Suzuki did, to attack the problem by using an alternative rear suspension design, but their rotary damper created its own set of issues with handling. Aprilia and Rotax attacked the problem with its usual lack of ties to tradition and applied technology: a pair of balance shafts allowed them to use a 60° configuration for the 998cc twin that kept the engine's dimensions compact but gave it a character that was still smooth enough for a sportbike. It's generally considered a bit more "agricultural" than Ducati's L-twin, but Aprilia's engine is far more economical to run and the resulting bike handles better than any of Suzuki's v-twin machines.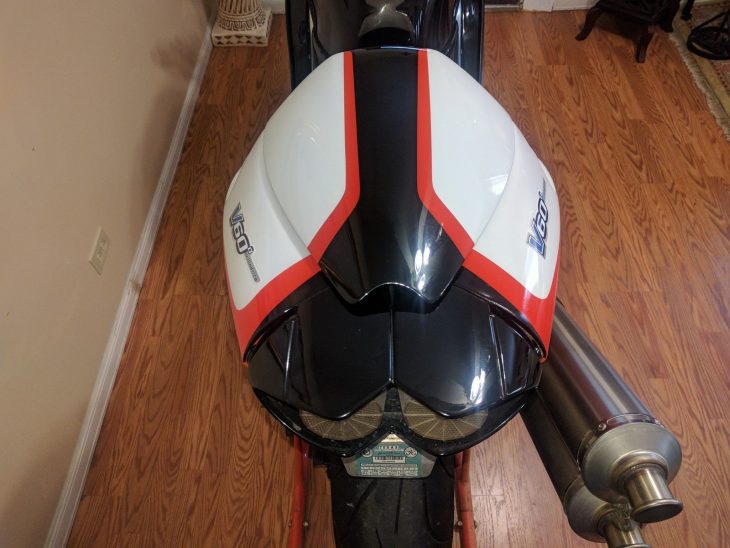 As with the oily, whirly bits, Aprilia had no tradition to cling to when styling the bike and created something that looked entirely new. The RSV Mille offers up the best of both worlds in terms of performance and character, if you can get past the design which is… "striking" if you're being kind "functional" if you could care less about aesthetics. But you can't argue that it works, and that bulbous fairing with its Mickey Mouse headlight offers up better wind protection and comfort than many other sportbikes and it certainly looks like nothing else on the road.
From the original eBay listing: 2000 Aprilia RSV Mille R for Sale

2000 Aprilia Mille R.  Shes a beauty.  Really good shape. No missing parts pretty much all OEM.

V-Twin powered machine so she's torquey.  Fun bike, feels really balanced.  Moto runs really strong.  Trans shifts flawlessly in every way.  The Rotax engine is bullet proof, honest, and not needy at all.  She has the correct exhaust which in my opinion is the piece de resistance.  There have been other Mille R's posted on ebay that seem to always be missing the correct exhaust setup.  This exhaust is particular to the R model as are the below listed items:

Carbon Fiber Front Fender, Rear Hugger and Dash Cover.
Ohlins Adjustable Suspension Front and Rear
Ohlins Steering Stabilizer
Comes to a stop with Brembo Equipment
Light Weight OZ Wheels Front and Rear
Over Under Exhaust
Shorai Battery

Michelin Tires are good usable condition still have many miles of use left.  New Rear sprocket and Chain.  All 5 Cush drive rubber pieces of the rear OZ Wheel were replaced at time of sprocket replacement.  New black levers to match the color scheme, the OEM felt clunky and a lil too plain jane.  Shorai battery

17 Year old bike folks so there are tiny nicks scratches here and there which is to be expected for a moto of this vintage, however that being said it is a fine example of 17yo moto.  really good shape just look at pics.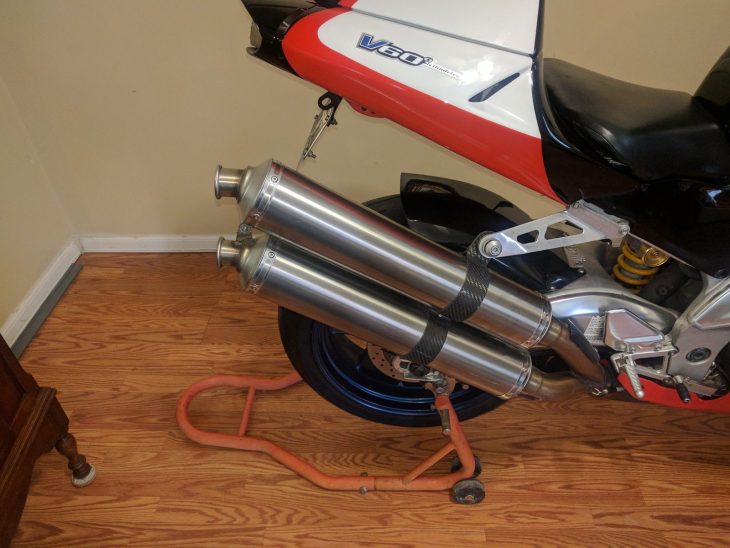 This isn't a garage queen, but 8,900 miles over nearly 17 years means the bike has seen sparing use and, although it's not perfect, appears to have been very well cared-for. Taste may be subjective, but the RSV Mille is fast, handles well, is reliable, and offers up humane ergonomics compared to the sexy but uncompromising bikes from Ducati. Aprilia has become the maker of "the best motorcycles nobody buys" and while that's not great news for them, it is for sportbikers looking for bargain exotica that emphasize function over style. Prices for the first-generation RSVs are about as rock-bottom as you're ever likely to get for such a competent machine, and bidding on this one is up to just $1,550 with the Reserve Not Met and very little time left on the auction.
-tad