Suzuki made so many substantive changes to the first water-cooled GSX-R1100 that reviewers were knocked cold and only colors were updated for 1994. Today's GSX-R has low mileage, typical period mods, and excellent cosmetics.
Quite a few engine changes accompanied the switch from oil to water cooling – a slight decrease in displacement, with increased compression and bigger valves power came to 156 hp.  The alloy chassis was constructed of pressed, cast and forged elements, with many of the extruded parts having five sides.  While happy that the suspension was fully adjustable, most reviewers noted that changes should only be made incrementally, the delivered settings were that good.  The 500-lb. barrier came and went, but the sharp chassis and 6-piston brakes made for a lighter feel under way.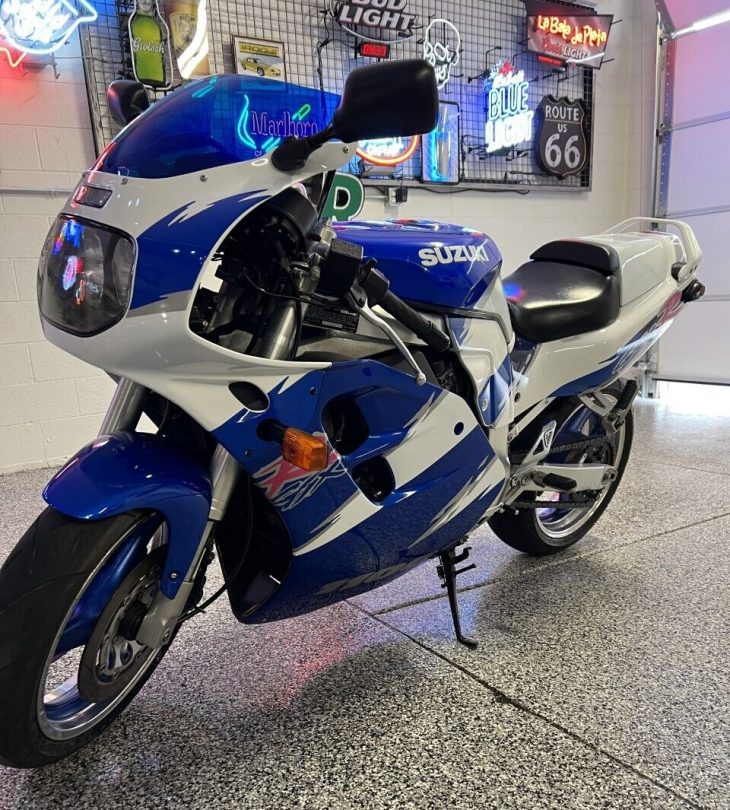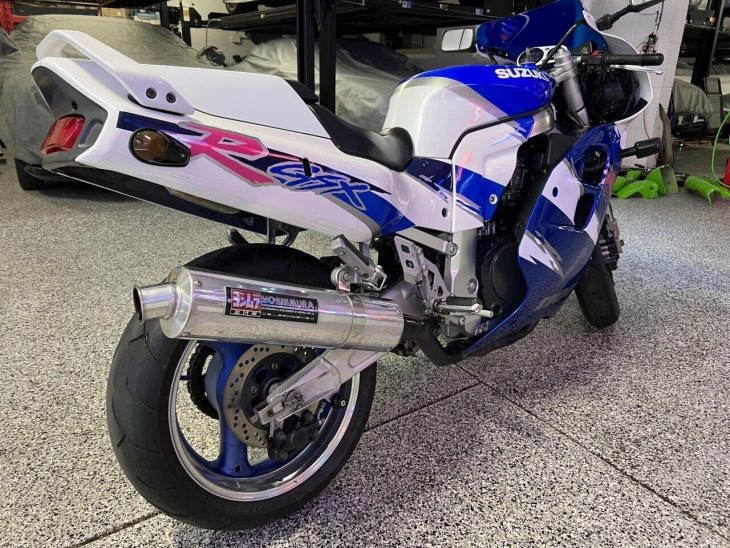 With under 15K miles, this GSX-R shows well and appears complete.  Rear signals and fender have been changed, but fairings seem to be original along with the sought after factory front turn signals.  Tires might take a close inspection before a run for glory, and the smooth pillion cover might be a better idea than a co-rider.  Notes from the eBay auction –
VERY ORIGINAL – HARD TO FIND THESE BIKES IN THIS CONDITION – 14,312 ORIGINAL MILES – VERY MINOR CHIPS, NO CRACKS IN PLASTIC – POLISHED ALUMINUM FRAME – AFTER MARKET WINDSCREEN – REAR FENDER ELIMINATOR – AFTER MARKET EXHAUST – THE BIKE RUNS AND RIDES EXCELLENT – NO KNOWN ISSUES – TITLE IN HAND – SPRING IS RIGHT AROUND THE CORNER – TIME TO RIDE!  THIS OLD SCHOOL BIKE HAS THE COOL FACTOR!
Though a bit of a beast, Suzuki engineers managed to keep the WP's powerplant trim and even lower in the chassis.  Beside increasing power, water cooling provided better longevity, part of the reason these continue to reappear.  Photos are good but not comprehensive, showing a very clean GSX-R deserving of at least more investigation.
-donn