What would it take for you to brave the scary monsters just over the horizon ?  Maybe a later NSR250SP (MC21) in excellent original condition ?  This one hails from faraway Cape Town, is in rare Pentax replica livery, and the owner promises shipping to CONUS that looks like a bargain.
Honda had been making the NSR250R since 1987 with yearly updates passed down from race engineering.  Though power was limited by  statute to 45 hp, the 249cc L-twin was capable of nearly 60 hp with an HRC or updated card for the PGM-III programmed ignition system.  The alloy twin-spar chassis and 41mm air-adjustable forks, along with the Pro-Link rear monoshock could easily cope with more.  The MC21 brought the "gull arm" asymmetrical swingarm, which allowed the expansion chamber to wend its way offside and increased ground clearance.  The Sport Production edition was a rarity with racey bits like a dry clutch, cartridge gearbox, and magnesium wheels.
Showing just under 4,500 miles on its km odometer, this NSR looks unrestored and excellent.  From the condition, an occasional ride with an adult aboard would be my speculation.  Not enough use to require any major work, though some matching rubber would be nice before the next ride.  Unfortunately, no notes about de-restricting the engine.  From the eBay auction:
Extremely rare original Pentax Honda NSR250 MC21 SP.

Dry clutch, Magnesium wheels and adjustable suspension comes as standard on this SP model.

All original parts which even includes the original honda toolkit and passenger seat.

Worldwide shipping is available at affordable low cost.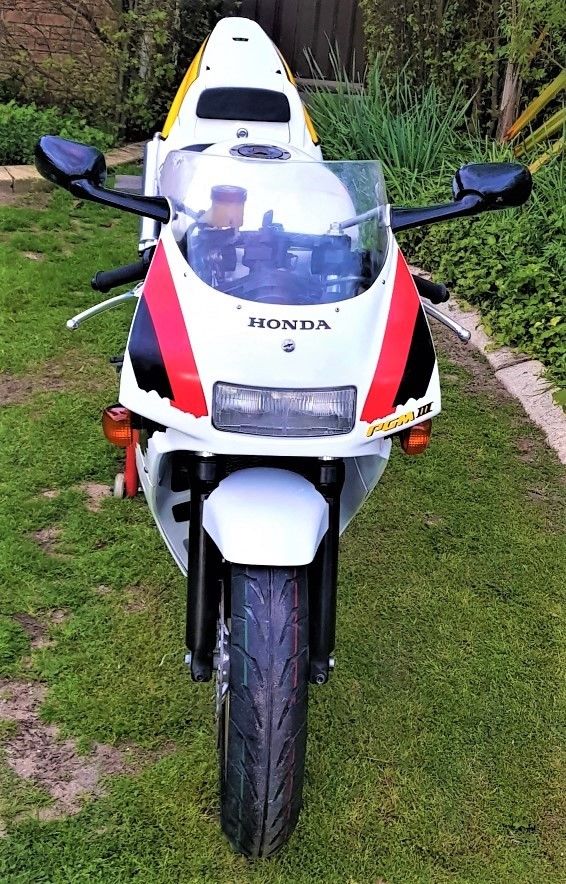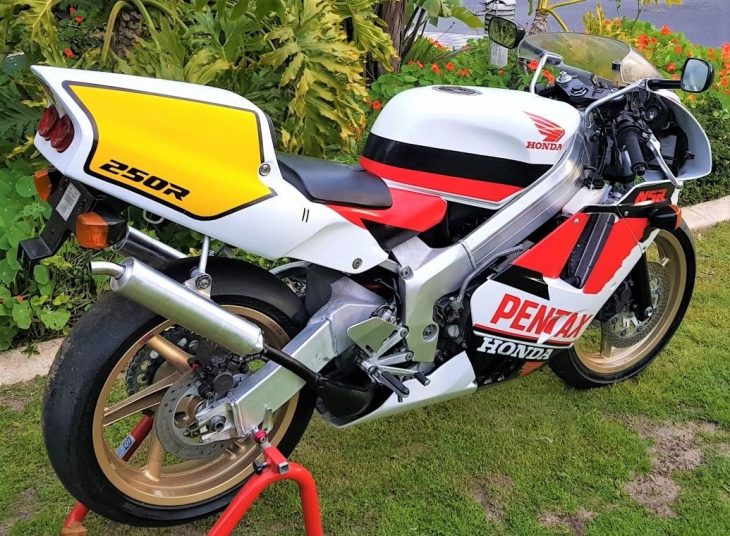 Around Cape Town kwaai has two meanings: normally angry or bad-tempered, but urban slang takes it in a tough or cool direction.  The NSR250SP also has a split personality, loafing around below the powerband, but hang on once you get the tach pointed north.  Back when everyone had a camera that didn't text or surf, Pentax sponsored Honda's racing team, though the livery looks peculiar today.  There's a fairly steady stream of grey small-sports but this one has lowish miles and no damage or corrosion.  Shipping and importation will be a project, and it might be worth enlisting an expert, but looks to be worth the effort…
-donn