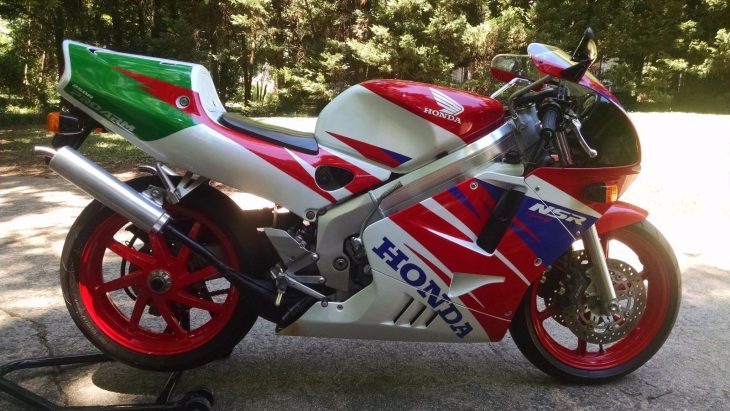 Sometimes, the very final version of a car or motorcycle is a pale shadow of the original, as the years inevitably add pounds and dilute the purity of what made the original example so desirable. But the Honda NSR250R went out with a bang instead of a whimper, at the top of its game, and is considered by many to be the best of the series. The MC28 might have put on a couple pounds compared to the previous MC21, owing largely to that very cool ELF-designed Pro-Arm single-sided swingarm that was heavier than the double-sided aluminum units that preceded it, but the bike was packed with cutting-edge technology.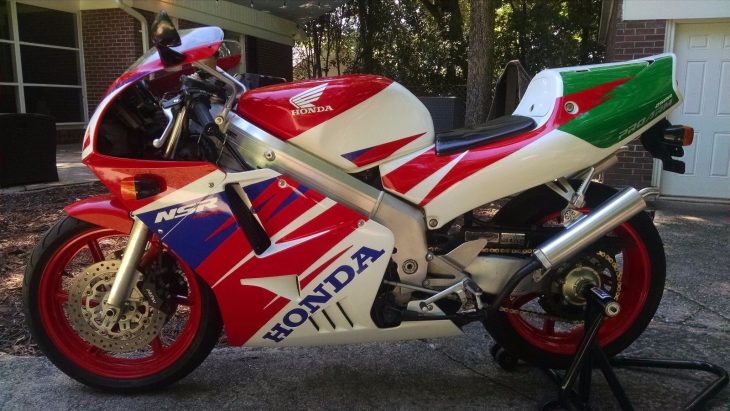 There were three versions of the MC28, the standard R version, the SE that came with a dry clutch, and the SP that included the dry clutch and a set of lightweight Magtek wheels. This example is the regular R, but all MC28s are pretty special and come standard with that Pro-Arm swingarm, a 90° liquid-cooled two-stroke v-twin and a six-speed cassette gearbox for easy, track-side gearing changes.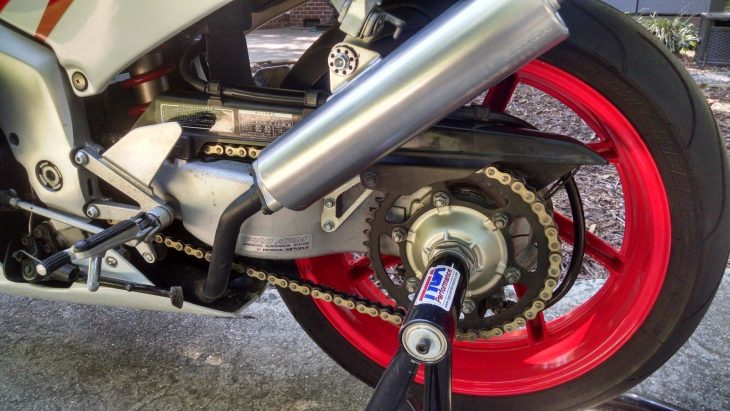 The two small combustion chambers were still filled by carburetors, but the charge was ignited by what was probably the most sophisticated electronic control system available on a motorcycle at that time. The fourth iteration of Honda's electronic ignition was called, naturally, "PGM-IV." The system took in sensor input from the throttle position, gear-selection, and rpm to create three-dimensional ignition maps for each cylinder and adjust Honda's RC "Revolutionary Controlled" Valve for maximum power and response.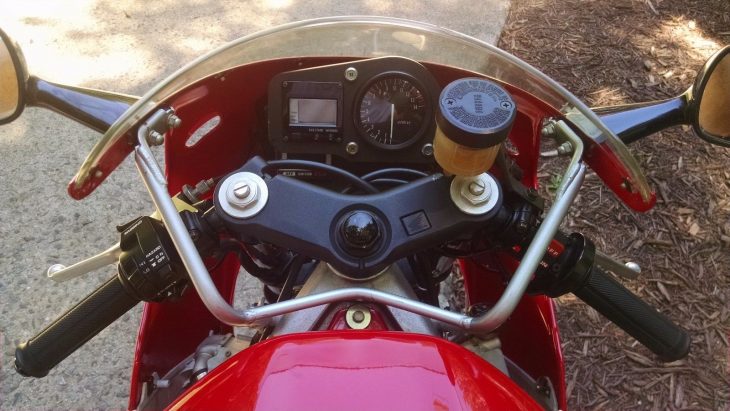 The biggest concern if you're looking at a NSR250 is whether or not it has been de-restricted: power for the Japanese-market 250s was limited to just 45hp, and it can be very difficult to unleash the bike's full potential without the HRC version of the ignition card that functions as the MC28's key. The seller doesn't mention whether or not this bike has already been de-restricted, but it's worth a quick email to the seller as this will affect the value and desirability, especially for anyone interested in riding this little machine in anger.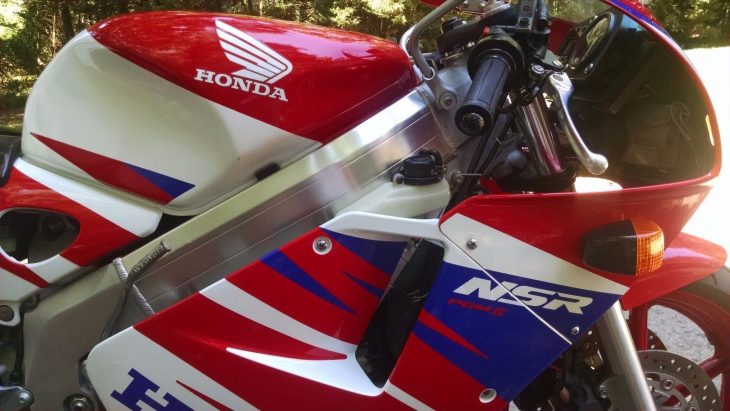 From the original eBay listing: 1994 Honda NSR250R MC28 for Sale
This is a 94 Honda NSR250 MC28 v-twin 2-stroke sportbike with credit card ignition and only 6000 kilometers (3600 miles). 

Clean North Carolina title with the correct 11 digit VIN. These are quite rare to find in the US as they were originally only sold in Japan, and this is the lowest mileage example I have ever seen here in the US. It is completely stock and all the controls are tight and smooth as you would expect on a low mileage bike. I bought this bike in 2011 after it had been removed from storage, fluids changed/replenished, new tires mounted, and new chain installed. I start it up several times a year and ride it occasionally but I doubt I have put over 200 miles on it since I have owned it. I recently put a new battery in it and disassembled the carbs to clean the bowls and jets out.  It starts and runs as it should.  I don't need to sell this bike but I have a lot of other toys and feel it is time to turn it over for someone else to enjoy if that person is out there. Tool kit is in place and I also have the passenger seat pad.  Rear stand and indoor cover is included.  Has one scuff on the right side of the tail section that has been touched up, and the rear of the right lower is discolored.  Other than that, very minor blemishes only.  Not really interested in any trades. 

Winning bidder must pick up bike in person in Charlotte, NC and pay in cash.  Title will be signed over at that time.  Willing to discuss shipping if you make all arrangements to have your carrier pick bike up at my house after all funds have cleared.
The Buy It Now price for this NSR250 is $10,000 which is reasonable for a nice, clean NSR250 with a US title. The MC28 included some of the most advanced technology ever available in the two-stroke 250cc class, and is thought of by many as being the best-looking of the breed, with the cool single-sided swingarm providing the visual flourish that seals the deal. Unfortunately, residents of states like California might be out of luck, as titling can prove impossible for a bikes less than 25 years old. Of course, if you "know a guy," or "know a guy that knows a guy" then you can probably make that happen but, if you're in a state where registering this might prove possible, it's a huge help that this bike comes with a clean US title. Otherwise, maybe just buy it and display it for a couple years before you try to register it. Certainly, the last of the Honda two-strokes will only going go up in value.
-tad