Here is a Ducati 916 that is in good condition but probably won't appreciate in value as a collectors item.  It fact, it seems more likely this lovely redhead would be a fun acquisition for someone who missed out on the 916/996/998 experience or perhaps a way for a prior 916 owner to relive a bit of their youth.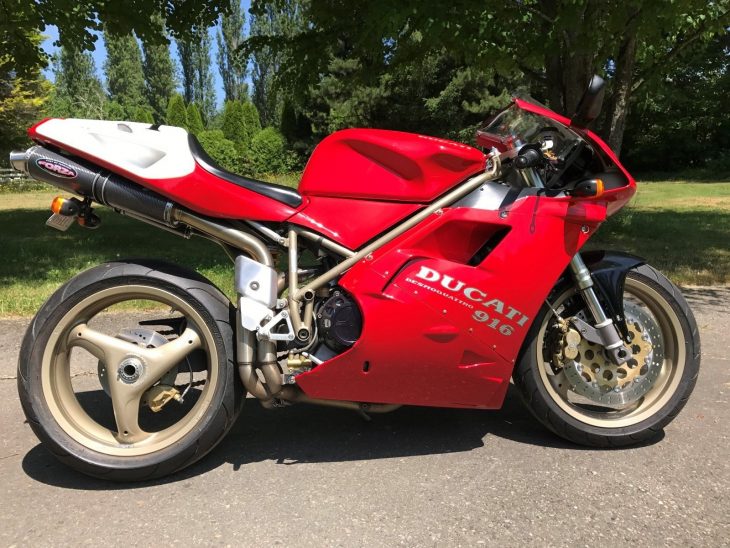 There have been numerous previous posts on RSBFS that have explored the impact the 916 had on motorcycling, both when it was launched in 1994 and the subsequent SP, SPS, 996 and 998 models.  Rather than repeat this info again, I would suggest anyone who is curious click the link above and browse these past posts, leaving the remainder of this post as an analysis of this particular 916, focusing on the model, components, conditions, service history and best guess at a price.
– – – – – – – – – – – – – – –
MODEL:
This listing appears to be for a standard 1997 strada/"street" version and not the higher end SP, despite the white tail piece.  For anyone not familiar with the differences between the two models, the strada was the base/street version while the SP was the more track oriented edition.   All 916's offered incredibly well balanced handling compared to the competition of the day but none had great power below 5000 rpm and only really started to get "on the boil" @ around 7000 rpm.  The SP (and susequent SPS) were much more track oriented machines with more powerful engines and track componenets but were actually worse on the street than the strada due to their engine setup;  the SP/SPS didn't really exceed the performance of the strada until you got them over 8000 rpm which made them much harder to ride on the street.
Summary:  Good way to experience the 916.  Not as collectible as a SP or SPS but easier to live with if the intent is to ride it on the street. 
COMPONENTS:
While the 916 was by design one of the finest handling machines of its time, two areas that came up as points of improvement where the rear suspension and the brake lines.   This particular 916 appears to be equipped with an Ohlin's rear shock which is good because it  was a big improvement over the standard Showa unit and helped to improve the ride quite a bit.  However the seller does not make any mention of the brake lines which were upgraded to braided steel in later versions so this might a question mark for this bike.
SUMMARY:  Looks good but might need to spend a few dollars to upgrade the brake lines.  Come to think of it, a full brake refresh would be a good idea.
CONDITION:
Mileage is shown as 13626 miles which is less than 1000 a year, although I would be the majority of that came more than 10 years ago. The seller does note some scuffs and a few cracks but I don't see any evidence of the bike having been down and replacements are available via ebay.   Parts look to be mostly OEM with the exception of the exhaust, the SP style rear fairing and perhaps a tail tidy/license plate unit.
SUMMARY:
If not having perfect bodywork bothers you, prepare to spend money or look for a different bike.  Overall nothing that looks to impact performance.
SERVICE:
The seller indicates fresh rubber and belts which has is good but also mentions a new clutch which might be an indication of more serious problems. The only issue I saw as the color of the fluid in the front brake fluid reservoir, although that might just be due to the lighting in the picture.
Here is what the seller has to say.
12 k service done, new cam belt and plugs
new clutch EVR 12 tooth housing and plates.
new fuel pump
new Michelin Pilot tires
new factory air filters
New fuel tank release valves  
Recall 99v-360 rear axle spindle replacement done
Services done at Ducati dealer (have invoices) at 11,500 miles
SUMMARY:   Sounds good but a few questions, also it would be good to see the receipts.
PRICE:
As stated at the beginning of this post, given the year, model and condition this 916 is probably going to appeal more to someone who wants to ride it than to a collector.  Recent prices for these have ranged from $4,000 USD to $6,500 USD, although an under 2000 mile first year unit went for almost $19,000.   Based on the condition of this one, I would expect a price smack in the middle and this seems to be born out by the current bidding which is just a smidge under $5,000 USD with 3 days to go.
FINAL ANALYSIS:
I think this is a good opportunity for someone who never got to experience the Ducati 916 to see what all the fuss was about.  It could also be a fun toy for a somewhat older rider to relive a bit of their youth.   While it won't appreciate in value dramatically, it will probably hold its current value at least which is a a tribute to Massimo Tamburini's design.  And yes, it still looks great so bringing it to bike night will still be fun…not many 20 year old bikes that can be said about.
-Marty/Dallaslavowner