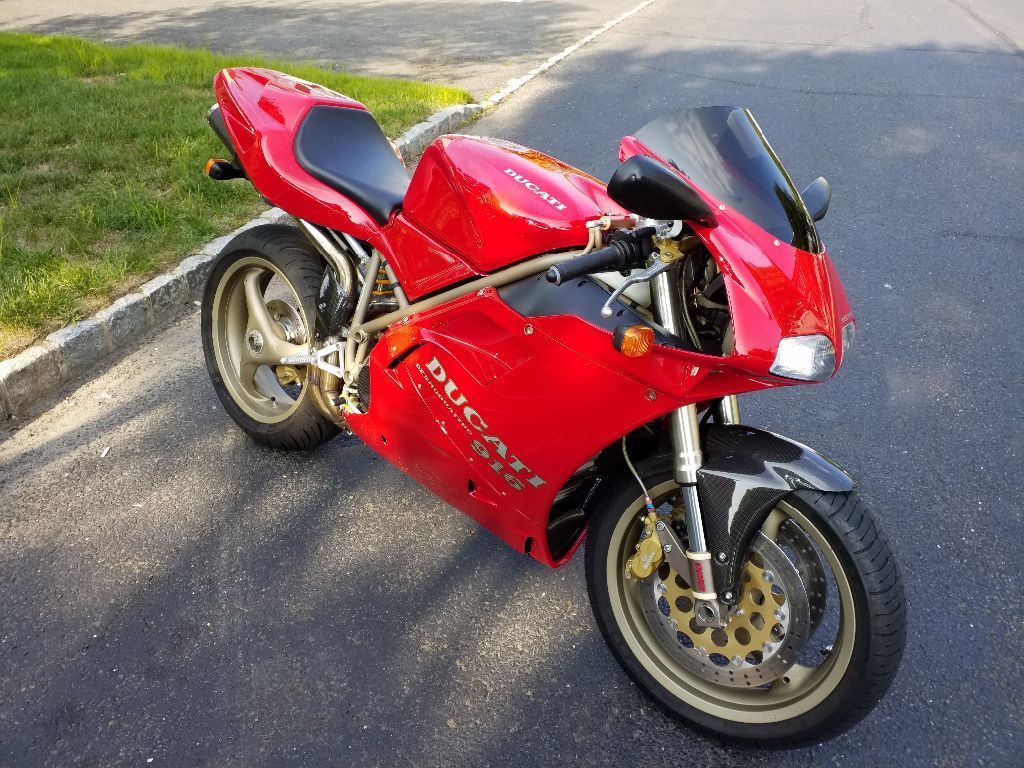 If "916" were the punchline, the joke would surely start out with: "These two Italians walk into a bar…." And while it is true that the 916 was the love child of Massimo Tamburini's striking design and Massimo Bordi's shrieking new v-twin, the 916 was no joke. This was a watershed bike for Ducati – catapulting it into overnight fame (the world conveniently forgetting that Antonio Cavalieri Ducati and sons had been in business since the mid-1920s, and successfully selling motorcycles since the 1950s). The world's press organizations ran out of superlatives to describe the visual impact of this revolutionary motorcycle – backed up by a string of World Superbike championships for Carl Fogarty. Pricey and rare, the 916 reset the sporting motorcycling performance bar – far higher than any other motorcycle available in the day.
Utilizing components and approaches that are commonplace today, the Ducati 916 broke new ground 24 years ago. Mass centralization and packaging resulted in an impossibly narrow frame, tight cockpit and ideal weight distribution. The single-sided rear swingarm – a nod to racing and speedy tire changes – dominated the right side view. Exhausts were tucked up high and tight under the seat, an arrangement that enhanced ground clearance (introduced by Honda's revolutionary NR750). Ohlins suspenders were fitted front and rear, as were top-notch Brembo binders. The motive power was courtesy of an updated/uprated 851/888 mill, liquid-cooled with 4-valves per cylinder (desmo actuated, naturally) and fuel injected. Peak power (114 HP) was at a stratospheric 9,000 RPM – very impressive numbers for a twin.
From the seller:
11 months, 609 miles since the following:

– Cam belts
– Battery
– (2) Michelin 4-GT
– Fuel pump
– Slave cylinder upgrade (Yoyodyne)
– Battery cable upgrade
– Brake\Clutch fluid and coolant flush
– Coolant hoses
– Front\Rear suspension complete rebuild
– Spark plugs and air filter
– Oil change (synthetic) and filter

Adult owned and ridden. Maintenance above has been performed by a very reputable shop in Hudson Valley, NY. All Ducati quirks have been replaced and/or upgraded. Only OEM or better parts and materials used. I will provide all documentation and associated costs. Bike runs beautifully, is set up for a 212lbs rider and has Kakimoto carbon slip-ons. Mileage is not a typo..1,300. Bike needs nothing.
Serious inquires only.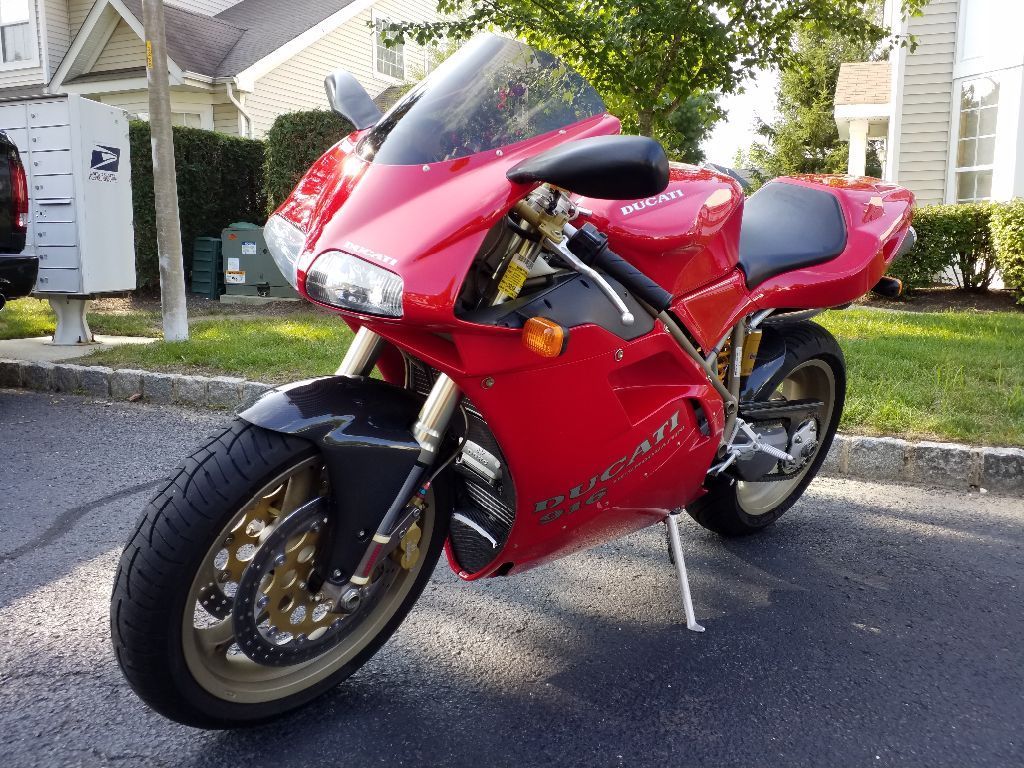 Early gen 916s are certainly on the collector list. This was such a revolutionary machine that it continues to stand out nearly a quarter of a century later. Follow on releases widened the focus by offering models with two-up seating (bi-posto), as well as even sharper offerings in the form of SP and SPS (precursors to the R model). But it is the original model – the standard issue, monoposto format – that started the fire that continues to burn so brightly to this day. So successful was this design that Ducati continued to evolve this silhouette through the 996/998/1098/1198 series. Even the Panigale contains elements common to the 916, as does the MV Agusta F4, thanks to Tamburini's influence.
This particular 916 is a 1995 model. Mileage is listed as 1,300 with pictures to prove it. For such an iconic motorcycle, that seems tantamount to sportbike treason. Apparently half of the miles listed were put on the bike in the last 11 months, back when the last major service was done. Props to the seller for having a complete service completed. Speaking of service, the 916 was more service-intensive than contemporary Japanese bikes, but time has proven that the shorter maintenance window is not really problematic. With original vivid red livery, gold frame and matching wheels and swingarm, this is a neo classic that will turn heads for decades to come. This is the bike that started a new revolution in design and performance. The $10,250 opening ask has yet to be answered, but for a clean bike in this type of condition with this few miles it's not a bad place to start. Check it out here, as we don't see too many original 916 models come our way. This is a good looking example of the bike that dropped a hand grenade into the Japanese-dominated market place – is that enough to make you want to pull the pin? Good Luck!!
MI