Warning!
This post is in our archives. Links in this post have been updated to point to similar bikes available to bid on eBay.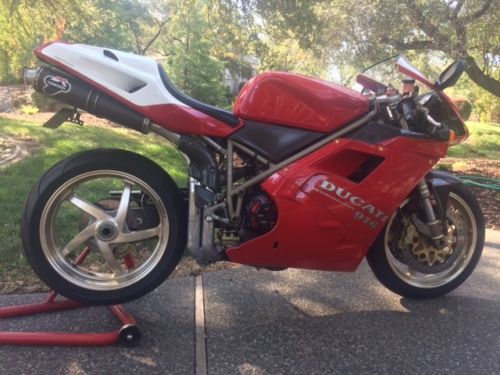 If you're shopping for a rare homologation Honda from the 80s or 90s, it's usually not that hard to be sure you've got the real McCoy. Does it have a V4 and a single-sided swingarm? It's probably the real thing. But Ducati was a much smaller organization, with much less in the way of financial resources or manpower, so introducing and entirely new machine just to make their production-based racers more competitive wasn't possible. That means bikes like today's Ducati 916SP can be a little more difficult to identify. The SP especially was largely similar to the regular 916: later bikes like the SPS had more obvious visual changes, but the SP was Ducati's first stab at a 916 special, and most of the most important and exotic changes were under the skin.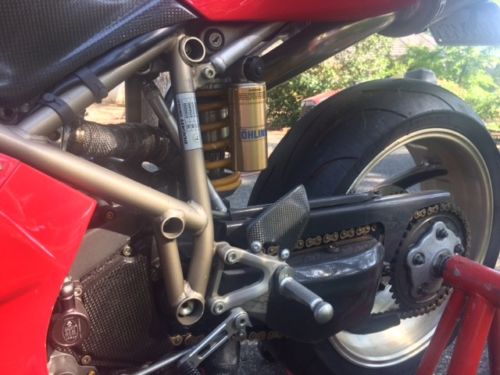 It helps that the 916 and its variations were pretty heart-attack serious sportbikes to begin with. Obviously no one else was going to get away with 6,000 mile service intervals and a riding position that pretty much had your hands grabbing the front axle and your ass higher than your head. And it makes things even more complicated that Ducati had a pragmatic, "hey, whatever's on the shelf Luigi: these bikes are supposed to ship out on Friday" philosophy when building the bikes. Sure, maybe an SP was supposed to have a carbon-fiber airbox, but if you're looking at a bike without one, it could still be authentic. Ducati might just have been out of them the week the bike was built. It means verifying the truly rare versions of the 916 can be tricky, since most everything special-looking, like the Öhlins shock and carbon fender, can be bolted on, and the really tricky stuff is hidden behind the engine cases.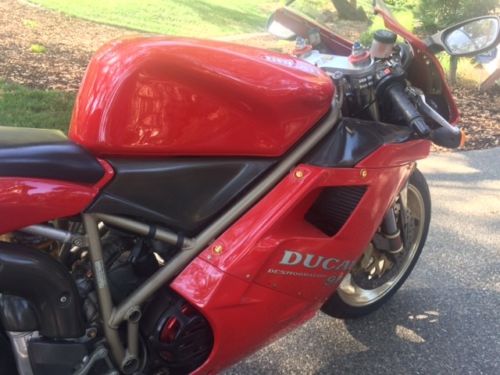 Which is where we can start: the cases are sand-cast, and the heads are slightly different as well, lacking the usual "DESMO 4V" text. Inside, you'll find Pankl H-beam titanium connecting rods, higher compression pistons, larger valves, more aggressive camshafts, a lightened flywheel, big 50mm throttle bodies with a pair of injectors each to fill the cylinders, and other tweaks and changes to handle the rigors of racing. Power was a claimed 126 and while that's not all that much in today's terms, it's a charismatic engine with fairly brutal delivery. Riding it on the road is what you'd expect: like riding a barely detuned racebike on the street. The gearing is wrong for daily use, it doesn't want to idle, doesn't like low rpm or part throttle…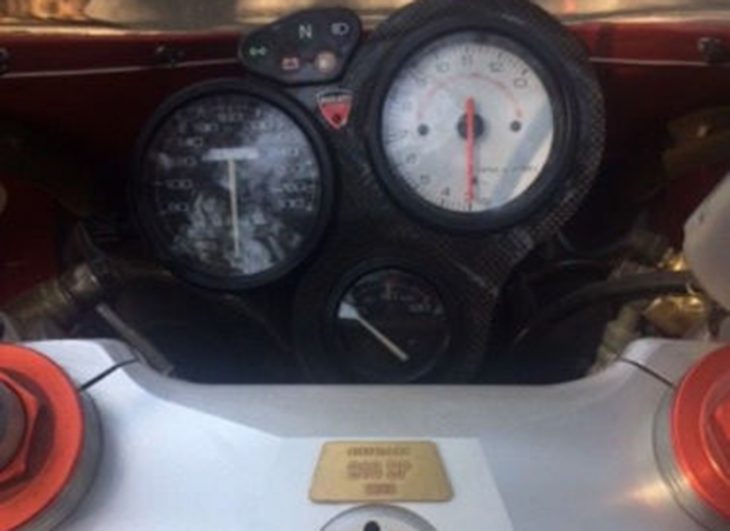 From the original eBay listing: 1995 Ducati 916SP for Sale
This is a 1995 Ducati 916 SP ~ A wonderful bike, distinctive and very collectable. As like the ones Carl Fogarty use to race with, this 916 has the impossible to find Magnesium Chromate Wheels, they are not painted gold, its the color of the metal. I will leave them on the bike, for an additional $3000.00. I do have the original ones as well and will mount them on this 916 if the buyer chooses not to include the Magnesium Chromate. This 916 was brought into the US and owned by "Fast by Ferracci" and was sold at the time for $21,885. Feel free to e-mail me at alex@mygpracing.com or call me at 916 276-1080 if you have any questions. I am also selling a 1955 F.B. Mondial "Sogno" 160cc, a Ducati Cucciolo Bicycle, an MV Agusta Disco Volante and a couple of other vintage bikes.
The Buy It Now price is listed at $21,000, but is this the real deal? I'm not enough of an expert to say, and the relatively low-quality photos don't help. What's it worth? Um. Probably less than an SPS but more than a regular 916? Technically, this is a Ducati 916S P2, and just 401 were supposedly built. Once again, who really knows for sure? See above. The 1994 models were the SP1, the 1995 models the SP2, and the 1996 version was the SP3. Of course, the SP stands for "Sport Production" and not "Super Premium" but you could be forgiven for making that mistake if you'd tried to buy one new, since the 916 wasn't cheap to begin with and the SP was even less cheap: an eye-watering $21,885 when new, just $885 more than the Buy It Now price…
-tad