Until the resurgence of a non-HD powered Buell (such as this awesome 1190RS), this was The Motor Company's sharpest racetrack weapon ever offered. Given that EBR is now an independent, this may remain the very pinnacle of homologation in a Harley-Davidson world. But don't let the turn signals and headlight fool you - AMA homologation rules stipulated 50 road legal examples, but no requirement as to where that road legality needed to occur. HD did some homework and found the path of least resistance was Poland. If you are in the US hoping for an easy DMV registration, this is not the bike for you.
The VR1000 was a veritable buffet line of American components. Roush was consulted on the motor design (60 degree, 996cc, liquid cooled, fuel injected v-twin), Penske handled the suspension and Wilwood supplied the brakes. An impressive lineup of riders were also on the payroll: Miguel Duhamel, Doug Chandler, Chris Karr, Pascal Picotte, Tom Wilson and Scott Russell all plied their trade; despite their collective experience, nobody won a single race. Part of the problem was that the release target of the VR1000 was the 1990 season. Unfortunately, it didn't hit the track until 1994 - at which point a bike that was competitive with 1990 specs was sorely outclassed. HD never managed to catch up with the competition, and finally threw in the towel in 2001.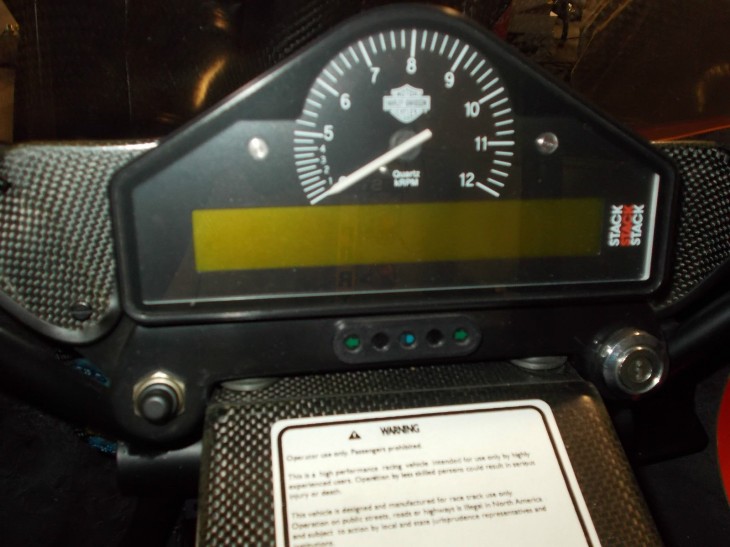 From the seller:
Here's a not only an extremely rare bike, it's very possibly the only new (never been started) VR1000 on the planet! This auction is for a 1994 Harley Davidson VR1000 Superbike that has NEVER BEEN STARTED! It's brand new. Only 50 VR1000's were produced for AMA Suberbike racing. This model has all street legal (legal in Poland, Google it) components intact. The bike is in perfect condition, although slightly dusty for years in storage (heated) Please check out all pics.
We have seen a surprising number of VR1000s for sale on the pages of RSBFS. Most have very low mileage (i.e. a few hundred). This might be the first zero mile bike. It's not unusual to see one sitting in a museum. It is a bona fide rare machine with a very interesting history. But would the RC30 be as sought after if it never won a single race? This bike has a $79,900 opening bid, reserve in place, and no takers as of yet. Check it out here. This is a great piece of history and certainly a great looking bike. What do you think? Be sure to hit the comments and let us know!
MI