Warning!
This post is in our archives. Links in this post have been updated to point to similar bikes available to bid on eBay.
This wonderful survivor – a 1986 Yamaha SRX600 single – was offered for only one short year in the United States. Utilizing a single cylinder, air cooled motor, the SRX was impossibly narrow, and very nimble and flickable. Ultimately it lost out to the multis of the day; light weight and great handling were no match for serious RPM and horsepower (think GSX-R, Ninja, FZR, VF-R, etc) – at least in the US.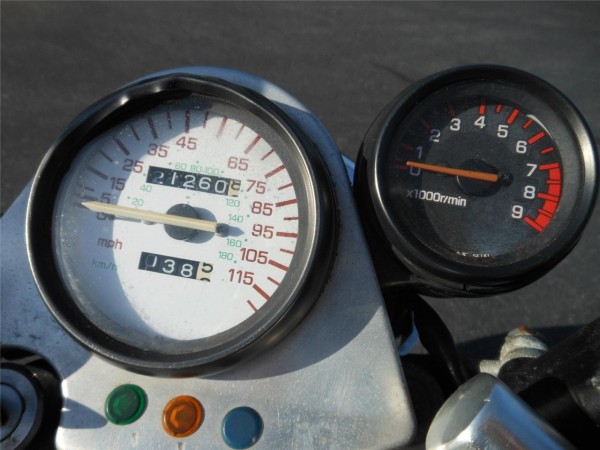 The SRX actually spanned about a dozen years in various markets outside of the US, including a 400cc variant for Japan. That is a pretty good shelf life for a bike derived from the humble and lowly XT600 DP offering. This model lineup even spawned a 250cc version, which lasted just as long as its bigger brother in the States. The timing was not right, and the SRX became one of the forgotten.
From the seller:
Offered here is a VERY RARE ONE-YEAR-ONLY 1986 Yamaha SRX-6 Super Single, in VERY GOOD, VERY ORIGINAL RUNNING condition! Made for one year ONLY in 1986, the SRX-600 was Yamaha's entry in the "retro-pseudo-British-single-cylinder-revival-market", which apparently both Yamaha and Honda (with their GB500) had high hopes for, unfortunately it did not work out that well for either manufacturer, motorcycle buyers in 1986 were apparently not impressed, and production ceased after only one model year. Fast forward some 27 years, and now both of these minimalist, light & lean super-FUN singles are now Cult Classics and highly sought after the world over… Funny how that works! In my opinion the Yamaha SRX-6 is a better motorcycle than the GB500 – lighter, more power, better handling, plus a huge selection of after-market go-fast goodies – and it is definitely a much better value, as nice clean GB500s are regularly offered at $5-6K or more, but you can get a clean good-running SRX-6 (like this one!) for around half that amount…

This one is remarkably original and in EXCELLENT running condition – Original frame & engine, cosmetics are very nice with original bodywork in factory candy red with silver side covers, original seat cover in great shape with NO holes or tears, it even has the STOCK airbox with built-in battery tray and COMPLETE STOCK EXHAUST system with original stainless steel header pipes and HUGE factory can & heat shield, which is pretty much unheard of since almost all of these stock cans were immediately tossed in the dumpster and replaced by a lightweight Super Trapp or something similar. As far as I can tell, the only things on this bike that are not original are the mirrors, the bar ends and the very tasty Progressive Suspension rear shocks!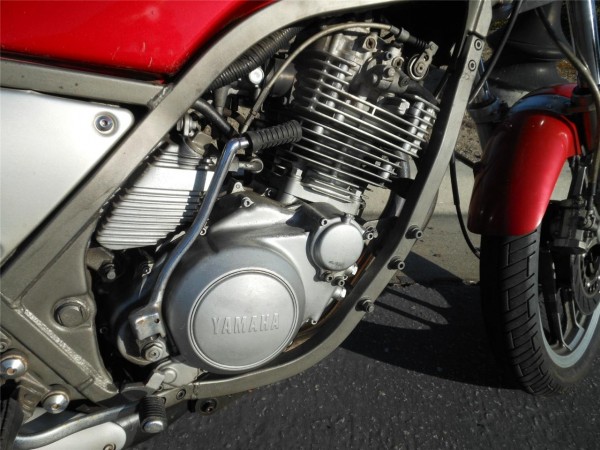 The seller has also shared the good, the bad and the ugly.
From the seller:
There is a short list of issues that need to be pointed out, so I will get them out of the way: The tank had some rust and a few pinholes (shown in the photos below) when I got it, so it has been thoroughly cleaned and lined with POR-15; there is some light pitting on the top part of the fork tubes, between the two triple clamps – the seal travel area of both tubes is flawless, with NO pitting, scoring or wear in the chrome; the previous owner shot some rattle-can silver on the engine covers (his attempt to "deal with" the usual discoloration and clear coat peeling); there is no "SRX-6" sticker on the right side cover; the left front turn signal body is cracked; there are some dings on the speedo bezel; the rear seat cowl has some sun fading; and lastly the only mechanical issue that I am aware of is some clutch slip under very heavy throttle (this is a simple adjustment, just requires removal of the outer cover, I have not gotten to this but I do have the cover gaskets, which will go to the winning bidder)…

On the upside, the following work has been done within the past 6 months: New drive chain along with new countershaft & rear wheel sprockets; new steering head bearings; new fork seals & fork oil; valves adjusted; carbs cleaned & adjusted; engine oil & filter changed… Mechanically, this bike is in great shape – actual mileage on odometer shows 21,260 miles (and counting), relatively low mileage for a 27 year old bike, and with regular oil changes these engines (also used in the XT600 dual sport Yammies) are known to be pretty much indestructible. The SRX-6 is kick-start only – as you surely know – and this one is an easy starter when hot or cold, once you master the thumper starting drill… NO unusual engine noises, NO smoke, engine performs flawlessly up & down the rev range and wow does this engine love to REV! Clutch, transmission, suspension, brakes and all electrics work great, this bike is WAAAAYYYYYY FUN, no doubt about it! Both tires are very good – bottom line is this bike needs nothing other than the clutch adjustment in order to be ridden, and ridden HARD if you are so inclined!

Sold with clean California title in previous owner's name, last registered in 2001, no longer in the DMV system here in California… As a bonus the winning bidder will also get a genuine Yamaha Factory Workshop Manual and a stack of NOS gaskets!!!
The SRX was noted as a ton of fun to ride – and I would imagine that is the same today as it was 27 years ago. The British look is back in style, and here you have a cafe racer of sorts that doesn't need to be modified or hacked to achieve the look. Who knowns – something like this might even appreciate in the coming years. The current bid on this one is only $999 with reserve still in place. This one just might turn out to be lots of fun for not too much cash. Check it out here!
MI