In the 1990's as today, the middle-weight segment was ruled by the bottom line, each model having ups and downs depending on the year, and 1994 was a nice year for FZR600's – with a lot of improvements from earlier R6's.  This example has been tucked away with low miles and few apparent scuffles.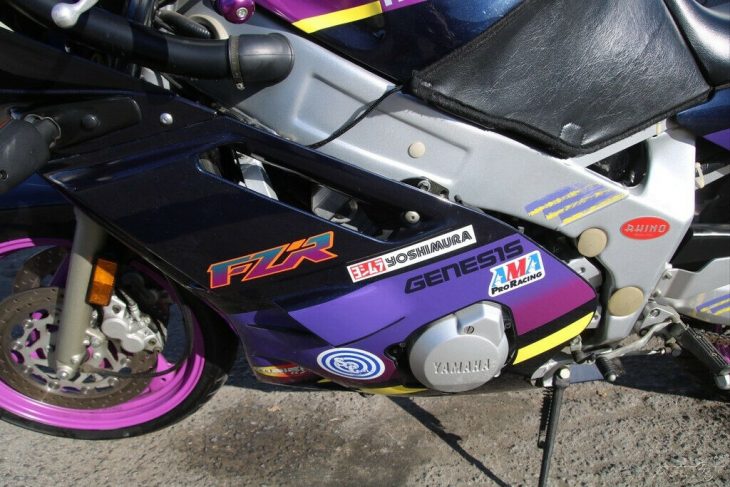 Yamaha tailored the findings of its Superbike department to the budget, and the 598cc engine got four valves instead of five, and the chassis was crafted of steel stampings instead of aluminum.  Still the engine and chassis were new for '94, slightly more oversquare with lighter cam train yielding 99 hp.  Yamaha's own suspension and brakes weren't fancy but the brakes are right-sized at 298mm with the neat smaller leading brake puck.  The trapezoidal headlight was retired and the nose got an endurance racer's rugged good looks.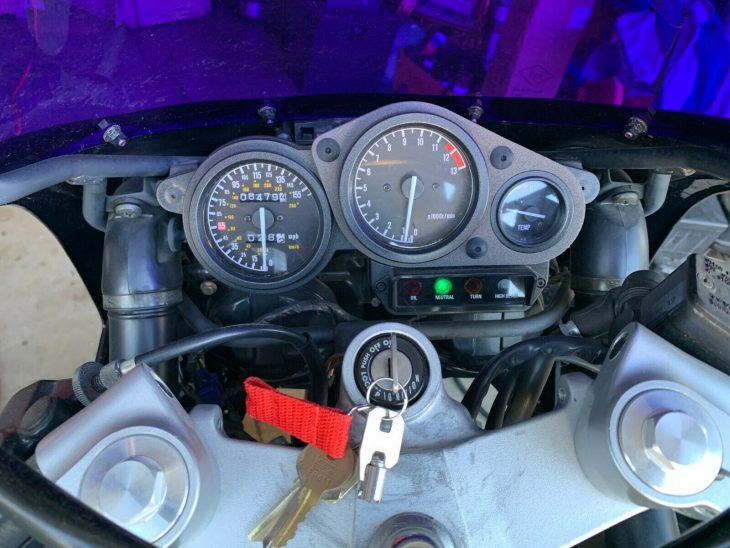 This FZR looks good though the seller notes new rubber and a carb cleaning might await the next owner.  Hopefully nothing scary under the tank bra, and the paint has been protected by an armada of stickers.  From the eBay auction:
Good for new riders, or the experienced and seasoned rider who wants a small and nimble machine. Very good plastics, good tires (old). Starts easy, brakes tight, corners well. Does not overheat. New Fuel Filter. Clear Title. Has a very slight hesitation from idle, so it probably needs to have the 4 carbs synced. It rides fine as it is if you plan to hwy ride it and commute. It may clean up as you run fresh fuel through the carbs or run a carb cleaner through it. Gears shift well and hold well. Air filter like new, and the airbox is still setup stock. This is a stock bike except for the slip-on muffler. Sounds nice. New Battery. Under 8500 miles!
Trying to make sense of the international phase-in of the FZR600R didn't clear things up much for me, with the North American market keeping this nose and fairing ? – maybe a resident expert could weigh in.  More often seen on RSBFS in the Vance & Hines chartreuse and mauve race livery, this 90's evening wear might be coming back into style.  Not ready for – or looking for a change from – the liter+ supersport, when sorted this FZR will offer pretty fashionable performance.
-donn