1986 Suzuki RG500 Gamma
Location: Calgary, Alberta, Canada
Miles: 5820Km (3,616mi)
Price: $16,000
Our neighbors to the North again offer us a piece of sport bike history in the super clean and original '86 RG500 Gamma. It seems that a few of the RG500's featured here on RSBFS are Canadian, and this on is no exception. So kick back and check out this low mileage and unmodified 500cc two-stroke!
If you're a fan of the Gran Prix bikes of the late 70's, then the RG500 is your ticket to pure bliss. The square-four engine, which is essentially two parallel twin engines geared together with two crankshafts, is capable of 95hp in stock trim.  With the bike weighing in at roughly 350lbs, one can only imagine the surplus amount of fun that can be had. If you subscribe to the philosophy that more is better, then the four exhaust pipes screaming at 10,000rpm should leave you grinning from ear to ear.
First off, because this is a Canadian bike, there obviously is no U.S. title. But this bike is one of the cleaner and lower mileage examples I have seen. Obviously not the Zero-mile version that appeared back in November, but this would make an excellent addition to any collection or maybe even the start of one. You could pick up this RG500 and maybe the RGV250SP that was featured earlier.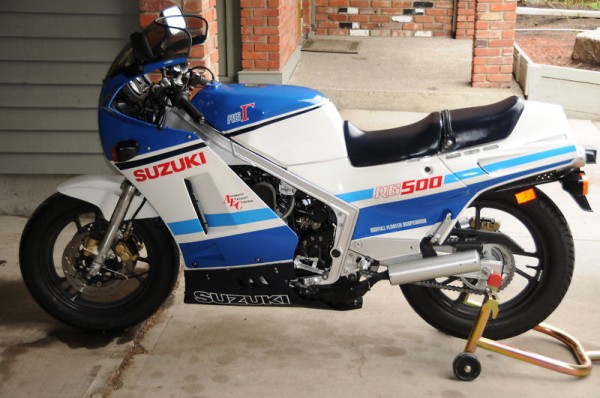 The seller states that the only modification to this bike is the Rick Lance air filters (originals available) as well as several NOS parts being included with the sale.
From the seller:
"1986 Suzuki RG500 Gamma offered for sale by owner.  This RG500 Gamma is as clean as they come and all original except for the Rick Lance air filters (I have the originals).  Mileage is all original at 5820 KMS (3500 Miles).  I will state the obvious and say that this RG500 has never been tracked or down.  You will not find a cleaner or more showroom RG500, I have the original tires as well (Just have to find them!)  Bike is fully serviced and ready to ride or show.  This RG500 is running perfectly, burns the same oil out of all cylinders.  The engine paint is still shiny and new looking, not faded and dull from so many heat cycles.  Have a close look at the photos and enjoy.  Included with the bike are N.O.S upper cowl with N.O.S wind screen, N.O.S meter foam, N.O.S solo cowl and bum stop. N.O.S mirrors, N.O.S bellypan and original decals for it.  This RG500 would be a show winner every time out, pretty much spotless.  I hate to sell it but it's just too nice to ride, I know I'll never find another in this shape any time soon.  Those of you looking know what this bike is, and how the RG500's are quickly appreciating.  Not much else to say, thanks for looking."
This particular bike has an opening bid of $16,000 with no reserve, and no bids at the time of writing this. Though this does seem a little on the high side for one without a U.S. title, it's hard to say when the next excellent condition RG500 with this low of miles is going to come about. If you got to have this piece of Suzuki history, then
-RN