After the R1100S and the BoxerCup marque series faded into the German sunset ( and just before the introduction of the game-changing S1000RR ), BMW breathed some new life into the big opposed twin models with an additional 50-ish cc's, four valves per cylinder, and a lot of advanced design work.  Leading off with the ground pounding HP2 Enduro in 2007, they followed in 2008 with a streetfighter and the HP2 Sport.  Without denying its sport-touring heritage, the HP2 Sport was BMW's uncompromising track weapon.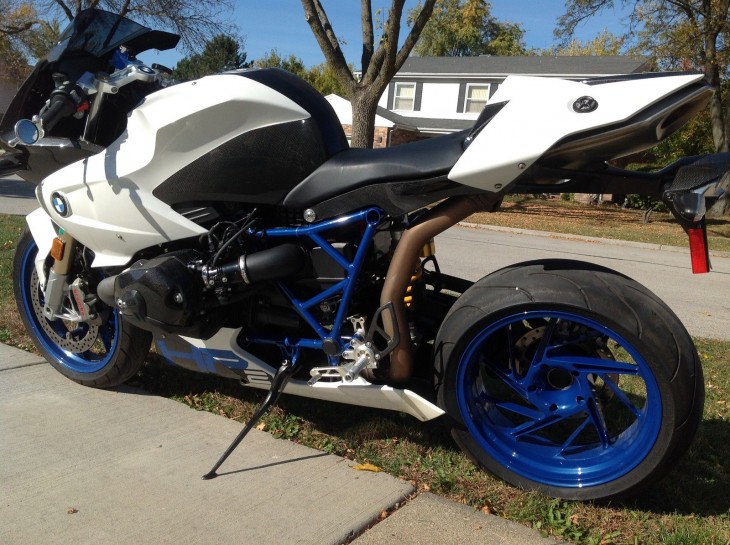 Hanging in the beautiful tubular frame as a stressed member, the 1170cc engine has dual overhead chain-driven cams responsible for 130 hp and 85 ft-lbs. torque.  The stainless exhausts make their way under the bike, away from the rider and up to a canister muffer in the tail.  Integrating the usual brackets in carbon fiber, the full fairing and seat subframe are self-supporting.  BMW's Telelever front suspension has intrinsic anti-dive properties, and the rear Paralever encloses the driveshaft, both damped by fully adjustable Ohlins shock absorbers.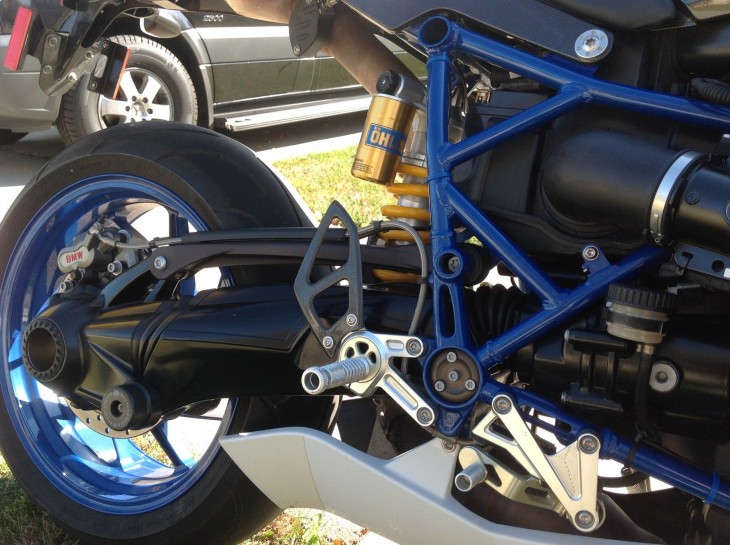 Brembo radially mounted 320mm brakes are up front, with a 265mm disk at the rear.  Wide forged aluminum wheels are painted the bold blue of the frame.  Race-derived features such as the quick-shifter and digital dash complete the package.  The designers were able to bring the half-fuel weight in under 400 lbs., an achievement for any 1200cc bike, which pays dividends every ride.
Looking very good for its 12,000 miles, the HP2 offered here appears stock except for bar-end mirrors.  Though ABS eventually was available, this early model could be considered more sporting.  The second owner is a collector thinning the herd, and states in the eBay auction:
For selling consideration i am offering this 08 Bmw HP2 Sport, is a very early model, no Abs.

i always wanted to own a Hp2 Sport because i have heard nothing but superlatives about the bike, loved the looks but couldn't convinced myself to drop $19000 for a used one so i patiently waited until i got a fantastic deal, purchased as a package with few other bikes i ended up owning the bike i was waiting for.

i rode the bike all summer,put about 1000 miles on her,absolutely no problems,had a lot of fun,bike is just as advertised,gorgeous looking, loaded with high end components and the highest of german engineering at hearth. I am fortunate enough to own several bikes and this has to be up there with the prettiest of all.

I would consider the bike to be in Great condition, has minimal wear from riding almost 12000 miles, few small chips on the cylinder  heads covers, belly pan, has on crack in the clear coat on the front fairing, maybe the size of a dime. Is all stock, no modification or alterations, i went with a bar end mirror because the stock were useless.
With its light weight, modern design and premium components, this is a pretty special Beemer.  The factory continued to send teams to endurance races, and though instantly eclipsed by the S1000RR, the big twin will always please fans of the marque, and surprise some with its performance.  BMW durability speaks to the value of this bike, a great rider with a lot of great rides left…
-donn