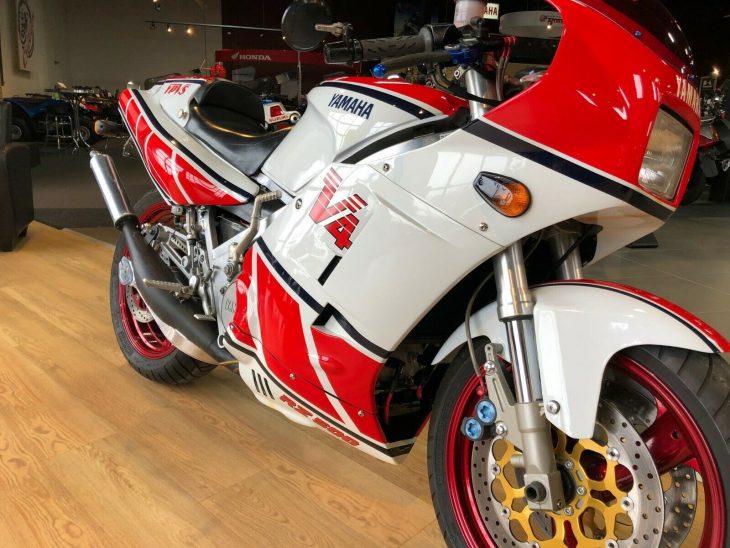 Compared to a modern superbike, the fire-breathing performance of vintage two-stroke race replicas maybe isn't quite as wild as their reputation would suggest. At the time, they were light and very powerful, but weren't exactly at Grand Prix extremes of either even then. Modern machines have levels of rigidity, suspension response, and electronic assistance an old smoker like this Yamaha RZ500 could only dream of, back in the hazy 1980s. But an RZ500 still has the goods to be hustled along a canyon road, and this example has had a couple of updates to the running gear to help it hang with newer bikes.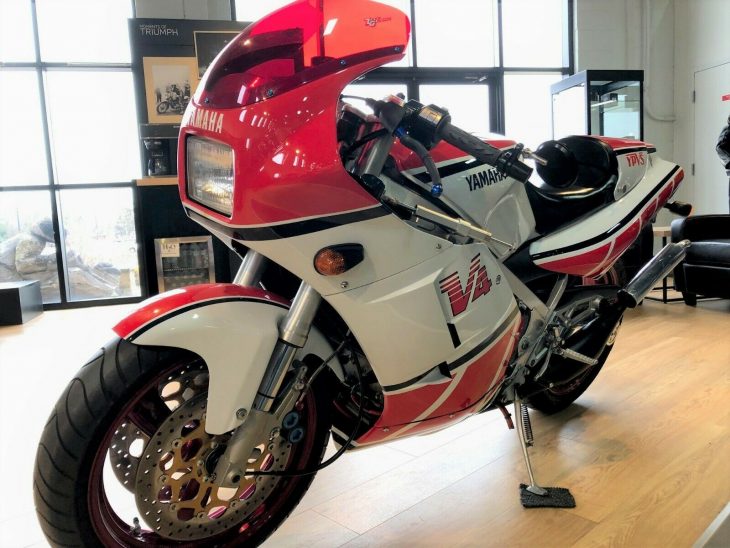 Also known as the RD500LC in Europe and the RZV500R in Japan, the RZ500 was powered by a a liquid-cooled 50° two-stroke V4 that featured twin cranks, a pair of YPVS power valves, a balance shaft to smooth things out, and magnesium components to reduce weight. Lubrication for the two-stroke was handled by Yamaha's Autolube oil-injection and the transmission had six speeds. At the front was a 16″ wheel and a set of anti-dive forks matched to an underslung rear shock and an 18″ hoop out back, limiting a modern rider's access to good performance rubber.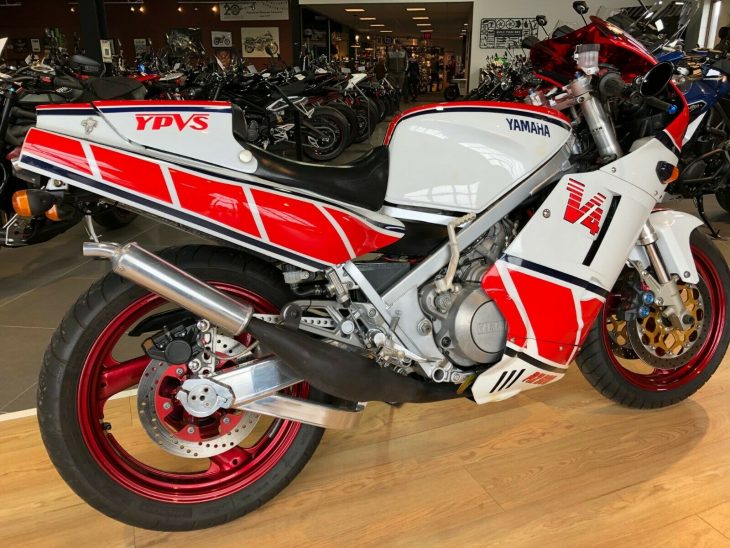 The Yamaha RZ500 made a claimed 88hp and weighed in at 436lbs wet, while a 1986 Suzuki GSX-R750 of the same period made a claimed 106hp and weighed 465lbs wet, so performance was pretty similar on paper. However, the character of the two bikes couldn't be more different. With heavy two-stroke smoke dripping out of the four exhaust tips and the crackle and zing of the engine, you have to work the RZ500 much harder, in spite of a pair of power valves designed to improve midrange response.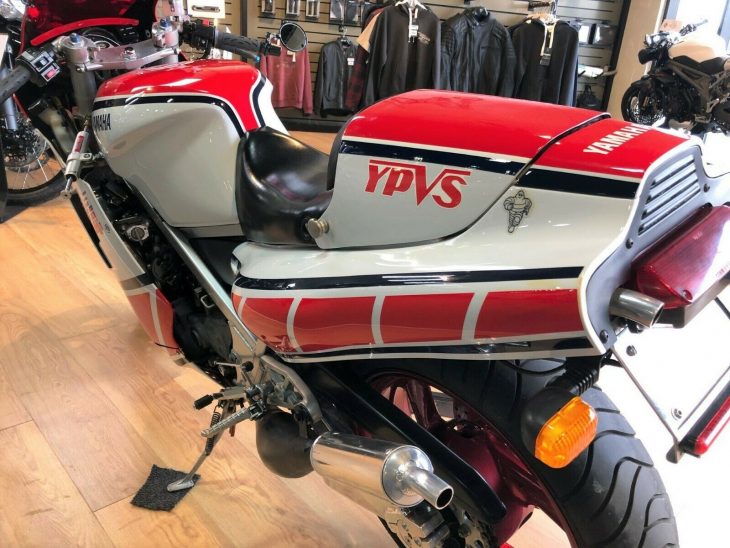 Interestingly, the Japanese market bikes received an aluminum frame to offset the reduction in power required by government restrictions. I always wonder why, since this was a premium sportbike to begin with, they didn't just fit the aluminum frames to all of them. Certainly, if you wanted to build your dream RZ500 and throw originality to the wind, that's what you'd probably do. This particular bike follows the path of "thoughtful evolution" and includes some components from later machines that should help the bike's cornering prowess.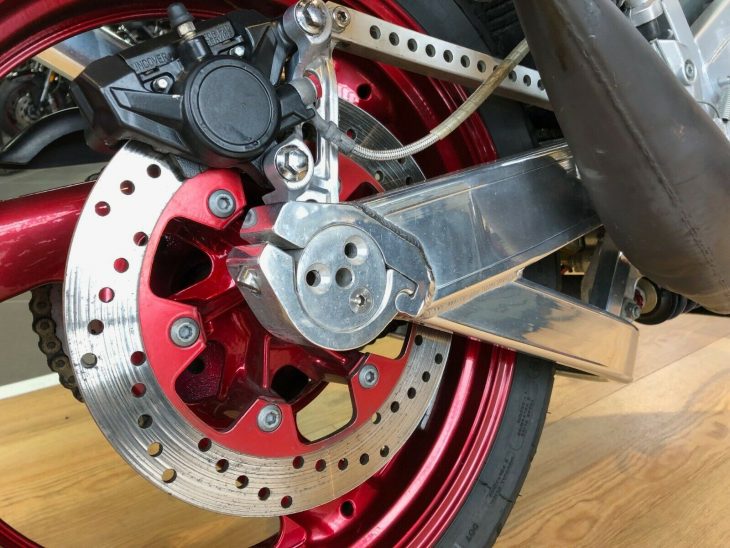 It's maybe not a purist's museum piece, with the later YZF750 front end and 17″ wheels. But, while the RZ500 was commendably light and agile by mid-80s standards, an update to the fork and brakes should help bring the bike closer to modern feel, while the ZX6 wheels will make tire choice much simpler, and give the new owner access to modern levels of grip.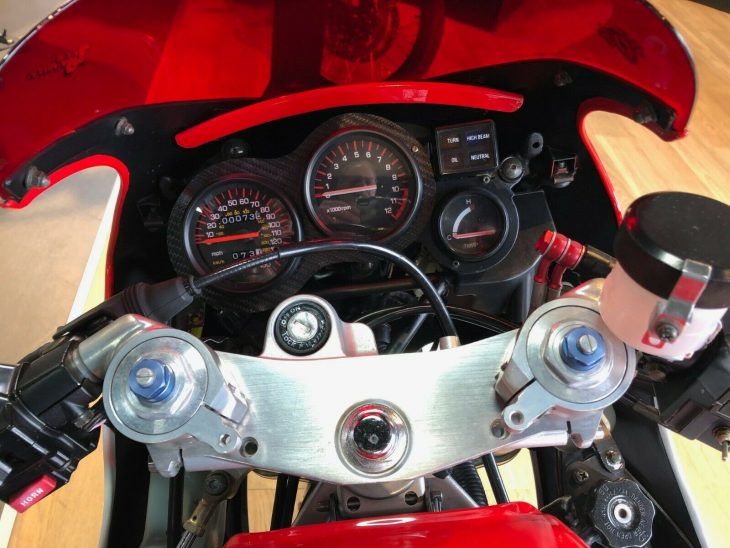 From the original eBay listing: 1986 Yamaha RZ500 for Sale
We are a Yamaha dealer selling this bike for a 2 stroke collector's estate. This is a great example of a 1986 Yamaha RZ500. It has a clear Pennsylvania title (has been here since at least 2006) but was originally sold in Canada. VIN is JYA52X007GA007150. The odometer reads 73 miles but since the KM speedo was replaced the actual odometer is aprox. 7500 km with about 1000 km since rebuild.

Cosmetic condition as you can see in the pics is excellent. Bodywork is all OEM including solo cowl. We've included a owner's manual and service manual – all in good shape. There is 1 original factory key and 1 copy. Frame up restoration done in 2006. At that time, all seals were replaced, cylinders honed (std bore)

We've had our resident two-stroke tech go through the bike after a short storage. Air cleaner was replaced, tank drained, carbs removed and thoroughly cleaned, etc. Plugs replaced, fresh trans oil. Bike started easily and runs well with no clutch slippage. Left fork seal has slight seep and as any two stroke, it could take more fussing to get carburation perfect. Trans shifts very well but clutch pull a bit heavy (upgraded springs?). Brakes solid and chatter free. This is a well sorted RZ.

Upgrades and mods include but are not limited to:

YZF750 complete USD front end and brakes.
JMC custom polished swingarm
Penske remote reservoir rear shock
Alex Mayes chambers – Rare!
Carbon Tech low tension reeds (porting is stock)
ZX6 wheels (both wheels powder coated red)
Magnesium left engine cover
Braided brake lines
Hindsight mirrors
MPH speedometer
Zero Gravity windscreen
Carbon fiber meter panel

There is NO reserve or buy-it-now price on this item. 

Other RZ brochures and some parts are available but are not included with this bike.

Pick up at our dealership in Pennsylvania (19512) has no charge of course, but delivery by truck or international shipping is the responsibility of the buyer. 
As the seller describes it, "this is a well sorted RZ," a daily rider that captures the feel of an earlier era of performance, with a couple modern touches. Unfortunately, there are no takers yet at the $13,000 starting bid, with just a few hours left on the auction. Is it too early in the season? Were the modifications just a bridge too far? Has the interest in two-strokes plateaued?
-tad