As the rest of the Big Four tried to grab turbo sportbike market share in the early to mid-80s by strapping fuel injection systems and snails to run-of-the-mill UJMs, Kawasaki took the game a little more seriously, and the results made the rest of the crowd look silly. The 1984 Kawasaki GPz750 Turbo was lighter, sharper, handled better and went faster than the others, an actual sportbike among a crowd of boosted pigs.
Building on the legend of the insane, and truly rare 1,000cc turbo 1978 Kawasaki Z1R/TC, and its AMA-conquering GPz line, Kawi tweaked an already solid formula into a complete street menace. The engines got new pistons, oil scavenge pumps, and a beefier gearbox to handle the boost.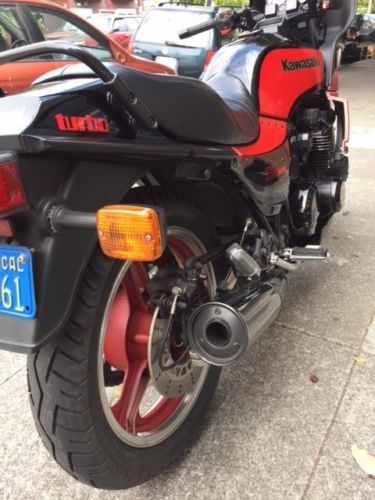 The magazines went nuts, with at least one hailing the '84 GPz750 Turbo as the fastest streetbike they had ever tested. Capable of 148 mph on the big end and quarter-mile potential in the high 10-second range, the Turbo's numbers stood up to naturally-aspirated 1,000cc bikes for the next decade or so.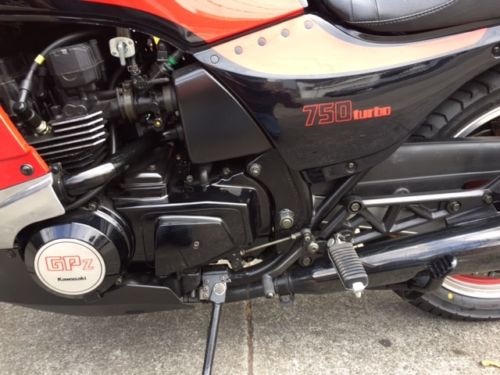 This particular GPz Turbo appears to be in fantastic shape, though the pictures are a little low-res. With the bike showing just 5,400 miles, the seller claims it looks more like it is three than 33. It carries new Bridgestone Battlax tires and braided steel Galfer brake lines in black to keep a stock appearance. On a bike this old, anything to keep it sticking and stopping is a welcome improvement. But just in case you do feel the need to take it back to 100 percent original and park it, the 1984 tires and brake lines are included.
From the eBay listing:
Up for sale is my Mint condition. One previous Original owner bike. This is the Cleanest, unmolested GPZ TURBO Ive seen in years. It looks like it is three years old. It looks almost new.
Pipes are immaculate, Paint is immaculate and shiny. Decals are like New. Paint is like New. Seat is like new. All instruments work. Mileage is supe LOW 5,417 .
Only improvements to Stock: ive upgraded tires to Contemporary Brand New Bridgestone Battleaxes (i still have original Period correct Metzlers which will go with bike) and I have upgraded the brake lines to steel braded black Gafflers (look stock---i have originals that go with bike too)
i have original manual and service manuals too.

This is a rare find ....this is a MINT GPZ TURBO...NEVER ABUSED, NO SMOKE FROM TURBO.....RUNS LIKE A NEW BIKE......ENGINE AND TURBO .....NEVER DISMANTLED.......

KEEP THIS IN MIND WHEN YOU ARE BIDDING......... THIS IS NOT AN ABUSED, BEAT UP
RE-BUILT , DRAGGED, TURBO.....THIS BIKE IS LIKE NEW.

IT DESERVES TO GO TO SOMEONE WHO IS A COLLECTOR OR WHO WANTS TO RIDE IT AND TAKE CARE OF IT.

SEEE VIDEO:

Good luck bidding!

Don't ask me what the Reserve Price is...if you are bidding and meet the reserve you will know.
This is an Auction. ..Highest bidder gets the bike.

thanks.
There is no reserve, but the  bidding has been active, and this thing is closing on $10k with time left on the auction. The bike starts at the first touch of the button and settles into a nice idle. Not too shabby.