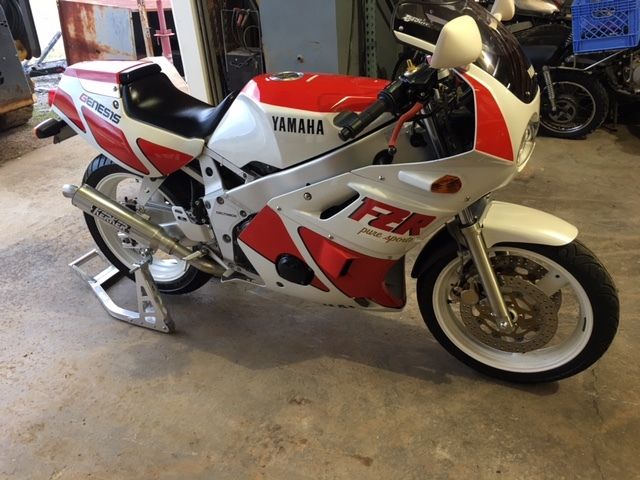 April 1st has often been a day maligned by trickery. Even the hallowed pages of RSBFS have been besmirched by the occasional April Fools Day joke in past years. Not so this year. This year there are FAR too many excellent bikes available to waste time and web space on foolery. For example, 2017 seems to be the year of the FZR400 as evidenced by this fantastic find. This is a two-owner model that looks very clean and has obviously been well-loved. That is always good to see – especially with the Fizzers, as they are all too often raced, modded and generally abused.
With an aluminum Delta Box frame wrapping itself tightly around the rev-happy Genesis inline four, the FZR400 emerged as the sweetest handling machine of the 1980s. Able to carry higher cornering speeds than comparable middleweights (or even open class bikes), the relative lack of power is more than made up for by conservation of forward motion. This is a bike that loves to be ridden, and rewards a smooth, committed rider most of all. The fact that it is also a very forgiving platform makes it all that much more approachable; you will be hard pressed to find negative reviews on this gem from Yamaha.
From the seller:
1988 Yamaha FZR 400. Owned since 2012 (2nd owner). Penske rear shock, Race Tech front suspension upgrades. Very good overall condition, blemishes represented in pictures. Kerker exhaust, Lockhart tank cover, 2009 swingarm, Includes original exhaust, Corbin seat, OEM service manual and many receipts from the original owner.
This particular machine has had some interesting mods. The suspension upgrades are non-destructive and warranted; technology has come a long way in 30 years, and some refresh/upgrades are definitely in order for a bike that has seen some use. Pipes and jetting are common to extract the maximum from what small displacement is available, and the original exhaust is available with the bike (nice!). The Corbin seat is another common mod. The swingarm update is curious; this is normally a cure for the limited tire selections due to the wheel size – but no mention is made of any changes there. Interested buyers might want to find out more. There is nothing inherently negative about this change, but there may be more to the story.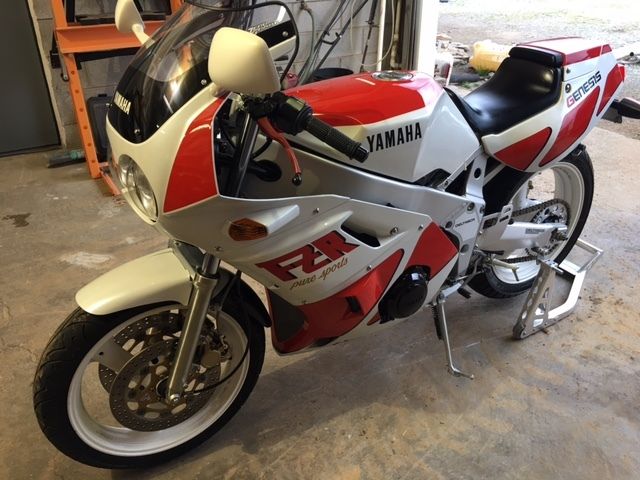 The market remains curiously soft on these smaller machines. In the US, there seems to be a general lack of interest in anything below 750cc. Of course the production numbers don't help the supply/demand equation either, as this was a mass-produced Japanese machine. Still, these hold their value much better than a comparable middleweight (say, a FZR600), and with parts growing scarce we may see an elevation in status for these underrated canyon carvers. Check it out here, and enjoy the glut of FZR400s this year – it may not last!
MI