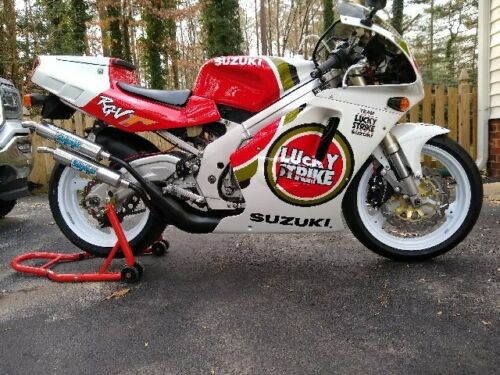 The Suzuki RGV250 Gamma was a significant model for the factory at Hamamatsu. Original conceived as a parallel twin, the RG evolved into the 90 degree v-twin for the VJ21 and VJ22 models before morphing into the 70 degree vee of the VJ23. A favorite of racers, street riders and collectors alike, the RGV250 spawned the successful Aprilia RS250 as well as several Suzuki-specific themed liveries. Of the rare graphical packages, the Pepsi was perhaps the most rare, but the Lucky Strike livery continues to be the most popular. Today's 1991 RGV250 VJ22 does not appear to have started life as a Lucky Strike, but looks striking after a much needed refurb (despite the lower resolution photos).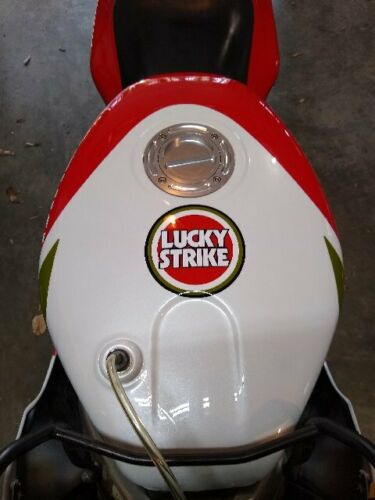 From the seller:
1991 Suzuki RGV250 M model. This an UNRESTRICED RGV250 VJ22

As shown in the before picture it was UGLY…. but has been transformed into a beauty.
New Lucky Strike paint job with four (4) coats of clear and a little pearl in the white areas.
Wheels stripped and powder coated white. New Dunlop Q3+ tires.
New Ohlins color upper fork tubes…NOT Ohlins forks but they look like them,,,however I added..
New Andreani Misano race fork cartridges with separate compression in one leg and rebound in the other.
New fork tube bushings (Racetech), Red SS brake lines, SBS brake pads, Sugaya street expansion chambers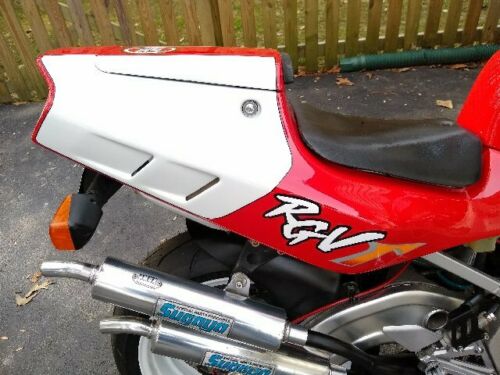 More from the seller:
Calipers gutted and new internals installed with satin black caliper paint
New NITRON R2 fully adjustable remote reservoir rear shock
Tyga carbon fiber rear hugger and Tyga power valve covers with drains
Cougar power valves
Mild street porting and head work by Ed Toomey at Ed Toomey Designs. Renowned two stroke guru.
New 1st over pistons, rings, wrist pins, small end bearings and cylinder Nikasil coating.
Radial front brake master cylinder from a GSXR600, wave front brake rotors.
New Zeeltronic ignition controller with hand held programmer.
(If you don't want the Zeeltronic I can put the original ECU back on. It is the upgraded 23D70 unit).
Carbs are clean and balanced. Carbs are the larger 34mm size
New Suzuki oil injection pump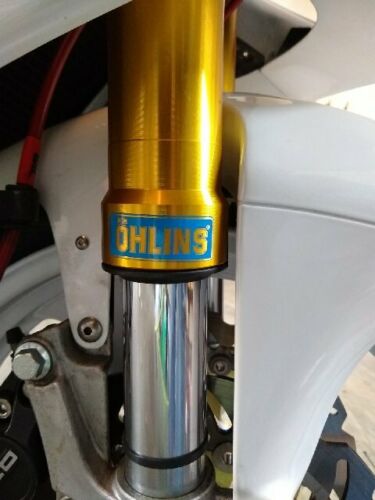 Putting aside the sordid history that might have brought this bike down the road it traveled, the resto-mod approach with this particular example really works for me. This bike certainly looks a sight better than when the seller first acquired it, and there is no denying the visual impact of the Lucky Strike scheme. In addition to paintwork this bike has received some much needed attention to the chassis and systems, and now sports some important upgrades including suspension, exhaust and the all-important tuning to de-restrict the colony of bees and transform it into a hive of angry hornets. Figure 60+ HP from a stocker with the restrictions removed, and likely a tad more here if all components are working correctly together. Should be fun on a barely 300 lbs (dry) machine.
This bike is listed as "Excellent condition, as new, showroom condition" – although it might be fair to list it more along the lines of a restoration. And we should all be thankful someone is willing to undertake such a labor of love, as the world needs more of these bikes rescued and returned to glory. Not much action on this particular auction yet; opening bid is $5k USD with a reserve in place. There are a fair number of watchers on this, so perhaps everyone is sitting back and waiting for the fun to start. Check out all of the details here. While not completely original or stock, this restored and modded machine sure looks like fun. Good Luck!!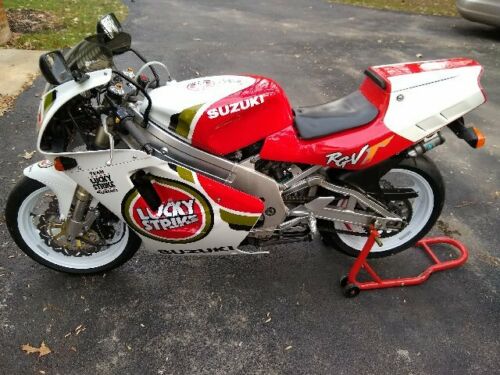 MI