Arguably the first modern Ducati, the Paso used an innovative design, and new belt-driven cams for its desmodue engine.  This Pennsylvania example has been beautifully restored, using at least a gallon of arrest-me red.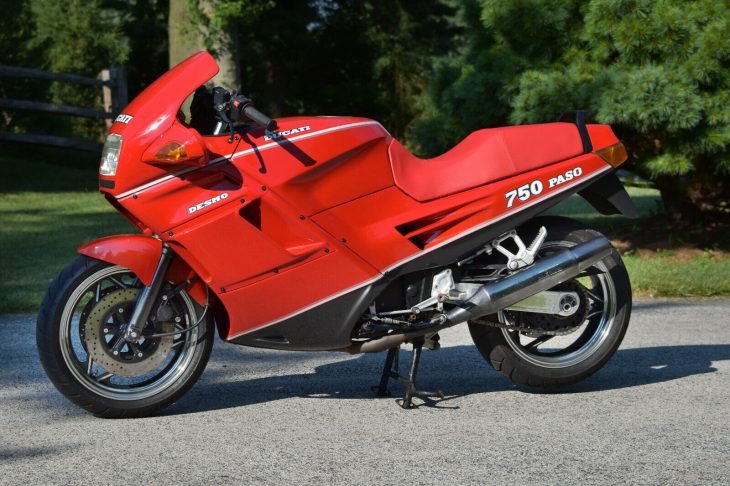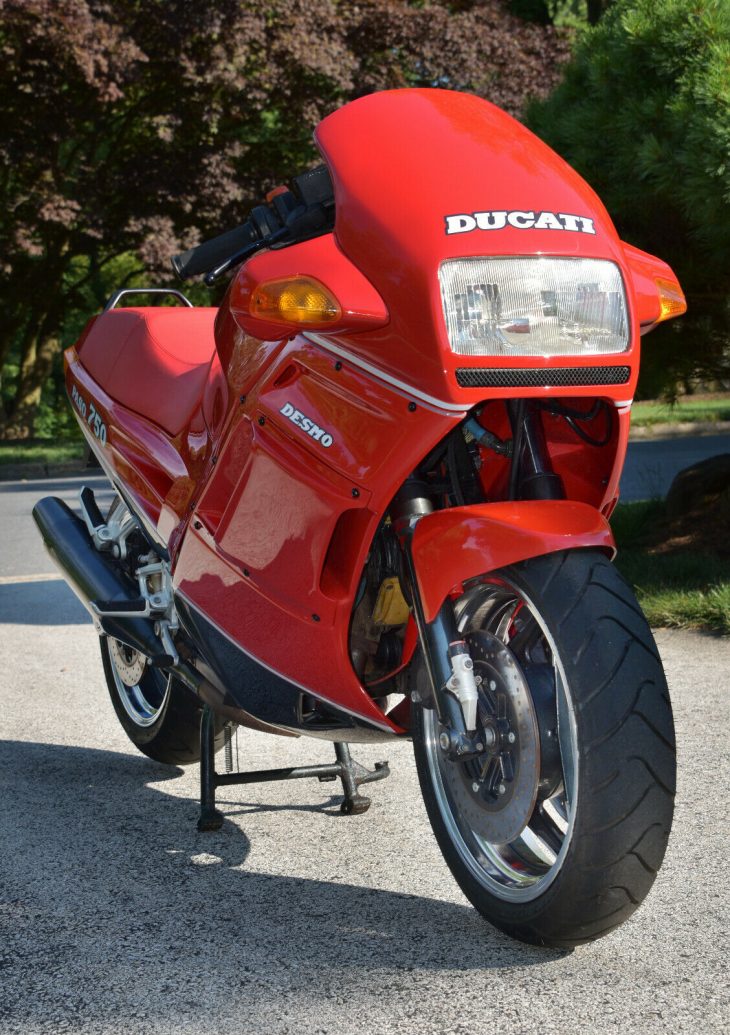 Underneath Tamburini's ground-breaking package was a familiar Pantah 748cc twin, this time with a single Weber carburetor and 73 hp.  A 5-speed was all the torque curve required, and Marzocchi suspension and 16-inch tires are found at both ends.  Triple Brembo disk brakes are nearly the same size all around, 280mm fronts and 270mm rear.  The soap-bar bodywork freed the designers to build the square tube frame strong and economical, and Tamburini honed the geometry and balance to make the Paso a sweet handling package.
The owner has a short eBay history but picked a lower-mileage Paso as a project, and made a beauty out of it.  Right down to the exhausts, it's hard to find a modification to the factory's ideal.  Alloy re-finishing came out better than new.  Pictures without the fairing might require some enhancement to really see the details.  From the eBay auction:
Purchased this classic Paso to perform a full restoration, but when we removed the body work, the chassis and componentry were in such excellent condition, we opted to focus on a cosmetic overhaul. The engine and chassis have been gone through and everything is in order. Valve adjustment and belts replaced within the last 1,500 miles. New tires, new battery, new oil pressure sending unit, new leather seat cover. All bodywork (fiberglass and ABS) was repaired prior to very high quality lacquer repaint. There is a blemish on the left side panel where the mounting point caused a crack after reinstallation (picture shown). Decals replaced and cleared over. Original Oscam wheels were stripped of the delaminated clearcoat and machine polished. There is likely not a Paso this clean outside of the Ducati museum.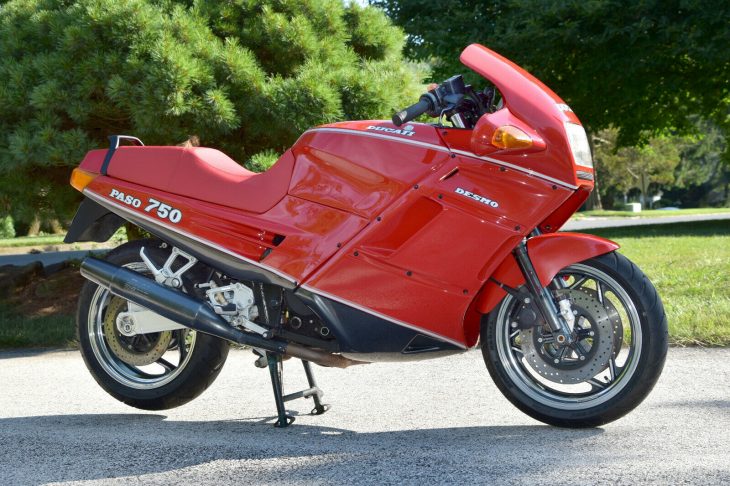 The Paso's styling wasn't enough of a sure thing to generate more than a couple of thousand sales each year, though Honda came up with a very similar package for the late -80's CBR600F.  The Weber struggled with heat in traffic, and an upgrade to fuel injection came with the last-of-the-line 907 i.e.  Paso's do have their fan base though, who appreciate their moderately sporty riding position and protective aero.  Hopefully a RSBFS reader will meet the reserve on this cherry and let us know how it goes.
-donn