Warning!
This post is in our archives. Links in this post have been updated to point to similar bikes available to bid on eBay.

Location: Youngstown, Ohio   Mileage: 17,000   Price: $2,500 BIN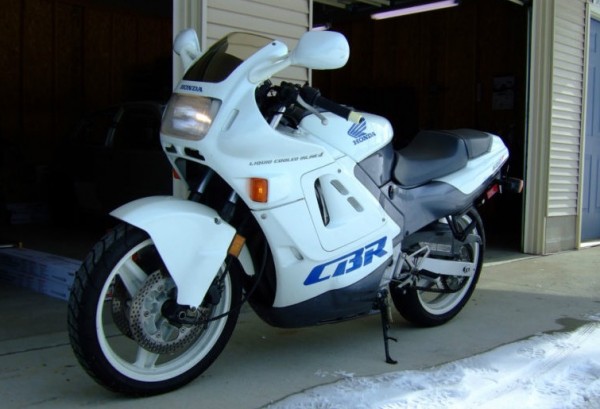 Here we have clean example of the first generation CBR600 from Honda. By 1990 Honda had unfortunately dropped the Hurricane name that came on previous 600's, like my '88 model. The Hurricane name is way cooler than the CBR designation and I keep waiting for Honda to pull collective heads out of their asses and bring it back. But I'm guessing I will continue to wait.
The current 600RR is a great six hundred and this thing doesn't have near the performance as the current model, but back in the day the CBR600 was a groundbreaking machine. It helped open the door for today's bikes and is a legend in the sportbike world.
Here's the seller's info-
1990 CBR 600F  OWNED SINCE 2007 , PAMPERED AND KEPT IN CLIMATE CONTROLLED STORAGE , RUNS EXCELLENT, NEW METZELER TIRES JUST INSTALLED, NEEDS NOTHING, 17000 MILES

EXCELLENT EXAMPLE OF AN EARLY CBR THAT IS BOUND TO APPRECIATE IN THE NEXT FEW YEARS

It all began back in 1987, when the Honda Hurricane 600 swept across the sport bike landscape, blowing away every other machine in the middleweight class. This first CBR600, a truly revolutionary machine, instantly elevated class standards to unseen heights, establishing performance credentials so impressive they would remain firmly entrenched as bedrock benchmarks. 

How effective was this first CBR600F? In 1987 the 600 SuperSport class also made its debut on tracks all around America, and the CBR600F won all nine races that year—a clean sweep. The next quarter century would see ongoing technical innovations as the CBR600 evolved, and each successive iteration continued to garner impressive magazine reviews, sales figures and racing results the world over. 

CALL WITH ANY QUESTIONS
And photos-
This thing looks pretty much bone stock outside of the exhaust. The mileage isn't too bad and the seller claims it has been very well maintained. Obviously with the age you want to be sure it runs strong and there are no outstanding issues. But this looks to be a very clean, excellent example of the first generation CBR. Rare indeed.
The BIN on this bike is $2500 and I will say this: If the bike is as advertised, you would be crazy not to buy it. It's just that simple.
If you got the cash, check this bike out!
-RN