Warning!
This post is in our archives. Links in this post have been updated to point to similar bikes available to bid on eBay.
Every post will be sent right to your inbox every morning when new posts are made. We will never sell our list or spam you. Plus you can click links to bid or buy right from the email and skip the site entirely. Subscribe to Rare SportBikes For Sale today!
Location: Bradley, Illinois
Mileage: 8,105
Price: Auction, starting at $5,500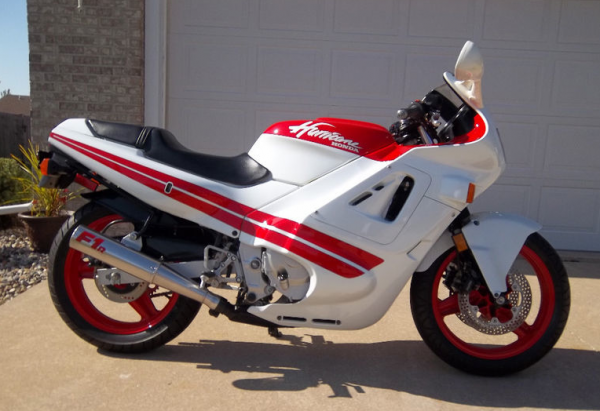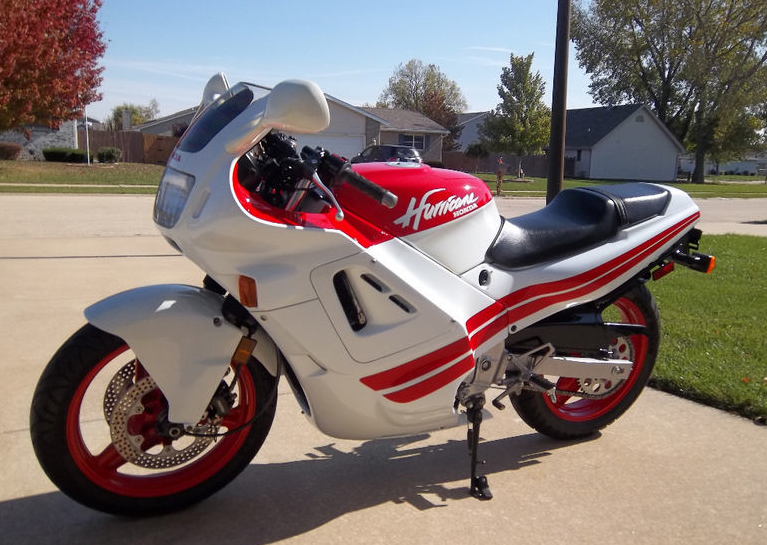 This bike brings back some memories. The Hurricane 600 was my first motorcycle. I bought one used in college with my mom's nervous blessing (not sure what she was thinking). Mine was an '88 and I got it cause my buddy had one too, and I learned to ride a full size real bike on his. Without a doubt, the bike was special. It had comfort, performance, looks and refinement. As has been written on RSBFS before, the Hurricane 600 started the middleweight class fight. When it was introduced the Hurricane 600 raised the bar, and other companies, particularly Kawasaki, were forced to respond. Whatever the case, I miss that bike and it was an article about the Hurricane 600 and subsequent CBR line that got me back into riding after a break that was much too long.
Here's some more photos of this clean machine-
And the description from the seller-
For sale; showroom new condition 1987 Honda CBR 600 Hurricane. One owner. Always stored in a climate-controlled garage, covered and meticulously maintained. Never raced or dropped and fanatically cleaned after every ride. Has never seen rain.

The bike is completely stock with the exception of a few things that I will elaborate on.

The F1 all-aluminum silencer is probably the first thing that will be noticed. I do not have the original silencer anymore. Tires have been changed only once since the removal of the stock rubber and Pirelli Sport Demons were installed which now have approx 500 miles on them. Photos will show the manufacturing cast tips on the tires to give you an idea of how new they really are.

The stock air filter has been replaced with a K & N product.

Passenger footrests were removed shortly after the purchase of the bike to streamline the look in the rear. The original brackets that supported the passenger  foot rests were taken to a body shop and a friend of mine at the time did the work himself by cutting them off and smoothed all the roughness away and repainted both with a high gloss black finish. The end result is a look that turned out factory perfect.

The front fairing has a small crack directly to the lower right of the headlight as you face the front of the bike. (See photo of headlight area) This crack is a factory defect and it was on the bike when it sat on the showroom floor. The seat is in perfect condition without a single flaw. The tank and rest of the bodywork has not a scratch or dent in it…  All of the bodywork pieces have the original fasteners and tabs that secure it to the frame and all bodywork and paint is ORIGINAL.

The actual mileage is 8105

Every gauge on the dash works perfectly including speedometer and tachometer. All lights work and switches too. There has never been any electrical issues.

Brakes and calipers are in perfect working order.

All exterior surface areas of the engine and frame are completely oil and dirt-free.

This year I installed new float bowl gaskets; OEM float valves and an OEM petcock. Absolutely no oil or radiator leaks. Shocks and forks are original equipment and never an issue with either. Also note; the plastic housing on the rear view mirrors has discolored slightly simply due to age and the inevitable breakdown in plastic properties through the years, which is, sadly, unavoidable. Not a show stopper but it still needs to be mentioned because the photos won't be able to show the hue difference compared to the color of the fairing they're attached to.

The rear 42-tooth sprocket was replaced with a 44-tooth sprocket and I still have the original.  

Original owners manual and Honda Service manual is also included with the bike ,,and a copy of Cycle World magazine as the Hurricane being its feature article . All pieces in the tool kit are also intact. Bike is available for pick up at my location only. Meaning, I will not transport it to any shipping agency. No warranty is ever implied or offered in the sale of this motorcycle.

Questions? Feel free to send any and all inquiries. 

Preferred payment is a certified bank cashier's check. Any and all payments must clear my bank before the release of  the bike…
The seller gives thorough information on the condition of the bike. It does have some replaced parts and modification as highlighted. All of that does come into play on a bike like this. Outside of those changes, the bike looks to be incredibly clean. It also has very low mileage for its age. All good stuff.
Now on to the price. At $5,500 starting, this seller is looking for a premium price. And granted it is a premium bike in many ways. But it is not 100% bone stock, as any collector would be looking for. So we have a situation again where the market will be tested on what people are willing to pay.
But if you are simply looking to go back in time and have something fun to ride, then maybe this bike fits your desires. If so, get on your rain gear and check this Hurricane out!
-RN