Sometimes known as the Hurricane, the Honda CBR 600F broke a lot of ground in 1987 when it was introduced, and led to a long line of successors.  Borrowing a chapter from the Ducati Paso design book, the CBR bodywork envelopes the frame and engine, but where Ducati had an air-cooled engine inside, the water-cooled Honda primarily needs to cool the radiators.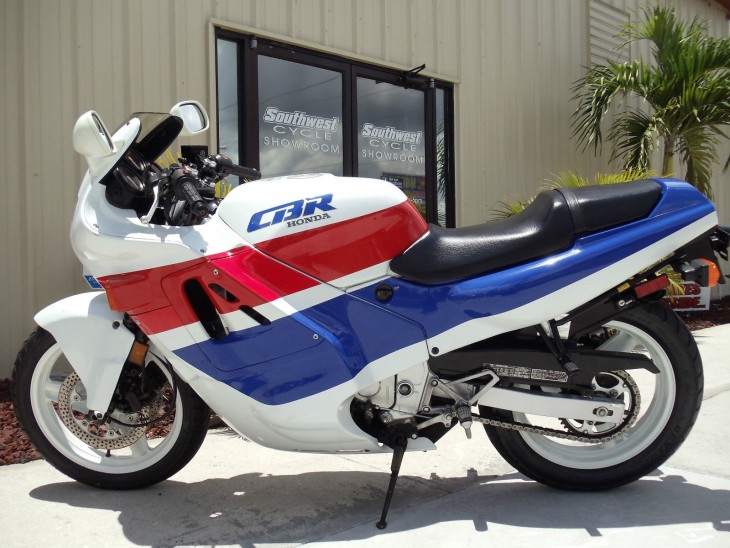 Returning to an inline four from the more complex V-4 in the Interceptor series, Honda hid all manner of structure, plumbing and electrical inside the CBR's soap bar and used the money they would've spent on making the parts beautiful on engineering, producing one of the best balanced, most refined, and accessible sportbikes of any displacement or price.
The over-square 598cc engine generates 93 hp at 9,500 rpm, along with 45 ft-lbs of torque.  Visible outside of the Tupperware are the 276mm drilled front disks and 218mm rear.  Semi-hidden are the air-adjustable forks ( with TRAC anti-dive ) and Pro-Link monoshock rear.  Harder to locate is the magic, the refinement and smoothness that made Cycle World call the 1988 model "The best Japanese motorcycle we have ever tested".
Showing almost 22K miles, the years have been kind to this 600F, appearing un-restored.  Plastics look tight and correct, a surprising lack of wear for that many miles.  From the eBay auction:
-ALL original body panels

-NEVER painted

-NOT sunbeaten

-COMPLETELY stock

-1 year ONLY and the most desirable paint scheme produced

-Motorcycle originated in Northern California

-Has a clean, clear California title

-Few little nick here and there but obviously NEVER been down

-Minor imperfections pictured

-NO disappointments here, she is a true & beautiful survivor!!
Though it's hard to call any Honda 600 sportbike rare, not so many are over 25, surprisingly original, and well cared for.  The auction is from a Florida dealer, the owner stating that the CBR is his personal bike.  Upgrades to the 1989 model year include 8 horsepower more than the 87-88 models, and the pearl-white with red and blue paint was new in 1989.