Location: Modesto, California
Mileage: A whopping 188
Price: $14,000 BIN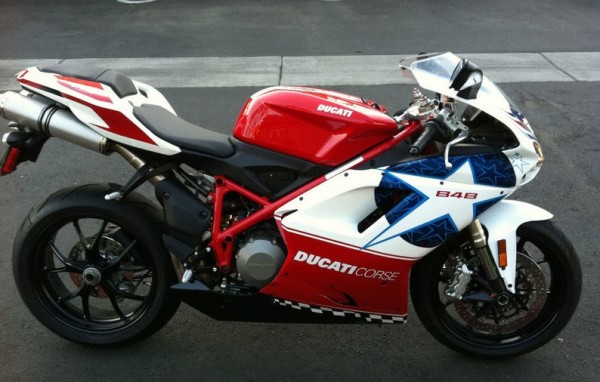 Not sure how much we need to discuss Nicky Hayden here. Good old American MotoGp racer from Kentucky who happened to pull a world title in 2006. Of course he did that on a Repsol Honda. Since, Nicky moved to Ducati and hasn't had the same success. Neither has Valentino for that matter. But in honor of his being at Ducati, they put out the limited production Nicky Hayden edition seen here. Who knows if they'll drop a Rossi edition on us. Hope so.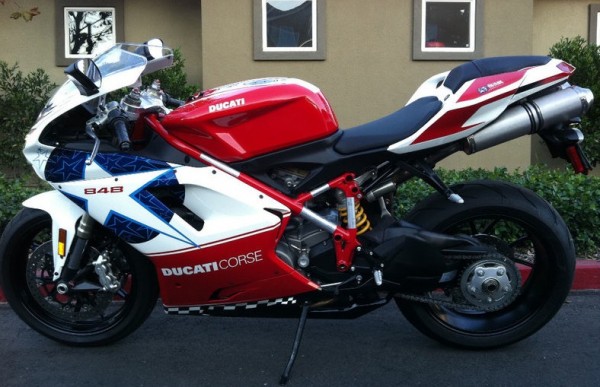 Here's the info from the seller-
CONDITION: Vehicle is in immaculate condition. With only 188 actual miles this motorcycle has stayed covered in a garage ever since it was purchased new from the dealer in february 2010. The motorcycle has never seen rain and has no dents or scratches. Bike is started about every two weeks and stays plugged into a battery tender to the factory installed lead. The bike is still under factory warranty! ALL OFFERS WITHIN LOGIC WILL BE CONSIDERED

FEATURES: The bike is completely stock as it came from the factory. Absolutely no work, tuning, modifications, or replacing of any parts has been performed. This is an original limited edition, autographed Nicky Hayden 848, ONLY 150 BIKES EVER MADE! All dealer information, original paperwork, two keys, battery tender and bike cover come with the sale. This is as close to a brand new bike as it gets without paying full sticker price. Save money and avoiding paying sales tax from a dealer.

SHIPPING AND DELIVERY: Buyer is responsible for shipping costs and delivery fees. However, I have a truck and will transport near the west coast free of charge depending on location. I am pretty open to that agreement so contact me for details.
And more photos-
So this appears to be one clean, original, no excuses bike. Not much more to say than that. The bike is limited with only 150 being built. It has the obvious special paint scheme and Nicky signature on the tank. Otherwise, it's your standard Duc 848. This one also has extremely low mileage, so if your interested, here's a chance to own an original Hayden edition that hasn't even been broken in. The seller also includes all the extras and paperwork that came with the bike. Important if you are really looking to collect this bike.
The seller is offering the bike for $14,000 BIN and is also accepting offers. MSRP was $14,500 so maybe you can pick it up for a little less and get an essentially new bike and save some dough. If you're a Nicky and Ducati fan, then take advantage of this opportunity and check the auction out.
-RN