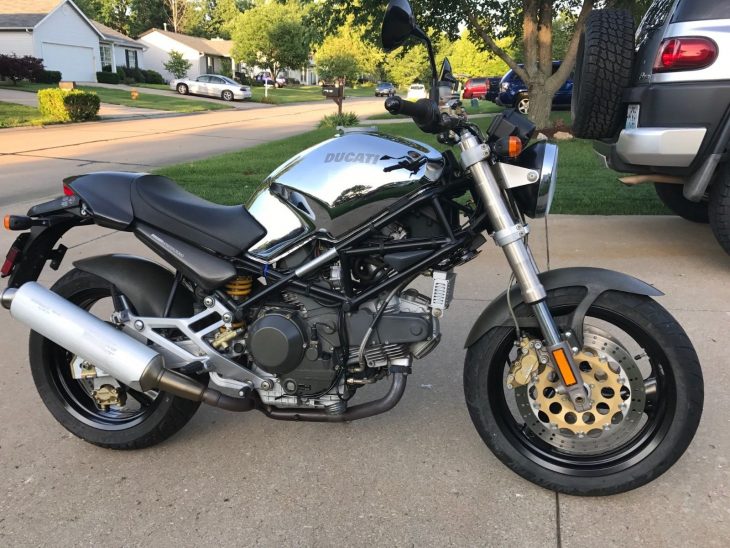 Nice first-generation Ducati M900 Monsters are getting very hard to find: they've been very affordable machines for the past few years and get used accordingly, ridden hard instead of being squirreled away in garages as collector items. Certainly, that's what I've done with mine... But if you're looking for a pristine machine to ride or if you're a speculator expecting them to increase in value, you can't go wrong with this very nice, low-mileage Monster Cromo... Assuming you don't get blinded looking at it!
The 1999 Monster was the end of the line for the carbureted engine, as it was followed by the 900ie in 2000 that featured fuel injection. Whether that's a plus or a minus is up for debate: purists might prefer the carburetors, but the fuel injection system used was a good one, and certainly makes maintenance simpler. It also used the frame originally borrowed from the 888, whereas later Monsters switched to an ST2-derived item that increased stability, but was claimed by critics to be less agile.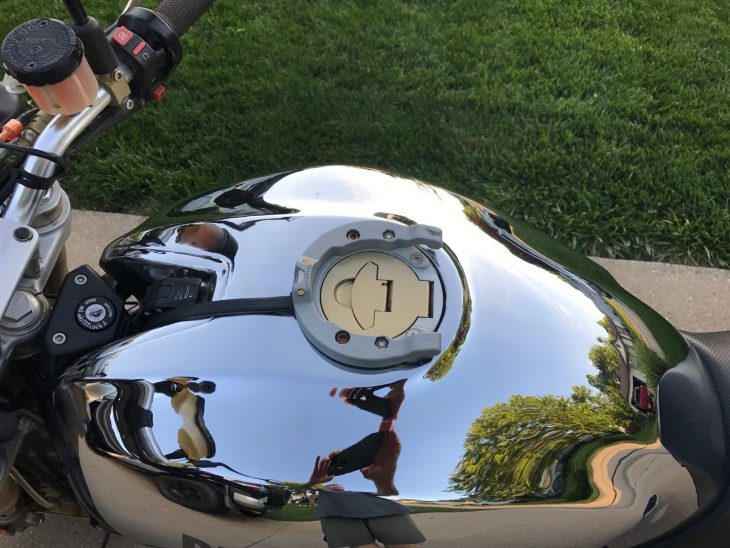 Basically, the Monster was a parts-bin special: a superbike frame that had seen plenty of racetrack development, an existing air-cooled two-valve engine for modest performance and tons of character, along with off-the-shelf, budget suspension that worked great for point-and-squirt antics and posing. Basically, the only new parts were the dash, the tank, and the tail. It was relatively affordable, stylish, fun, and simple. The parts-bin quality actually makes the Monster great for customizers, as many bits from other Ducati models will fit. In fact, today's Monster Cromo was one of Ducati's first attempts at a limited-edition, custom-style machine.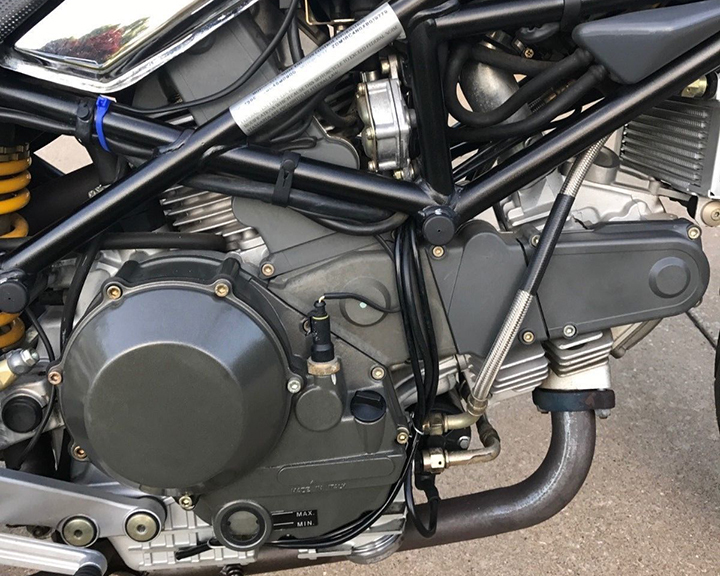 From the original eBay listing: 1999 Ducati Monster Cromo for Sale
Pristine, 1300 mile Ducati M900 Monster Cromo. Carbureted, only 101 imported into the U.S.

In 1999, Ducati released a special edition of the Monster. They called it the Cromo, and it was obviously named due to the distinctive tank, which was complemented by a carbon fiber rear seat cover and rear fender. It also got adjustable front forks and the high-po 74 horsepower engine.

This Monster Cromo is as nice as you will find. I bought it as a rider, finding out later how rare this model is. Should go to a Ducati collector. Besides a little age related fading on the carbon fiber fenders, this bike is almost showroom quality. A professional or dedicated detailing would bring it to that standard. Tank is gorgeous and blinding with no dents. no corrosion on the bike, seat is like new.

Starts, runs, rides, stops, shifts out like a 1300 mile bike. Not even broken in yet. When I got it I aired up the tires, flushed the hydraulic fluid in the clutch, cleaned, tightened and lubed the chain and rode it one time. Fires instantly, all electrics work as they should. Did not want to do anymore riding until I replaced the original tires and timing belts.

NOTE: I PULLED THE HORIZONTAL CYLINDER TO CHECK THE BELT TODAY (6/8) LOOKS LIKE NEW. SOFT PLIABLE, NO CRACKS, FRAYING, ETC.

This is a stunning motorcycle. Always garage stored.

Clear title in my name. Owners manual, Ducati service manual, both keys, original selling dealer folder. Also a quick release tank bag that mounts to the gas filler bracket and does not touch the tank when mounted. Wired for 12 volt accessories.
I'm assuming he means that he pulled the belt cover for the horizontal cylinder, not the cylinder... With just 1,900 miles on the odometer, this is an extremely nice Ducati Monster and is completely stock, including that famously awful rear fender, and the faded front and rear carbon mudguards are available from the aftermarket if their condition offends. The $7,999 asking price is very high for a Ducati Monster, but seems reasonable considering the rarity and quality. If the tank is a bit too much for your subtle tastes, you can always remove the chromed part and store it or sell it and replace it with a less... bling-y item. Maybe a carbon-fiber tank?
-tad