While we all love to drool over (and collect) some of the most iconic motorcycles in history, the truth is that many of our beloved dream bikes are simply not suitable to ride every day. Some of the more lust-worthy models are simply too rare to ride regularly without access to spares. Some are far too fragile and not meant for commuter work. Others are torture racks in the extreme, best to be ridden short distances on a sunny weekend. So what is an enthusiast to do? Simple: Seek out a reasonably rare and exotic commuter that won't kill your back or send your chiropractor's daughter through med school, yet is still capable of kicking some tail in the twisties. Make it powerful without being obscene, comfortable without being a loafy couch, and above all make sure it stands out and doesn't scream "commuter bike!" This is what the Tuono is all about.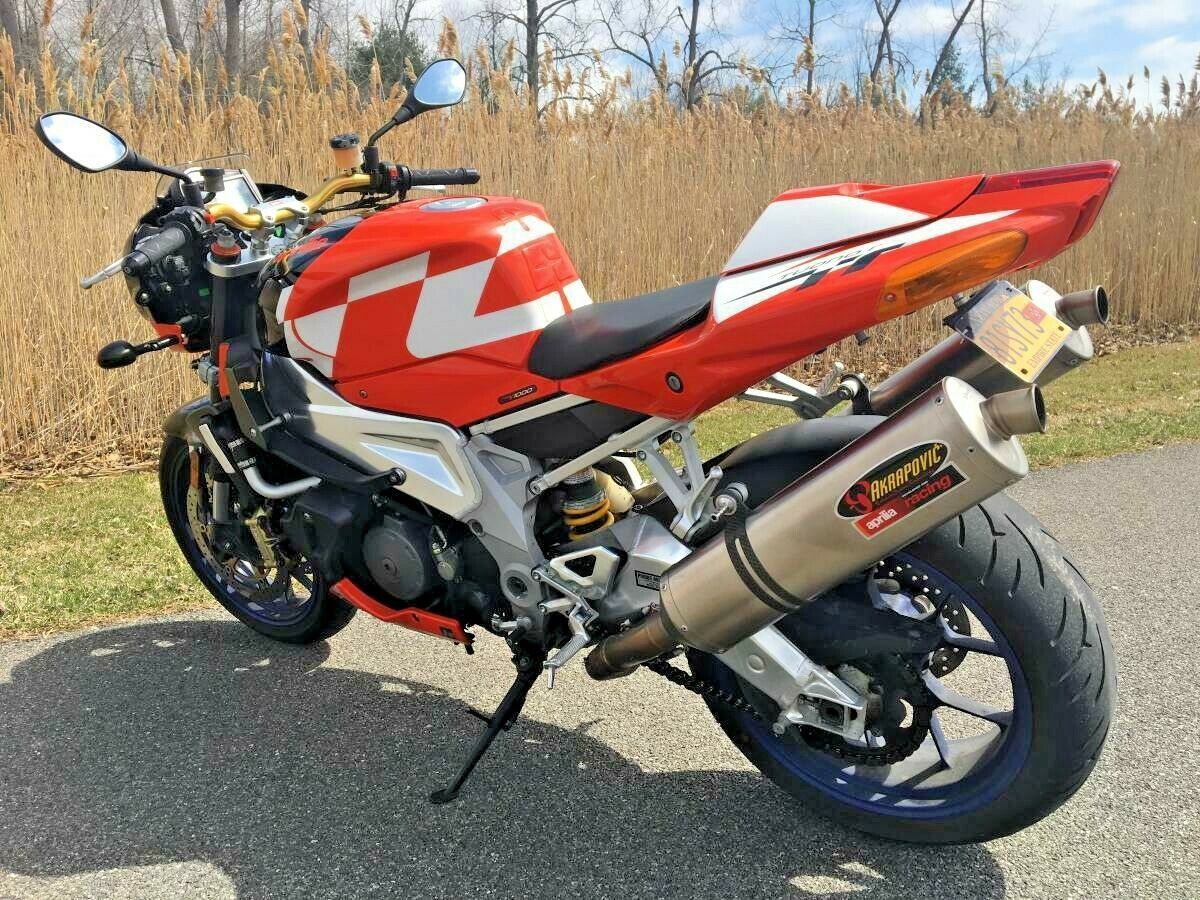 Like the Monster from Brand D, the Tuono is essentially a naked variant of an already successful sport bike. In this case, the Aprilia RSV 1000R. Utilizing a one liter, 60 degree v-twin, the RSV motor is good for nearly 140 ponies in stock form. But in the case of Aprilia, the R spec in the name is actually the base model (the Factory model is the top spec offering). You get the same RSV power plant the same twin-spar chassis (although in aluminum color, not gold), and Showa forks and Sachs rear shock (as opposed to Ohlins). But with 140 HP on tap and Brembo Gold Line parachute assist, there is no doubting the capability of this standard cruiser. The partly-polished frame rails are offset by limited bodywork (not quite naked, not quite faired) and purple/blue wheels. Wide bars provide ample leverage and a more upright riding position than the RSV's lower clip ons. This bike stands out from the Japanese and German crowd, all while making booming noises in a song all its own.
From the seller:
Here is a bike that really has no rivals. Whatever competition the Tuono has taken part in, it has emerged the uncontested winner and most impressive protagonist. Unrivaled on the naked racing scene, the Tuono has even taken on the fastest superbikes on their home ground – the racetrack – and won.

On the road the Tuono is in a class of its own. On the racetrack it is a proven winner. Hungry for success, the Tuono has been an exceptional flag-bearer for Aprilia's motorcycle design philosophy even outside its native Italy, and has demonstrated its prowess in epic races like the Isle of Mann TT and the Macao GP. Now the Tuono 1000 R Factory has picked up where the victorious Tuono Racing left off, with even better technical characteristics and performance.

With the arrival of the new Factory version, the fastest naked on the track and the meanest on the road clearly demonstrates its racing spirit. The Tuono 1000 R Factory delivers power that is simply unthinkable for any other twin, with a chassis that is more sophisticated than ever and easily on a par with the best superbikes. The new Tuono 1000 R Factory is a truly professional machine for all those riders who demand the state of the art in technology and the absolute maximum in performance. Expert riders with a taste for the exceptional will know how to appreciate the record-beating performance of this stupendous street-fighter

A new engine, new suspension, ultra-light wheels and a host of carbon fibre components have boosted performance and reduced weight to a new record for this type of bike. As with the RSV 1000 R Factory, from which it has been derived, the Tuono 1000 R Factory is designed and built for "total ridability", a concept that has always characterized high performance Aprilia motorcycles.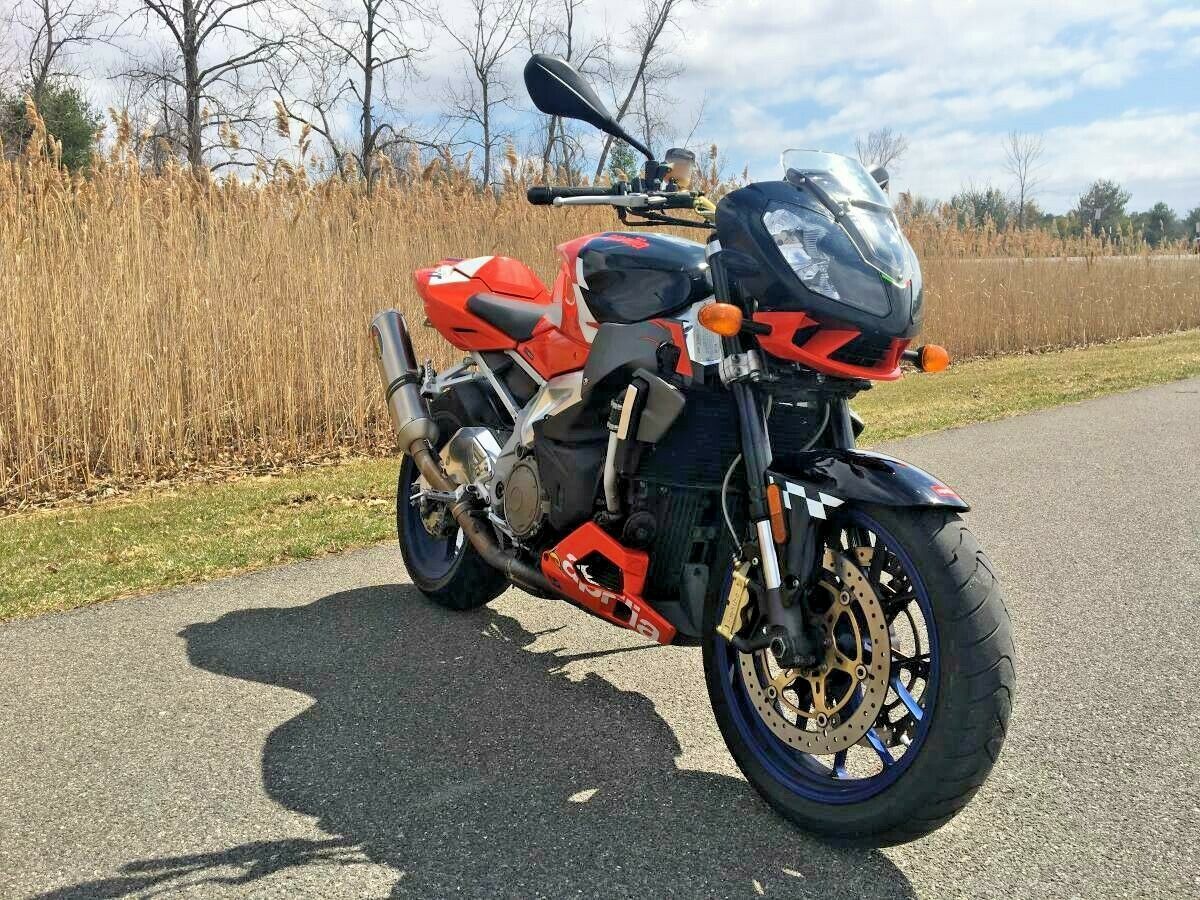 The seller has done a good job copying Aprilia marketing info (and specs), but really doesn't tell us too much about this particular bike. The word "Factory" is listed as part of the sub heading in the ad, but this does not appear to be a Factory model. That is not a bad thing, as the standard Tuono R is supremely capable on its own. Combine the R spec with a claimed 30,000 miles (when was the last time you saw those kinds of digits on an exotic that wasn't a Guzzi?) and you have a veritable bargain commuter rocket in the making. Opening ask for this relatively clean machine is a scant $2,500, with a reserve in place. Minor mods include what appears to be a rear fender delete, but not much else that isn't reversible. No mention of service history, so time to do some homework if interested. This could be a budget exotic to launch your summer riding season if played well. Check it out here, and Good Luck!!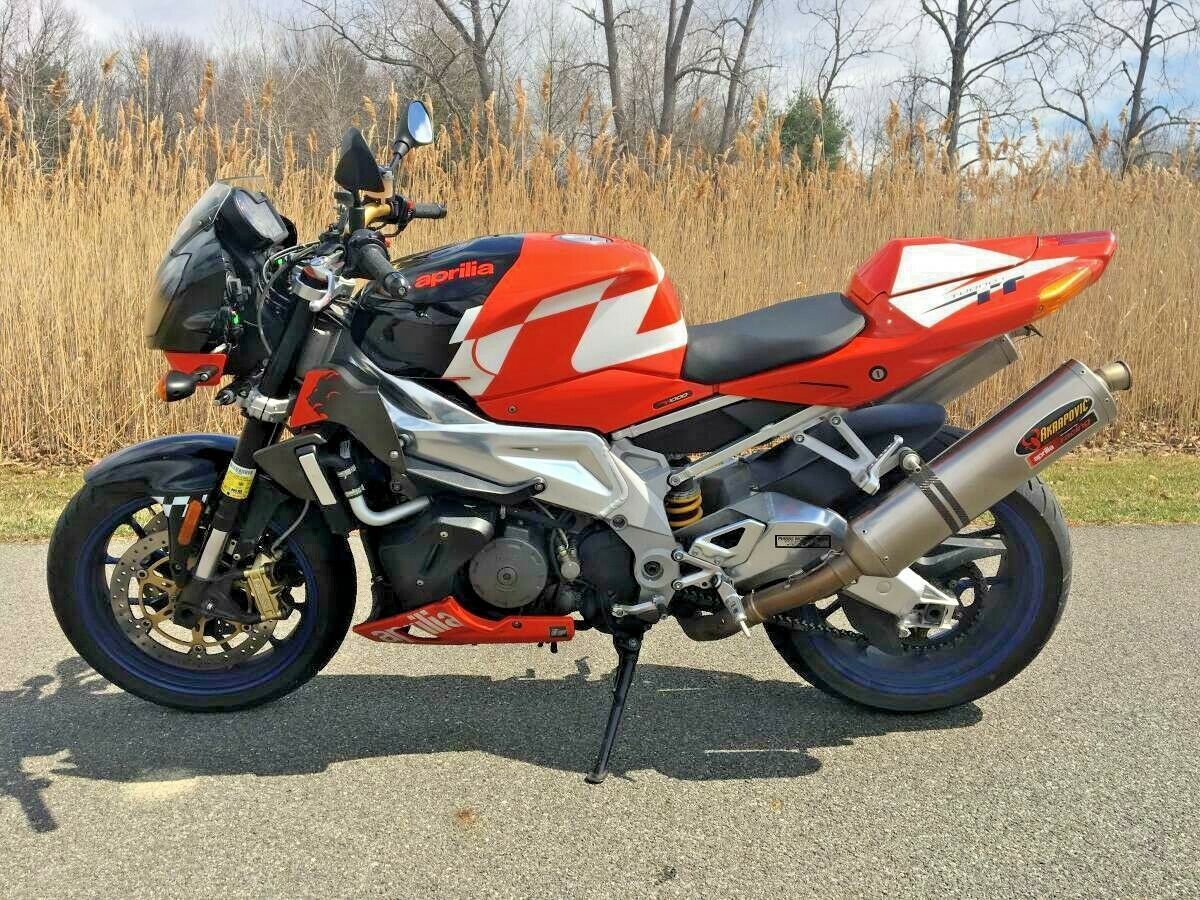 MI